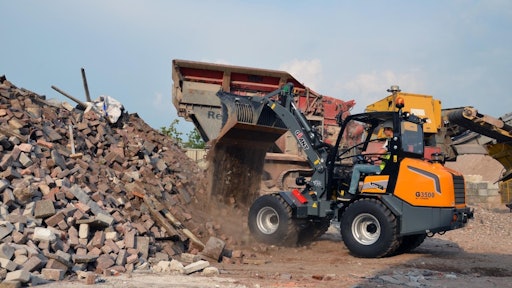 Tobroco-Giant
CNH Industrial announced today that it has signed an agreement with Netherlands-based Tobroco-Giant, a construction equipment manufacturer that specializes in compact wheel loaders and skid steers.
With the agreement, Tobroco-Giant's compact and sub-compact wheel loaders will be distributed under CNH Industrial's CASE Construction Equipment and New Holland Construction brands in North America.
These new models will be revealed at CONEXPO in March in Las Vegas. The initial line-up provides compact and sub-compact wheel loaders ranging from 1 ton to 5 tons of operating weight, with various lift profile configurations.
The range also includes CNH Industrial's first electric sub-compact wheel loader with alternative power solutions. These new models are expected to be commercially available via the CASE and New Holland Construction dealer network in the second half of this year.
"The expansion of our product portfolio is central to the growth of our construction business. Tobroco-Giant is the optimal partner for us as they have a strong customer-first mentality and have consistently demonstrated the ability to supply builders with high-quality, innovative products," said Stefano Pampalone, president construction at CNH Industrial. "This agreement allows us to immediately provide our North American customers with a wider offering of high-performance machines for agriculture and landscaping applications."
Moving Toward Electrification
Both companies have taken steps to increase their alternative energy portfolios.
In December, CNH announced that it has opened a new electrification center in Detroit. The center is designed to accelerate the company's research and development of electrification in construction equipment.
"This new location underlines our commitment to growing our electric vehicle and subsystem profile, and marks yet another milestone after successfully expanding our in-house team," said Marc Kermisch, chief digital and information officer and ad interim chief technology and quality officer, CNH Industrial. "Under one roof, our team can now leverage cross-functional and cross-sector expertise at both component and machine level. The result sees us becoming more customer-focused and building mission-fit electrified drivetrains and high voltage systems."
The center is meant to complement CNH's existing electrification site in San Matteo, Modena, Italy. The Detroit Tech Center positions CNH Industrial alongside external thought leaders and gamechangers to accelerate innovation and deliver new use cases and applications in Agriculture and Construction.
"As an employer we are investing in talented and motivated people who augment our in-house electrification capabilities," said Kevin Barr, chief human resource officer, CNH Industrial. "This new hub means we can tap into a unique talent pool who will change the face of agriculture in the years to come."
In November, Tobroco-Giant announced it had delivered its 1,000th electric wheel loader to a dealer in Europe. Tobroco-Giant has invested heavily in electric machines.
Its G2700 series and the G2200 series are already 100% electrically driven. Recently, a complete line of 24 compaction machines has been added to the range, with considerable investments in electrification. A collaboration with Honda helped Tobroco-Giant become the first to receive approval to take the electric vibration into production. The manufacturer aims to offer a 100% electric variant of all models in the future.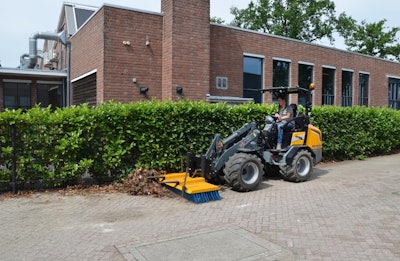 Companies in this article