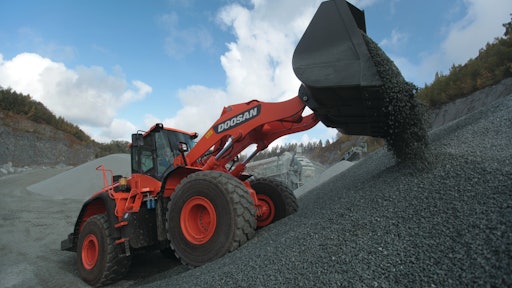 Tier 4 regulations changed the game. "Every manufacturer has increased manufacturing costs," says Doug Phillips, product manager, Volvo Construction Equipment. To compensate, new technologies are making wheel loaders easier to operate, more productive and more fuel efficient.
Many technologies match power output to demand, which allows more material to be moved per gallon of fuel consumed. "The days of giving machines as much power as possible are over," states Bill Campbell, senior product application specialist, medium wheel loaders, Caterpillar. The company claims the largest contributors to its fuel efficiency gains include system integration, new Performance Series Buckets, telematics integration and drivetrain technology and integration.
Systems integration balances the power of the engine, drivetrain and implement systems, resulting in quick response, acceleration and power while significantly improving fuel efficiency. And telematics integration provides more information for the owners and operators.
"For example, we can tell if the operator is using the Cat Engine Idle Management System (EIMS) by how much idling fuel consumption is reported through Product Link," says Campbell. By simply applying the parking brake, EIMS reduces the idle rpm to about 650 rpm. "Since this size wheel loader idles 30% to 50% of the time, this means up to a half gallon or more of fuel savings per hour."
Several manufacturers, including Caterpillar, Case, Doosan, Kawasaki, Komatsu and Volvo, offer power modes that tailor the power curve of the engine to the work being performed.
"If you want the best performance or you are moving the heaviest or most amount of material, put the machine in power mode," advises Shane Reardon, Doosan. "That gives you the full function and full capability. Granted, fuel efficiency is not going to be the best at that point." By switching the power modes from standard to economy, the machine can be slightly de-rated. "So if you are moving light material, whether it is mulch or snow, it will still suffice, but fuel efficiency will be better."
The ability to set transmission shift points is also another common option from suppliers such as Caterpillar, Kawasaki, Komatsu and Volvo. The transmission can be shifted at low engine and wheel speeds when working in flat terrain with low rolling resistance, at high engine and wheel speeds in challenging terrain with high rolling resistance or anywhere in between.
Seamless Technology
Then there are technologies unique to each manufacturer, such as Volvo's OptiShift. Standard on 5-yd. through 9-yd. machines, it is comprised of two technologies: a lock-up torque converter and Reverse By Braking.
When operators get efficient, especially in short-cycle loading, they like to use the transmission and torque converter to stop and change direction instead of the brakes. This increases wear on the engine and torque converter, and it builds up heat. Reverse By Braking provides a better solution that is seamless to the operator. When the operator shifts from forward to reverse without applying the brakes, the machine goes to neutral, the engine drops to idle and the brakes are applied. The application of the brakes depends on how far down the operator depresses the accelerator pedal.
Reverse By Braking saves on components and improves cycle times. In addition, there is a fuel savings. "We usually see between 10% and 12% fuel savings in short-cycle loading on machines with OptiShift," says Phillips. "And the transmission fluid is typically 15° cooler."
The transmission on Volvo loaders also features an Auto Mode for jobsites with multiple operators. "It sets a shifting pattern designed especially for a particular operator," Phillips explains. "If I get in the machine and operate it differently than you, it sets a shifting pattern for me."
To further increase fuel efficiency, Volvo has pursued high-torque, low-rpm engines that produce maximum torque between 1,400 and 1,600 rpm. This requires educating operators on how to properly use the power band. "Operators in the U.S. are under the impression the harder you mash the throttle, the more power you get." This is not true with these engines.
Volvo responded with the ECO Pedal. There is a step in the throttle pedal. "This stops the operator at the high torque of the engine, about 1,600 rpm," says Phillips. "It feels like the pedal is down to the floor. That is where we want him to hold it as he loads the bucket. If you add a little more pressure, it breaks through and actually goes to the floor. Then the operator can break through that throttle floor and take off and carry the load." This lets the operator maximize use of the engine's torque curve.
Move More per Gallon
With the high cost of fuel, efficiency has become a major design criteria.
"Efficiency is measured by calculating the material moved per gallon of fuel burned," notes Scott Britton, product application specialist for small wheel loaders, Caterpillar. The small wheel loader product line (924K/930K/938K) uses an intelligent power management system. "It governs the hydrostatic drivetrain, engine control and implement system and always monitors operator input and available power to allow for the most efficient operation possible."
Caterpillar medium wheel loaders feature the Fuel Management System (FMS). When activated, it changes the engine power maps to save fuel. "Historically, we haven't used economy modes universally because we often find operators not using them or unintentionally activating them and asking for more power," says Campbell.
He adds, "We prefer to make machine operation intuitive and then do what is necessary behind the scenes to interpret the operators' desire for more power, less fuel consumption, etc. However, with the dramatic increase in fuel prices globally, customers are looking for all possible ways to save fuel. So we developed FMS for the 950K to 980K."
Transmissions for the K Series medium-sized wheel loaders have new control strategies. "First, the downshift from second to first is now based upon torque requirements vs. ground speed, which was used on prior generations," says Campbell. "This enables the operator to select 1-4 automatic mode. If the machine needs extra torque, it will shift down to first gear; otherwise, it will load in second gear. Operating the machine in automatic is akin to driving an automobile." It is easier for the operator and reduces the average engine rpm, thereby saving fuel.
Then there is the 966K XE with advanced powertrain. "The Caterpillar continuously variable transmission in the 966K XE is more than just a drop-in transmission. Rather, it is an advanced powertrain with deep system integration between the engine, transmission, hydraulics and cooling system," says Bryan Vogt, engineering manager, Caterpillar Medium Wheel Loader Performance & Controls.
"The 'magic' with the Cat 966 XE is in the control strategy," says Campbell. "This has taken years of research and development to perfect, but the result is fuel savings up to 25% compared to previous models, with some customers claiming even greater fuel efficiency."
A Machine That Thinks
The latest Kawasaki loaders feature the IntelliTech Operating System. Found on all Z7 models, it consists of Intellidig, which balances rimpull force and hydraulic digging force to match conditions; Simuload, which allows simultaneous action of lift and tilt while digging; QuickCycle, which speeds loading cycles; FlexShift, which varies the shift points of the transmission to match working conditions; and Efficient Acceleration to prevent over-acceleration, which ultimately wastes fuel.
"The IntelliTech Operating System uses logic and intelligence to adjust the loader operating characteristics," says Gary Bell, vice president/general manager, KCMA Corporation. "It senses working conditions and adjusts the powertrain and hydraulics to best match application or environmental requirements. Many of the IntelliTech operations are automatic, while others allow the operator to select functions."
One example of the intelligent features is Intellidig. "This feature automatically meters hydraulic power to the cylinders powering the bucket, digging force and the wheel's rimpull force, allowing ideal allocation of power for the fastest, most efficient bucket fill," Bell explains.
Through its computer system, all electronics create a range that allows customization. "While it may take more training initially, if the application is repetitive, initial settings can be customized for the application or environment," says Bell.
For instance, an AutoMode provides for automatic first through fourth shifting for working the pile or hill climbing or automatic second through fourth for load and carry applications. This reduces operator fatigue and results in fuel savings in repetitive situations.
Z7 models also have a Down Shift Switch. "This gives the operator the option of manually downshifting or allowing the machine to downshift automatically," says Bell. It provides more rimpull torque when working the pile.
"Tier 4 technology, including the ItelliTech Operating System, uses logic and intelligence to adjust operating characteristics to the applications and environment," says Bell. "With an increase in sensors, the system captures every aspect of the working conditions — ground speed, hydraulic demand, etc. — and adjusts the powertrain and hydraulics accordingly."
Programmable Controls Differentiate Machines
"The use of ancillary controls that influence and interact with how the operator utilizes machinery is a growing trend of differentiation between the brands," says Rob Marringa, Case Construction Equipment. "Since most owners are not necessarily operating the wheel loaders, their ability to monitor and also control how the wheel loader functions on the jobsite is a key factor to not only operational efficiency, but fuel efficiency."
He continues, "For Case Construction, the F-Series' use of programmable operational controls, such as auto-idle, auto-shutdown, idle levels, operational modes (max throttle control) and startup gear selection provide fuel savings and loader control. Additionally, Case SiteWatch, a new telematics offering, enhances the visibility of the activity of the loaders remotely, allowing a comparative, scientific review of utilization, downtime and productivity."
An Advanced Instrument Cluster (AIC) allows manipulation of idle times, engine speeds and startup gears to reduce fuel consumption, with a 12% fuel savings for the 521F and a 30% fuel savings for the 621F/721F.
The machines also use a ProShift transmission. "It leverages multiple component and process elements that prioritize shifting, engine load and vehicle speed to optimize fuel and power efficiencies to increase fuel economy, as well as reduce premature wear or failure," Marringa explains. "This is accomplished with the incorporation of open (freewheel) stators, shift protection mechanisms, cold temp hydraulic sump sensors and features such as progressive clutching, Power Inch and a five-speed lock-up torque converter."
Balance Fuel Economy and Performance
Doosan Tier 4 wheel loaders incorporate a new monitor that provides instantaneous fuel usage information through a light indicator. It displays a green, yellow or red light. "If this light indicator goes into the red, it means you are getting about the worst fuel consumption at that point in time that you can get," says Reardon. "If the operator is cognizant of fuel consumption, he is going to want to change his operating style to keep that light from going into the red."
The machines incorporate Auto Idle, as well. "If the machine is already idling, it will drop from working idle to a standby idle to save fuel," says Reardon.
Finally, Doosan balances fuel economy and performance by making sure systems operate variable and on demand. Consider the small loaders under 3 yds. "The addition of variable displacement load-sensing systems are the key to our fuel efficiency," says Chad Ellis, Doosan product specialist. There is no drag on the system unless a lever is being operated. The loaders also use hydraulic on-demand fans to maximize efficiency.
Monitor and Manage System Performance
The key to Komatsu's fuel efficiency is SmartLoader Logic, which integrates the hydraulic and engine systems to maximize productivity and fuel savings.
A big part of what makes this possible is the hydraulic pump. Komatsu's variable displacement piston pump is combined with the Closed-center Load Sensing System (CLSS) to deliver as much hydraulic flow as the job requires, preventing wasted hydraulic flow.
"SmartLoader Logic uses machine inputs such as boom position, work equipment pressure and accelerator position to provide input to the machine's controller, which then decides when it can reduce torque to save fuel," explains Armando Nájera, product manager, wheel loaders, Komatsu America Corp. "For example, during a load and carry application, the return trip does not need as much power since it has an empty bucket. The machine recognizes this and manages the fuel wisely without impacting productivity."
A new feature that can help an operator improve fuel efficiency is Eco-Guidance. It displays messages in the monitor panel to give the operator additional information that can be used to improve machine operation. For example, if the loader is in a long load and carry application but the torque converter lock-up has not been activated, the monitor will remind the operator to engage the switch. With these Eco-Guidance messages, Komatsu's Tier 4 Interim machines are taking a more active part in improving efficiency.
The KOMTRAX telemetric system is also fully integrated with SmartLoader Logic and the Tier 4 Interim engine system to continually monitor and record machine health and operational data. "Information such as fuel consumption, utilization, maintenance tracking and error code communication help keep machines working," says Nájera. Eco-Guidance messages are also logged and can be remotely reviewed.
Companies in this article