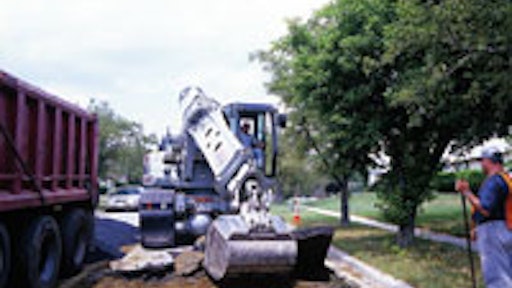 Contractors headquartered near Washington, DC, are quite busy filling government agencies' contracts associated with road, street and underground utilities maintenance. One reason for so much maintenance work in and around Washington is that government roads and streets departments are depending more on outside contractors to carry it out.
One contractor enjoying an ongoing brisk business is Metro Paving Corp. of Hyattsville, MD. The company has been rapidly growing since its start 10 years ago and, according to Manuel Rodrigues, vice president, it could have been expanded even faster based on the work opportunities to be had. The company was started by two people and now it employs 150.
"We started modestly by doing small projects for roads and streets maintenance mostly in DC and nearby areas in Maryland. We still specialize in road maintenance work, but our focus is on DC contracts because there is less competition," Rodrigues explains. "Many road maintenance and underground utility contractors do not want to work in DC because of the heavy traffic."
Besides the road maintenance work carried out for government agencies such as the DDOT and District National Park Service, Metro Paving still wins significant contracts tendered by the Maryland State Highway Administration and Virginia DOT. Primarily, the company does asphalt paving, road and street asphalt patch paving and repair/replacement of potable water and storm sewer lines under roads or shoulders.
Presently, the biggest contract held by Metro is a DDOT asphalt paving project with a value of $70 million. However, most of its contracts are for small to medium-size projects involving road patch work after storm sewer lines have been repaired or replaced. In Washington, DC, alone, the company has five 10-person crews doing this kind of work year 'round.
Traditionally, the equipment of choice for trenching and patching has been a backhoe-loader. But the truck-mounted excavator is challenging this tradition.
"We recently bought a new Gradall [model 4100 Series II truck-mounted excavator] and already have enough profitable work for it year 'round," says Rodrigues. "Even though it is higher-priced to buy than a front-end loader-backhoe, it is more cost-effective and profitable to use on certain road maintenance work."
Added productivity and mobility
Royale Construction, Bowie, MD, also owns the model 4100 Series II. Although the company was founded just last year, its owner, Jack Couto, is not new to the business. He has 17 years experience in road and highway maintenance work, including managing five road maintenance crews for his last employer.
Couto went into business because of a trend for underground utility companies to contract maintenance work to private contractors. "The companies and governments are letting utilities maintenance and road patch work to private contractors, which I think is wise because we contractors usually get the work completed in far less time than if they do it," he states. "The faster the pipeline repairs and road patching can be made, the fewer traffic-flow problems are experienced by the public. I think one reason some contractors are faster is the operators are operating a Gradall day in, day out. Many government equipment operators must be more diverse by doing other kinds of work."
Mobility is a main reason Couto chose to purchase the Gradall unit. The truck-mounted machine can be driven from site to site at highway speeds. Couto visits at least 16 different jobsites each day, typically requiring him to drive the machine 100 aggregate miles. With the considerable loading and unloading time associated with transportation, he estimates only five visits per day is realistic with a backhoe-loader.
Couto also feels the machine is more productive than a backhoe-loader. For example, some roads requiring patching are paved with concrete. For breaking up the concrete slabs, most contractors use an air hammer attached to the boom of the backhoe section. "I do not need a hoe ram [hammer] for breaking up the concrete using my excavator," says Couto. "I can dig out each slab and, with the bucket curled, lift it high before letting it drop to the ground. By repeating this [procedure] a couple of times, the slab becomes fractured into pieces small enough to load into the dump trucks. This saves time compared to using a hoe ram, then loading the concrete pieces."
Another benefit of using the excavator is faster, more precise grading, which is important for road patching work. After backfilling the sub-grade, it must be precision-graded followed by placing a 6- to 10-in. lift of crushed stone, which also must be precision graded. This ensures the new asphalt paving is uniform in thickness and the joint with the existing road is flush.
Couto claims a work crew of five additional men is needed if a backhoe-loader is used for patching instead of a Gradall. This is because all the precision grading is done by hand, including the sub-base backfill and aggregates base.
Although Couto has had to turn away opportunities because of the current work volume, he intends to expand his business by adding another Gradall and hiring an experienced operator. "I intend to expand my business by buying dump trucks and excavators. There is plenty of work to be had so another Gradall is in the picture," he states.