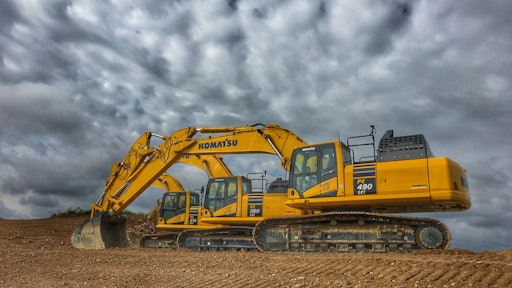 At the time it launched its first intelligent Machine Control dozer, the D61i-23, in 2013, Komatsu America indicated the technology was scalable to other models and machine types. It's proven this out by introducing entire product families of dozers and excavators incorporating integrated 3D GNSS automation. All were on display at an event held in late May at the company's training center in Cartersville, GA, including recent additions to both families.
Arguably the most significant additions are the PC360LCi-11, which falls into the highly popular 36-metric-ton class, and the 49-metric-ton PC490LCi-11. These units mark the entry of intelligent Machine Control into large, production-class excavator sizes.
"By adding 3D capabilities with smart automation, this signals a new era of big machines getting to grade faster," says Ron Schwieters, Komatsu product marketing manager. "They can grade the top edge, slope, trench... load trucks, shape and get to grade with no wasted time or movement."
[VIDEO] Komatsu Introduces intelligent Machine Control to Most Popular Excavator Size Class

VIDEO] Komatsu Showcases Industry-first Large Excavator with intelligent Machine Control

Building on Greater Acceptance
As a whole, more contractors are embracing the concept of machine automation.
"It's been quite incredible the change we're seeing in the adoption rate of machine control," says Peter Robson, senior director of intelligent machine control, Komatsu. "Year over year, the adoption rate increases, down now to where a customer that may have just two or three machines is adopting machine control."
He notes some general contractors have begun to require subcontractors to have machine control on their equipment. "They understand the benefits to the timeline [to meet] deadlines and for preventing over expenditure on import fill, or how much fill they have to export," he explains.
[VIDEO] Why a Growing Number of Contractors are Adopting intelligent Machine Control

With that said, adding intelligent Machine Control to the most popular excavator size class in North America could be viewed as risky by some given views on technology with these machines.
"Traditionally, there's been some resistance to add technology to excavators," Schwieters acknowledges. "It comes from the idea that 'I do not want to slow up the most valued machine on our jobsite, and technology is going to slow us up.'
"Maybe that could be the case with traditional aftermarket indicate systems or a simple 2D system, where an operator is relying on watching a screen to make sure he doesn't go past grade," he continues. "But in 2014, with the introduction of our PC210LCi, that mindset of resistance changed to excitement and new possibilities."
Schwieters expects similar excitement to build with the PC360LCi-11 and its larger counterpart. "I believe that with the combination of the proliferation of base stations, network solutions and the general comfort level of customers using 3D technology, our customers are going to find ways to make this machine productive on their jobsites," he states. "It's a combination of the correct size class, the integration and the customers' thirst to find the next competitive edge...
"This is where we see our excavator line growing in future," he adds.
Intelligence Goes Remote
Komatsu's "smart" crawler dozer lineup now encompasses six models ranging from the 105-hp D39PXi-24 to the 354-hp D155AXi-8. All come standard with factory-installed intelligent Machine Control, which allows automated operation from heavy dozing to fine grading.
While the latest models in the lineup were highlighted at the event, what generated the greatest buzz among journalists was the presentation of the remote-controlled D155AXi-8 intelligent Machine Control dozer. It represents a new era in remote control system technology.
Komatsu is no stranger to remote control technology in heavy equipment, but recognized there were obstacles to its acceptance. "It's no easy task for the operator to get the production out of the machine – to be efficient," says Jason Anetsburger, product manager for intelligent Machine Control, Komatsu America Corp. "When you're removed from the machine, you don't have the sensation and feedback."
It addressed this by pairing its proprietary 3D integrated machine control system with a line-of-sight (up to 100 m) remote control. The "intelligent" RC model includes the ability to sense and control blade load, optimize the start of the cut and minimize track slip.
"The D155AXi-8 Radio Control dozer is ideal for applications where customers may want to remove the operator from the machine and still maintain high levels of efficiency and productivity," says Sebastian Witkowski, product marketing manager for intelligent Machine Control.
The dozer can be run in RC mode, or in manual mode with an operator in the cab. "Both modes still utilize our intelligent Machine Control to allow rough cut to finish grade," says Witkoski. "There is no over digging and [you get] full loads all the time."