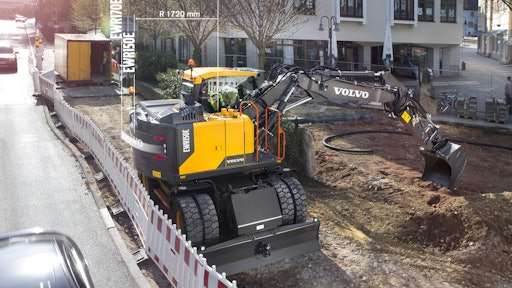 Most of the developed world outside of North America has long been sold on the benefits of wheeled excavators. But recently, there has been renewed interest in the benefits these machines bring to congested areas — particularly areas like the Northeast United States, where closing down major transportation arteries to complete construction creates undue hardships. New sizes of wheeled excavators are competing with more traditional machines, such as backhoe-loaders, in some of these regions.
"We have seen a steady increase in the sale of wheeled excavators in general highway and bridge construction, especially with the increasing need for the U.S. to fix its deteriorating highway and bridge system," says Marcus Barnes, product specialist and internal sales coordinator, Liebherr USA. "A contractor should consider a wheeled excavator in their equipment fleet because of the versatility it gives you for road and highway construction or for large site development jobs."
Contractors increasingly realize the versatility wheeled excavators offer. "The standardization of attachments allows a contractor to make the wheeled excavators the Swiss army knife of their fleet, capable of everything from cutting brush to trenching and demolition work," says Matt McLean, product manager, wheeled excavators, Volvo Construction Equipment. "Our data shows industry-wide adoption (at the time of this article) is on pace for 23% growth from 2016 to 2018. Wheeled excavators are gaining acceptance at such a rate in North America that I don't believe they're viewed as niche machines anymore."
But the popularity of these machines is still lagging behind crawlers. "Smaller wheeled excavators have gained traction in North America. However, wheeled excavators are nowhere near as popular as they are in the rest of the world, particularly in Europe and Asia," says Aaron Kleingartner, marketing manager, Doosan Infracore North America.
North American contractors tend to take a different approach to versatility. "While the wheeled excavator is exceptionally versatile, many contractors gravitate toward backhoes, compact track excavators and compact track loaders to achieve versatility on their jobsites," says Alex Anhalt, product consultant, excavators, John Deere and Hitachi.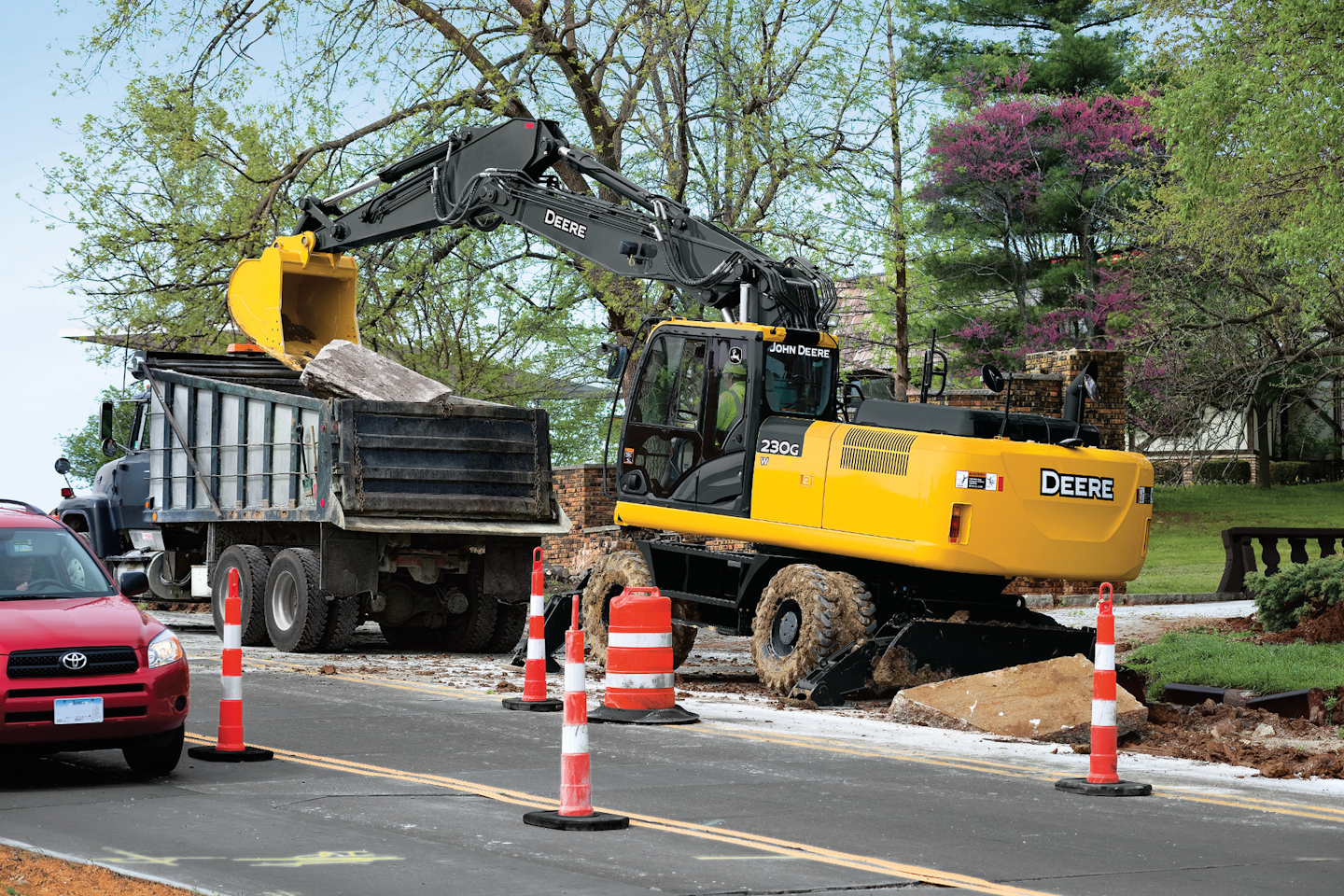 When customers buy a wheeled excavator, they are essentially buying a mobile hydraulic pump. They want to run an array of attachments needed in different areas of a jobsite.
Sized for the Job
The wheeled excavator market continues to expand at both the small and large size ends of the product range.
"The most popular size is the 14- to 18-metric ton size when being used in big cities where space is a premium," says Barnes. "In this environment, the short tailswing models come in handy. The second most popular size is 24 metric ton and above where space isn't an issue but traveling long distances quickly and lift capacities are more important. This size machine can have comparable lift capacities to crawler excavators, especially if they are coupled with outriggers or dozer blades and these are down while working."
New machine sizes are further adding to the wheeled excavator's versatility. An example is the Volvo EW60E compact excavator with an operating weight from 11,355 to 13,380 lbs. "With the 2016 launch of our EW60E compact wheeled excavator model — a size that is unique to the major OEMs — we've really started to see that machine take off as a viable replacement to smaller backhoes," states McLean.
John Deere has found success on the other side of the size spectrum with its wheeled excavators. "The 20-metric ton [unit] is quite simply the most versatile size," says Anhalt. "It has the same maneuverability of the smaller machines, but can lift more weight and run larger attachments due to increased hydraulic flow."
When customers buy a wheeled excavator, they are essentially buying a mobile hydraulic pump. "They want to run a wide array of attachments needed in different areas of a jobsite," Anhalt points out. "The John Deere 190G W is equipped standard with high-flow hydraulic lines, proportional control for hydraulic two-way and one-way attachments and a second set of lower flow auxiliary lines for swinger buckets and rotating shears."
Contractor Makes an Equipment Shift
Saltmarsh Industries, located in Southwick, MA, serves the Springfield, Worcester, eastern New York and northern Connecticut region, and specializes in site development, underground utilities, pavement management and water/sewer/drainage work.
For contractors or municipalities that commonly work on jobsites within roughly a 20-mile radius of each other, a wheeled excavator's mobility can provide significant time and cost savings. With a top speed of approximately 20 mph, you can avoid having to use a lowboy and a CDL driver for around town work.
The company is making a shift in the equipment used on certain projects. "We used to use backhoes to finish out jobs," says Tony Brignoli, who runs the company with Jesse, Alex and Nick Saltmarsh. "By bringing in a wheeled excavator, we were able to up the production because you can do grading functions and material-handling functions while moving the machine at the same time." To enhance productivity, a Steelwrist tilt/rotating coupler was added to the machines.
[VIDEO] Wheeled Excavator Saves Time and Cost in Town and on the Road
"We are in a transition from backhoes to rubber-tired excavators," says Brignoli. The company currently has a Volvo EW160E and EWR170E. Safety and efficiency are driving the change.
"When you set up for a backhoe and are digging for these service replacements, you are right on the edge of your excavation," says Brignoli. "You have a limited view of what your guys are doing inside the hole. I cannot tell you how many times, as a backhoe operator, I have reached into a hole and grabbed a rock and the edge of the excavation caved in. If your vehicle is sitting farther back, you have a better view of the whole jobsite plus your guys in the hole."
The wheeled excavator has also proven better suited to crowded roadway work. "I can use the driving lane and breakdown lane and I can swing material over the truck without having to reposition the machine 20 times," says Brignoli.
Eliminate Trucks and Permitting
"For contractors or municipalities who commonly work on jobsites within roughly a 20-mile radius of each other, a wheeled excavator's mobility can provide significant time and cost savings. With a top speed of approximately 20 mph, you can avoid having to use a lowboy and a CDL driver for around town work," says McLean.
Set the wheeled excavator up to pull a trailer and the operator can transport all tools needed to complete a job. "Outfit the trailer with over-run brakes and you can haul up to an 8.5-ton trailer with all your supporting tools and attachments. That saves time and labor," notes McLean.
Saltmarsh Industries works with surrounding municipalities. "Rubber-tired machines are used to service a lot of different cities and towns," says Brignoli. The wheeled excavators allow Saltmarsh to quickly respond to these customers. For instance, consider a request to replace a full-size water main in the middle of winter. "We are able to show up with a dump truck and a rubber-tire excavator and basically provide the whole package with two or three guys.
"It is one of my favorite machines," he continues. "It is a lot easier to move. You don't need a lowboy. You don't need special permits to get it down the road." This reduces the time to respond. "When you don't have water at 1 a.m. in January, you are going to have a lot of unhappy people."
Tracked excavators require more time to respond to the local municipalities. "With the larger excavators that I am using, the Volvo ECR355E and ECR305C, they have a 12-ft. 5- in. to 13-ft. span," says Brignoli. "By the time you get that on the trailer, you have to chain to half of the machine weight of 80,000 lbs., so you have to chain for 40,000 lbs. You are looking at 30 minutes to get that machine on the trailer and then you have dedicated routes that you have to take with that machine and that truck based on the permit. Now we have to get an emergency permit in the middle of the night, but there are certain bridges and roads that you cannot take the weight of that machine over. A rubber-tire excavator at 37,000 lbs., you can drive that anywhere."
Application Drives Choices
Road building and other jobsites where machines must travel across finished surfaces favor wheeled excavators.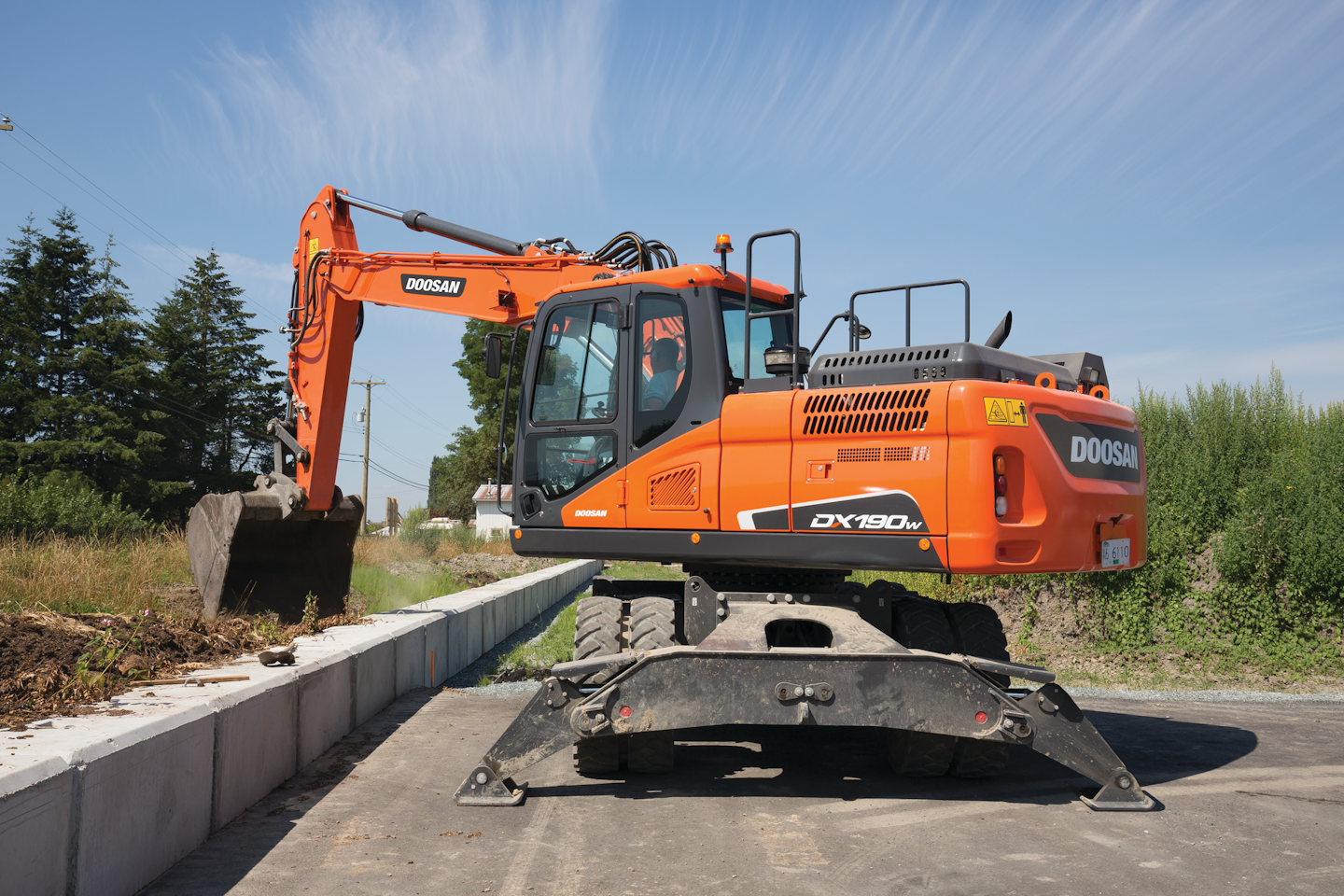 "Road building commonly uses wheeled excavators when setting jersey barriers to separate an active roadway from a jobsite," says Anhalt. "Four outriggers are the most common configuration for this application. Many operators put the outriggers about 2 in. off the ground. This gives them the maneuverability to quickly set jersey barriers while being confident the machine can safely handle a heavier load."
The ability to travel on paved surfaces provides inherent advantages. "Cities and counties very often use wheeled excavators equipped with thumbs to clean debris from ditches on the side of the road," says Anhalt. "If equipped with a two-piece boom, a wheeled excavator can almost dig underneath itself, and they are also commonly used to repair bridges."
"You will normally see wheeled excavators in applications where contractors need a machine that can travel longer distances fast without damaging the asphalt," says Barnes. These include demolition work inside large industrial plants or clearing brush/forestry alongside roads.
Wheeled excavators have the ability to work in tight spaces while offering increased versatility. "Not only can the short-swing models work in narrow lanes for less traffic disturbance, but they're able to easily transition from placing concrete barriers to digging without an attachment swap," says McLean. Spec with a dozer blade, add a tiltrotator, and you have an incredibly versatile and mobile machine for utility installation. "Outfit the machine with a hydraulically elevating cab and a grab arm with grapple for a mobile material handler. Switch from a one-piece to two-piece boom for extra lift capacity in tight quarters. For added benefit, a short-swing wheeled excavator can turn within one lane of traffic.
"With this level of versatility, replacing a backhoe with a wheeled excavator starts to become a no-brainer for many applications," he adds. "We're seeing a lot of our customers migrate from backhoes and truck-mounted excavators to our wheeled excavators."
Tires vs. Tracks
Almost no one expects wheeled excavators to replace tracked models on the jobsite due to the unique abilities of each machine.
"In applications more suited to traditional excavators, like underground utilities, maneuverability is the main key," says Anhalt. "If you are doing a lot of utility repairs or installing laterals for a new residential construction, you need to be able to move around a jobsite quickly and rubber tires don't ruin existing streets or sidewalks. A wheeled excavator is a great choice here.
"Another strong consideration is for a large site development job that has some rock that needs to be blasted and then broken in multiple different areas," he continues. "A wheeled excavator can operate a larger hammer than a backhoe and is just as maneuverable."
In off-road environments, however, a tracked excavator may have the advantage. "There are limitations to the maneuverability of a wheeled excavator on a jobsite because of the machine's turning radius," says Kleingartner. "A tracked excavator can rotate quite easily. Wheeled excavators have a steerable axle and that can make it more difficult to make turns in tight areas."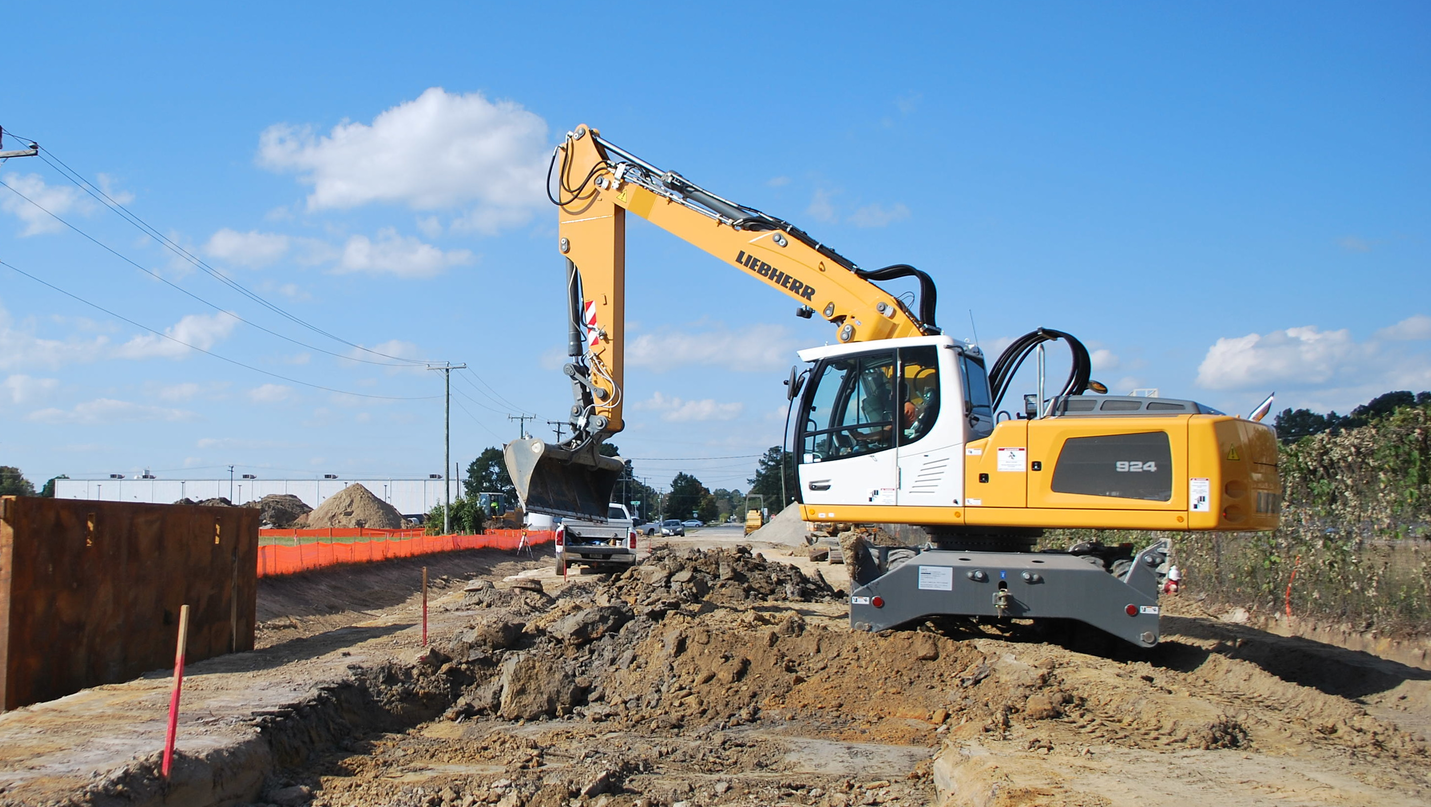 Wheeled excavators weighing 24 metric tons and above are becoming more popular due to their added lift capacity and the ability to quickly cover more ground. Features such as ride control also make the ride more comfortable when traveling over uneven surfaces.
Yet, mobility and craning ability will lead to expansion of the larger wheeled excavators. "I see the bigger wheeled excavators that weigh 24 metric tons and above becoming more popular because of the additional lift capacity they have and the ability to cover more ground quickly, even if it's not always hard, even ground," says Barnes. "Wheeled excavators have features like ride control now that make the ride more comfortable on uneven ground and take the bumpiness out of the machine. For example, you will see these machines being used more in new site development projects for new home or industrial construction projects."
Despite popular belief, the wheeled excavator doesn't compromise stability. "A common misconception about wheeled excavators is that you lose the stability of a crawler, but that is simply not true," says McLean. "With outriggers, a wheeled excavator is every bit as stable as a comparable crawler — and you generally won't be sacrificing on power, breakout/tearout forces, reach or digging depth either."
Lifting capability and stability depend upon how the operator runs the machine. "With all four stabilizers down, a wheeled excavator can lift virtually the same as its tracked counterparts. However, most operators prefer to lift with the stabilizers up because they don't want to lose the main advantage of maneuverability," says Anhalt. "The sweet spot seems to be operating with the stabilizers a couple inches off the ground. When the load being lifted starts to reach the stability limit of a wheeled excavator on tires, the stabilizers will dig in and provide the stability without sacrificing maneuverability."
Kleingartner notes, "In reference to the popular 14- to 19-metric ton size class, a wheeled excavator will have similar lifting capability and stability as a tracked excavator. This is true when the wheeled [unit] has its outriggers extended and used properly. The outriggers can be controlled individually to level the wheeled excavator on uneven terrain."
Wheeled excavator buyers can choose from two configurations. "The first style has front and rear outriggers," says Kleingartner. "The second has outriggers on the back and a dozer blade on the front. Four stabilizers are going to be better if the operator is doing a lot of work over the side of the machine. A dozer blade connected to a wheeled excavator can be helpful because it can help a contractor clean up a jobsite. A skilled operator can use the blade to push materials to finish a jobsite."