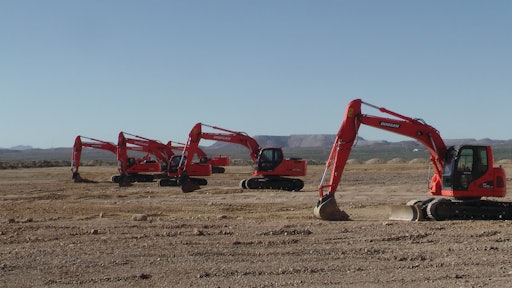 Last week, I had the opportunity to attend a Doosan Editor Bootcamp at Doosan's Real Operation Center in Tucson, Arizona. The purpose of the event was to bring editors in the construction industry out to Doosan's operation center and give the editors the opportunity to operate some of Doosan's heavy construction equipment in a controlled but fairly free environment.
For those of you who operate heavy equipment every day, the bootcamp may seem like a playground to you. But as an editor, although I write about the equipment and interview operators, I rarely have the opportunity to get hands on experience. At the bootcamp, I spent two days operating excavators, wheel loaders and an articulated dump truck.
Not only did I find the experience fun, I found it beneficial for my job. Hands on experience gives me something to draw from going forward as I continue to write about these pieces of equipment and their use on the jobsite. Plus, it gave me a better appreciation for the construction workers who operate this equipment day in and day out. It might sound like a fun, cushy job to sit around and dig holes all day, but I've come to find out it does take some finesse and experience.
I also had the opportunity to operate a few excavators with attachments. (Check out an operator's view from the cab of a Doosan DX350 excavator.) And I found out I was much better just using a bucket to dig dirt! For those of you who work with attachments or have more intricate job duties, my hats off to you!
So a big thank you to Doosan for inviting me down and giving me the opportunity to experience what my readers do every day. And a big hats off to all the construction workers who have perfected operating construction equipment. I was just digging holes but what you do with the equipment is much more important and beneficial to many more people.