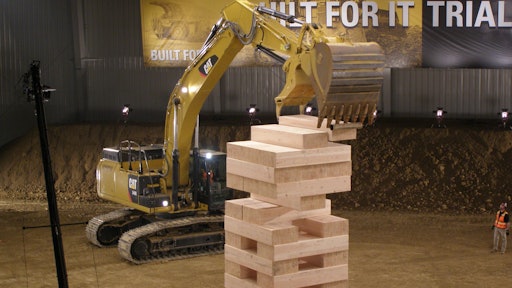 On occasion, people talk about Caterpillar's brand image. And when they do, some will call the elephant in the room Conservative.
That's probably the second-best reason to pay attention to the company's new brand-marketing video, "Stack."
The best reason is that the video is fun to watch.
In "Stack" five of Caterpillar's demonstration operators take on what is likely the world's largest game of Jenga. They face a tower made of 27 600-lb. composite-wooden blocks.
Using five Cat machines – a 320E excavator, TH514C telehandler, 277D compact track loader, M316D wheeled excavator and 349E excavator, all with work tools – they pluck and prod blocks out of the stack one at a time, striving to balance each on top to raise the tower's height without toppling it.
The combination of videography, music and editing is engaging.
It's the rare construction-related entertainment that doesn't leave you wondering how long the hapless guy was in the hospital, or how quickly he filed for unemployment.
Watch Caterpillar's "Stack" video
"For me, it's historic," says Chad Cremeens, Caterpillar field operations manager and the guy on the ground in the video directing machines. "Within Caterpillar, looking at our conservative history and conservative way of building machines and managing our people and marketing our machines, I think this is historic."
After more than 86 years, Caterpillar finally decided to make a point of having some fun.
They did so in classic Cat fashion: they got their people together, posed the challenge, came up with a solution and worked out a very detailed plan to make it happen. Marketing managers went to the company's demo operators and said they wanted to lighten things up a little in this Built For It campaign. They all started brainstorming fun and interesting ways to show off a little with Cat equipment.
This video shows how "Stack" was made
"We're re-energizing our employees and dealers around our brand promise and creating a culture around what our customers need and deserve," says Diane Lantz-Rickard, Caterpillar global brand marketing manager. "It's what drives us every day."
Lantz-Rickard explains Caterpillar's series of Built For It Trial videos is, in part, a response to the increasing volume of customers going online to places like YouTube looking for information about Cat products. Corporate branding introduced on YouTube "gives us a unique and differentiated way – a way that our customers might not have seen before – for people to learn about Caterpillar."
Rest assured that "Stack" and the two Built For It Trial videos to come are marketing innovation, not revolution.
Caterpillar is still Caterpillar; they're just giving themselves permission to laugh a little.
"Working on this video, I learned a lot about Caterpillar," says Cremeens. "We all know Cat's a very conservative company, but to take an aggressive approach like this when it comes to marketing was refreshing. They did a really good job of keeping the integrity intact, and I greatly appreciate that."
After all, nobody's going to throw a TV from the balcony at a Caterpillar cast party.
More from Cremeens and Lantz-Rickard on Caterpillar's "Stack"