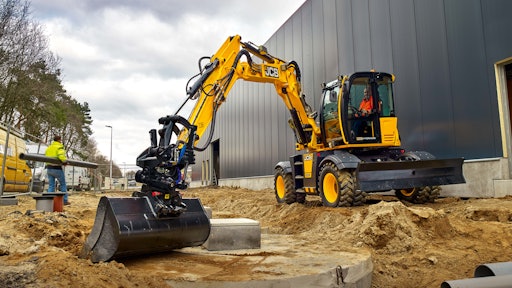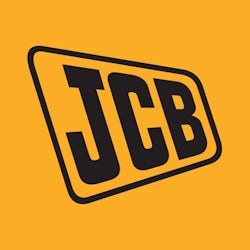 JCB launched a completely new tool-carrying solution which the company says should radically change the way modern construction projects are undertaken, particularly in congested urban environments and on busy roads.
[VIDEO] JCB Hydradig wheeled excavator designed for tight urban applications

The JCB Hydradig was developed in complete secrecy over a three-year period. The vision from the outset of the project was to design and engineer an innovative solution in response to five key challenges facing customers in today's construction sector. The machine had to have the best visibility, stability, maneuverability, mobility and serviceability.
JCB's Chief Innovation and Growth Officer Tim Burnhope said, "Customers know what they want from a machine: solutions that deliver the best results on site, in the safest and most productive manner. Customers told us that they need a single machine solution delivering unrivalled visibility, stability, maneuverability, mobility and serviceability. We knew the answer was to innovate, challenge the status quo and give customers solutions they never thought possible. With the JCB Hydradig we've succeeded in delivering against all five customer requirements in the 11-ton (10-tonne) sector."
Working closely with a range of customers, JCB conducted in-depth analysis of the applications, including utilities, highways, municipalities, general construction and landscaping, assessing the suitability of current machinery solutions. With jobsites becoming increasingly congested, whether in an urban environment or on busy roadways, it became clear that a new and better solution could be achieved by rethinking machine design conventions.
"Visibility from the cab was the main customer consideration because of on-site safety concerns," said Burnhope. "Stability was next on the list, as machines are now being called upon to do an increasing amount of heavy lifting, not just excavating. As jobsites become tighter, many customers are demanding improved maneuverability, while others need increased mobility to allow machines to move between sites more quickly.
"Finally, customers now expect excellent ground-level serviceability. So, our design challenge was to develop a single-machine solution that would deliver against all five customer challenges."
With the driveline mounted in the lower chassis, JCB's designers were able to create an operator's cab and upper structure with 360˚ visibility, as there are no engine covers or fluid tanks to obstruct the view. As the engine is no longer mounted in the upper bodywork, there is no requirement for additional handrails, mirrors or a rear-view camera, further transforming visibility for the operator.
At the heart of the design was a requirement to lower the machine's center of gravity, to boost stability and mobility. This was achieved by packaging the driveline and hydraulic pump in the base chassis, rather than high up in the machine's upper structure. By using experience gained in the telescopic handler market, JCB's designers were able to package the complete driveline within the machine's wheelbase. The machine is as much as 150mm lower in overall height than leading competitors, creating a machine that can be transported in a standard curtain side trailer. With this low center of gravity design excellent stability is also maintained when travelling. The Hydradig has a twin articulation boom offering lift capacity of 1000kgs through 360˚ off dual tires. A tilt-rotator with tilt capability and 360˚rotation ensures easy handling and placement of loads. 
The low center of gravity and unrivalled stability allows the operator to make full use of the Hydradig's 25mph (40km/h) maximum travel speed. With stepless hydrostatic drive to all four wheels and an extended all-wheel steer chassis, the machine offers the ability to travel rapidly between job sites. JCB will also offer a purpose-built trailer with the Hydradig, allowing a single operator to carry a variety of attachments and buckets along with materials for a range of jobs on site.
By using a chassis based on Loadall telescopic handler technology, JCB has been able to provide the Hydradig with three steering modes as standard, including two-wheel steer, four-wheel steer and crab steering. There is also an optional reverse-steer function which changes the direction of the steering wheels when rotated at 180°. A front axle with a class-leading +/-8° of oscillation and constant four-wheel drive with a stepless hydrostatic transmission ensures maximum traction and maneuverability on the toughest of terrain.
The side-mounted engine has a wide-opening steel canopy that provides complete ground-level access to the engine and cooling pack. All daily checks and regular maintenance can be safely carried out from the ground, reducing downtime and boosting on-site safety as there is no working-at-height requirement. All boom and arm pins are nitro-carbonized, and bushes are carbon-bronze construction, extending greasing intervals to 500 hours and further cutting downtime for the customer.
Though a clean-sheet design, Hydradig uses well-proven JCB components and technologies, including the JCB EcoMAX engine, axles, hydraulic rams, cab and all major fabrications. The machine also comes with JCB's LiveLink telematic system, allowing fleet managers to geo-fence operation and to monitor fuel use and operating data remotely.
Request More Information
Fill out the form below to request more information about
JCB Hydradig Intends to Change How Contractors Work in Congested Environments