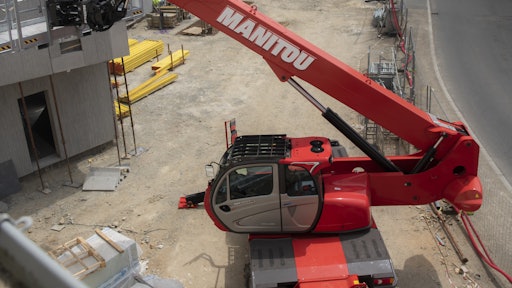 Crowded urban jobsites and the desire to improve machine efficiency are driving a wave of innovation in the compact equipment market. "Where labor is scarce and extremely expensive, owner/operators are mechanizing heavily," says Geoffrey Andrews, business development manager, Mecalac North America.
By purchasing more versatile solutions, contractors can reduce the number of machines needed on the jobsite. "Obviously, there is a cost associated with the ownership of machines," says Andrews. The fewer machines on the jobsite, the lower the owning and operating costs.
Multipurpose Machines Add Versatility
Mecalac Americas LLC provides machines for urban jobsites that require space management and versatility in the building, construction, civil engineering and landscaping sectors. Patrick Brehmer, marketing manager, notes, "Ours is a very different approach from other manufacturers who are focused on individual products. At Mecalac, we are process-oriented and are driven by a jobsite approach, not a product approach."
"The machines were born of a need to operate differently than the standard product offerings on crowded sites," says Andrews. "People are building tighter and tighter and the standard product offerings just cannot get in there. Mecalac has a lot of experience working in confined spaces."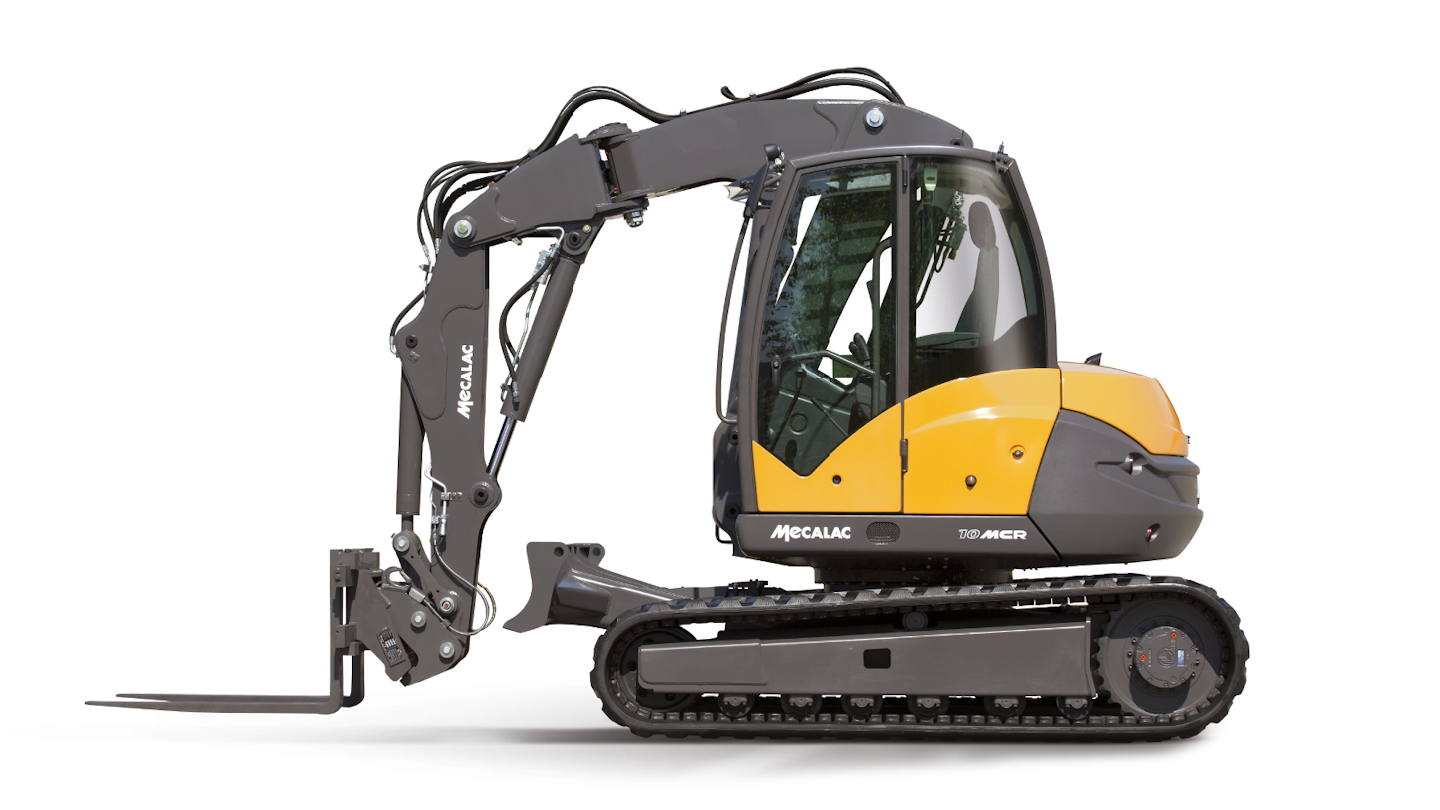 The best example is the MCR line of skid excavators, which combine the features of a skid steer, an excavator and a rough-terrain forklift. "You have one machine on site and it does the work of three," says Andrews. "If you can take two or three machines and meld them into one, now that machine is 90% effective on a work site, as opposed to having three machines on site and only one operator, so you are getting about 30% efficiency."
Mecalac offers a range of compact wheeled excavators that are smaller than those typically offered in the North American market. Some markets prefer the wheeled units since they don't have to truck them around. "But traditionally, they might have had to go with oversized units because manufacturers only produced a 19-ton excavator when they really only would have needed a 9 ton," Andrews notes.
 The company is further expanding the versatility of its compact wheeled excavators with the addition of all-electric models, which will be coming out in 2020. Because they will be able to run for eight hours on a full charge, these electric machines meet the three key requirements for urban building sites: range, performance and compactness.
Given the more unique machines in the Mecalac line, customers need to evaluate their needs to determine if the increased versatility justifies the purchase price. If it will be dedicated to a single task, such as digging a hole, then a conventional machine may best suit your needs. "If you want to start doing different types of work, branching out, quoting those jobs that you could not before because you didn't have the proper type of equipment, then start to look at our machine," says Andrews. "We are not comparing ourselves to the standard diggers that are out there. We have a completely different machine."
Mecalac has been expanding its North American presence to meet the growing interest in its unconventional product line. It currently has 13 dealers in North America, with four more to join soon. "Within four or five years, we want to be at the 40 to 50 mark," says Andrews.
Rotating Telehandler = Three-in-one Versatility
Manitou promotes its new MRT (Manitou Rotating Telehandlers) line as a three-in-one solution: telehandler, (crane-like) winch and mobile elevating work platform.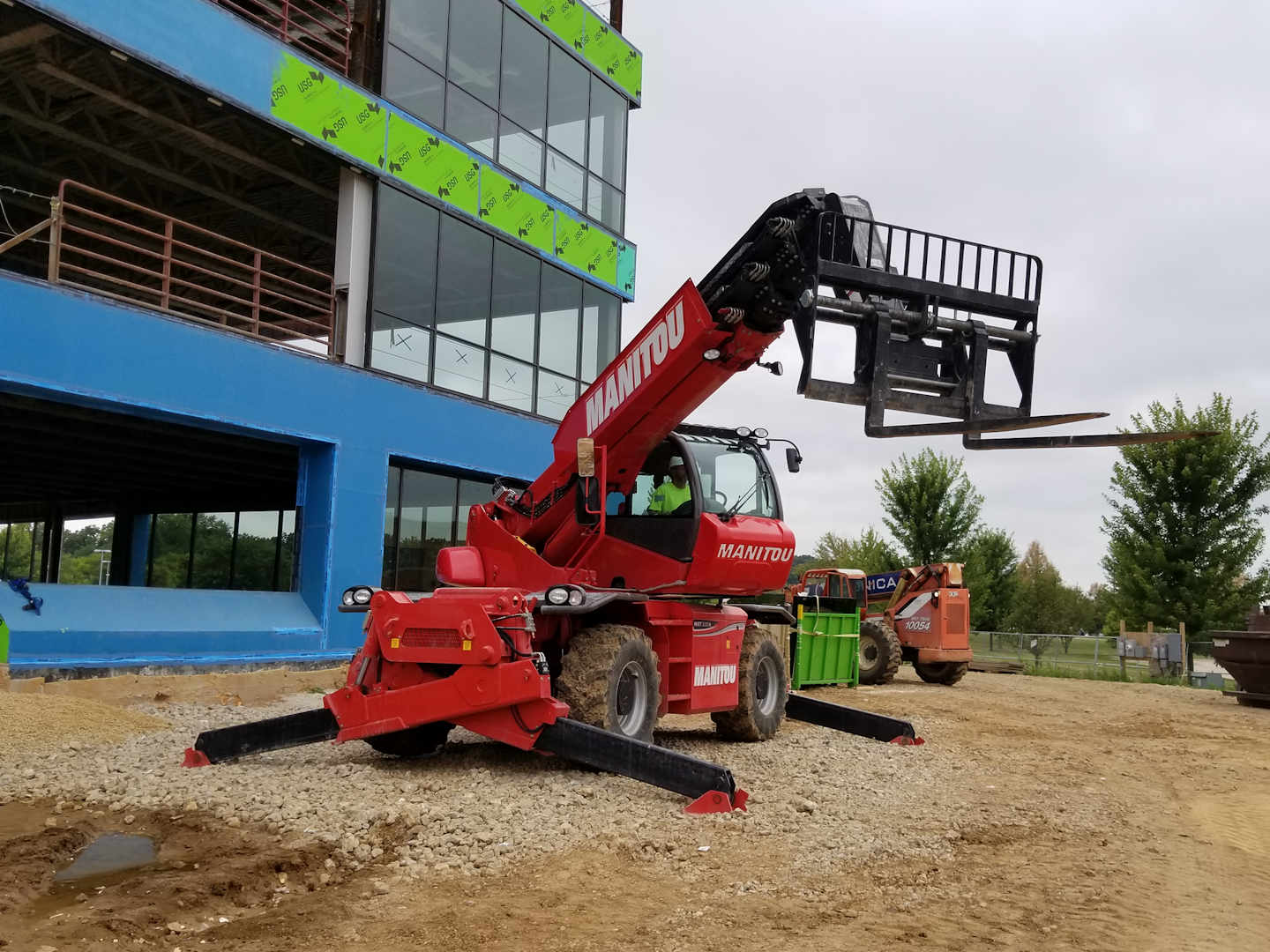 "The rotating telehandler concept originated in Europe, where the majority of urban construction sites are very compact and do not allow room for traditional telehandlers," says Steve Kiskunis, product manager – telehandlers, Manitou Group. "The advantage that the product brings to both standard and space-limited jobsites is becoming more apparent in North America as contractors become comfortable with the equipment and look for new ways to improve workflow."
Rotating telehandlers may look a lot like their conventional cousins, but they are different. In simple terms, rotating telehandlers act like cranes in that they have a house that continuously spins 360°, enabling the unique pick-and-place capability that is the hallmark of this class of equipment. The machine's rotating house sits atop a four-wheel-drive chassis, where the engine, travel system, outriggers and fuel and hydraulic tanks are located for easy access.
[VIDEO] Manitou's MRT 2150 Rotating Telehandler Changes the Game in Pick and Place Applications
Telescopic handler certification is necessary for operation of these machines. However, depending on local requirements, crane certification may not be required.
With a longer boom, you have a machine that can do things a traditional telehandler can't. "Rotating telehandlers change how work is done," says Kiskunis. "Instead of the traditional way — load the material, pick it up, drive to where it's needed and then unload — the rotating telehandler can pick the load, rotate and place the materials. Without a need to drive the materials, a rotating telehandler reduces load transport times and increases productivity. Rotating telehandlers are also a solution for compact jobsites, where their greater lift heights and reach can place many of the jobsite materials without needing to reposition the machine."
The machines can be used in diverse applications, from bridge construction to multi-story frame building construction. "Even on large building projects, the rotating telehandler can use its higher lifting reach to replace temporary jobsite elevators to move material up to each level," says Kiskunis. "Another application is unloading material from supply trucks in the street and placing it into the work site."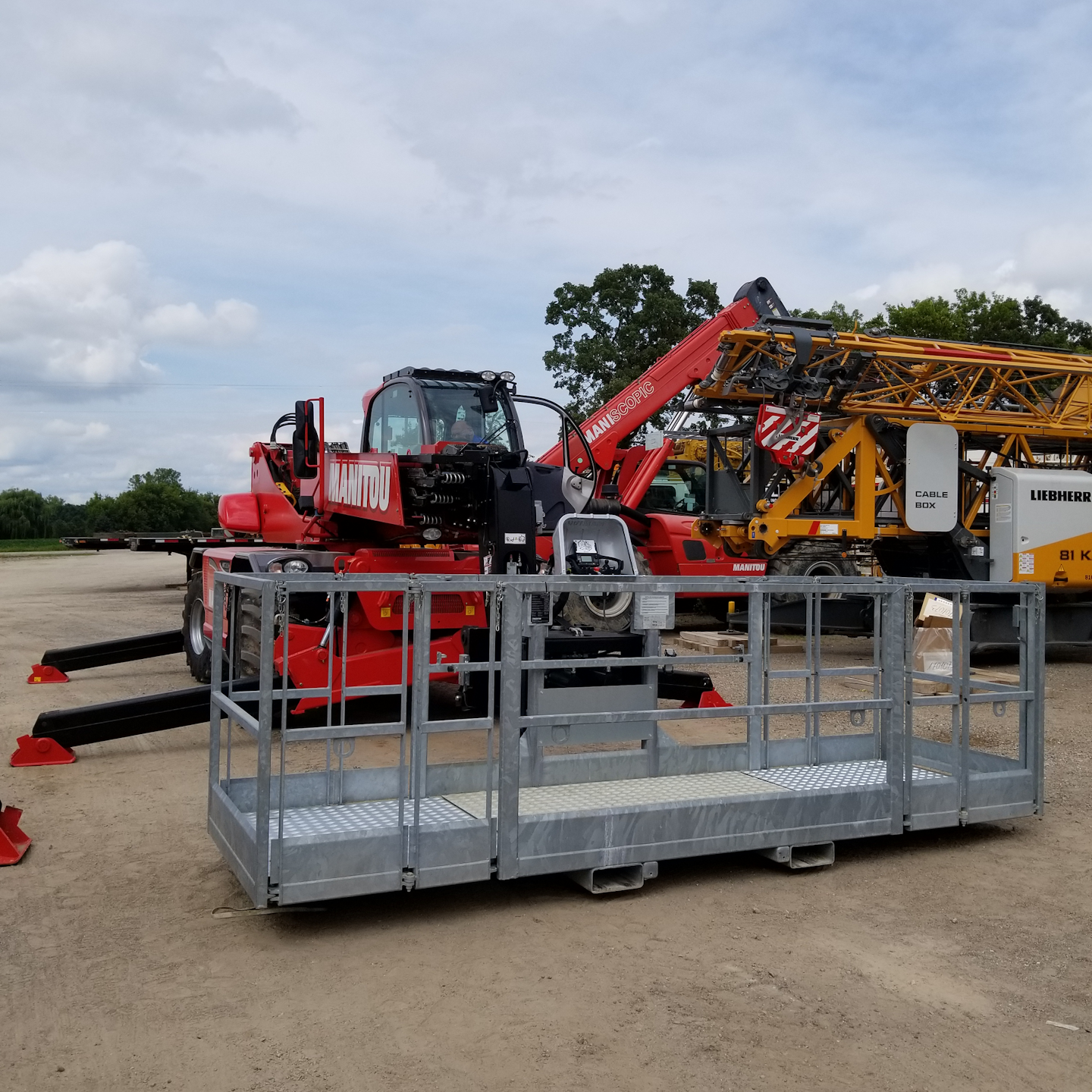 An available 13-ft.-wide work platform attachment has a 2,000-lb. capacity — much higher than standard aerial work platforms.
"To understand the advantage of using a rotating telehandler, a contractor should reset their thinking process — how the materials will be delivered, staged and then placed in position," says Kiskunis. "At each of these material movement steps, the rotating telehandler excels in speed and efficiency. So understanding the advantage of load and rotate vs. load and drive will dramatically improve jobsite efficiency. With a rotating telehandler, operators can swing loads into place."
Compact telehandlers are another class of machines that can change how work is done on a tight jobsite. "With their compact size, they are able to bring powered load handling into areas too compact for larger equipment," says Kiskunis. "In narrow spaces and those with low overhead restrictions, the new compact telescopic handlers can provide the capacity to handle most palletized construction materials. They are designed to deliver maximum performance in a smaller package."
JCB Offers a Solution for Congested Environments
JCB launched the Hydradig tool-carrying solution to change the way modern construction projects are undertaken, particularly in congested urban environments and on busy roads. With jobsites becoming increasingly congested — whether in an urban environment or on busy roadways — the company felt a new and better solution could be achieved by rethinking machine design conventions.
Tim Burnhope, JCB's chief innovation and growth officer, says, "Customers told us that they need a single machine solution delivering unrivalled visibility, stability, maneuverability, mobility and serviceability. We knew the answer was to innovate, challenge the status quo and give customers solutions they never thought possible. With the JCB Hydradig, we've succeeded in delivering against all five customer requirements in the 11-ton (10-tonne) sector.
"Visibility from the cab was the main customer consideration because of on-site safety concerns," he points out. "Stability was next on the list, as machines are now being called upon to do an increasing amount of heavy lifting, not just excavating."
As jobsites have become tighter, many contractors are demanding improved maneuverability, while others need increased mobility to move machines more quickly from site to site. "Finally, customers now expect excellent ground-level serviceability. So, our design challenge was to develop a single machine solution that would deliver against all five customer challenges," Burnhope states.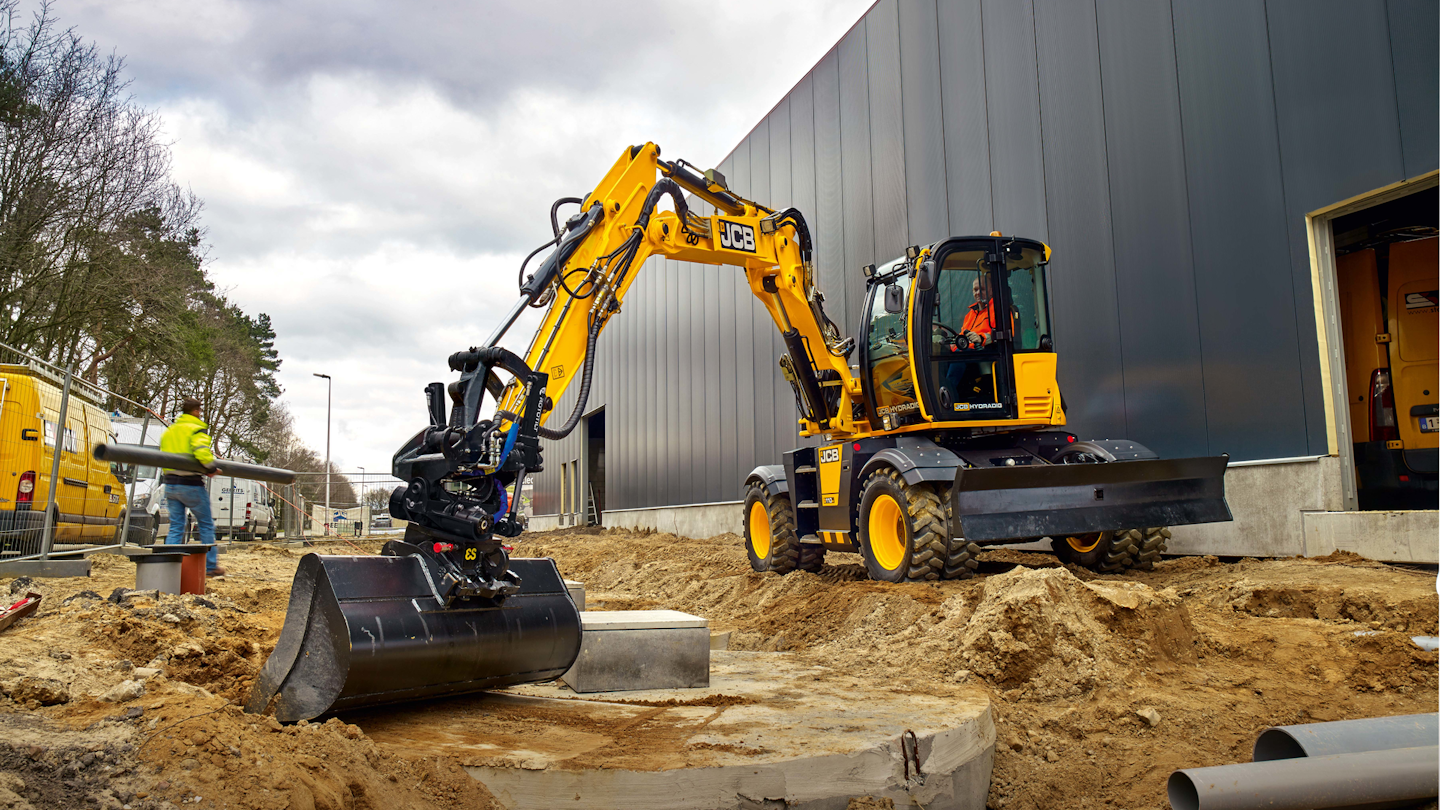 The JCB Hydradig has a twin articulation boom with a 2,025-lb. lift capacity through 360°. A tilt-rotator ensures easy load handling and placement.
The Hydradig has a twin articulation boom offering a lift capacity of 2,205 lbs. through 360° off dual tires. A tilt-rotator with tilt capability and 360° rotation ensures easy handling and placement of loads.
With the driveline mounted in the lower chassis, JCB's designers were able to create an operator's cab and upperstructure with 360° visibility; there are no engine covers or fluid tanks to obstruct the view. As the engine is no longer mounted in the upper bodywork, there is also no requirement for additional handrails, mirrors or a rear view camera, further transforming visibility for the operator.
At the heart of the design was a requirement to lower the machine's center of gravity to boost stability and mobility. This was achieved by packaging the driveline and hydraulic pump in the base chassis, rather than high up in the machine's upperstructure. JCB's designers were able to package the complete driveline within the machine's wheelbase.
With this low center of gravity design, stability is also maintained when travelling. The operator is able to make full use of the Hydradig's 25-mph maximum travel speed. Its stepless hydrostatic drive to all four wheels and an extended all-wheel-steer chassis offers the ability to travel rapidly between jobsites. JCB will also offer a purpose-built trailer with the machine, allowing a single operator to carry a variety of attachments and buckets along with materials for a range of jobs on site.
By using a chassis based on Loadall telescopic handler technology, JCB has been able to provide the Hydradig with three steering modes as standard, including two-wheel, four-wheel and crab steering. There is also an optional reverse steer function that changes the direction of the steering wheels when rotated at 180°. A front axle with +/-8° of oscillation and constant four-wheel drive with the stepless hydrostatic transmission ensures maximum traction and maneuverability on the toughest of terrain.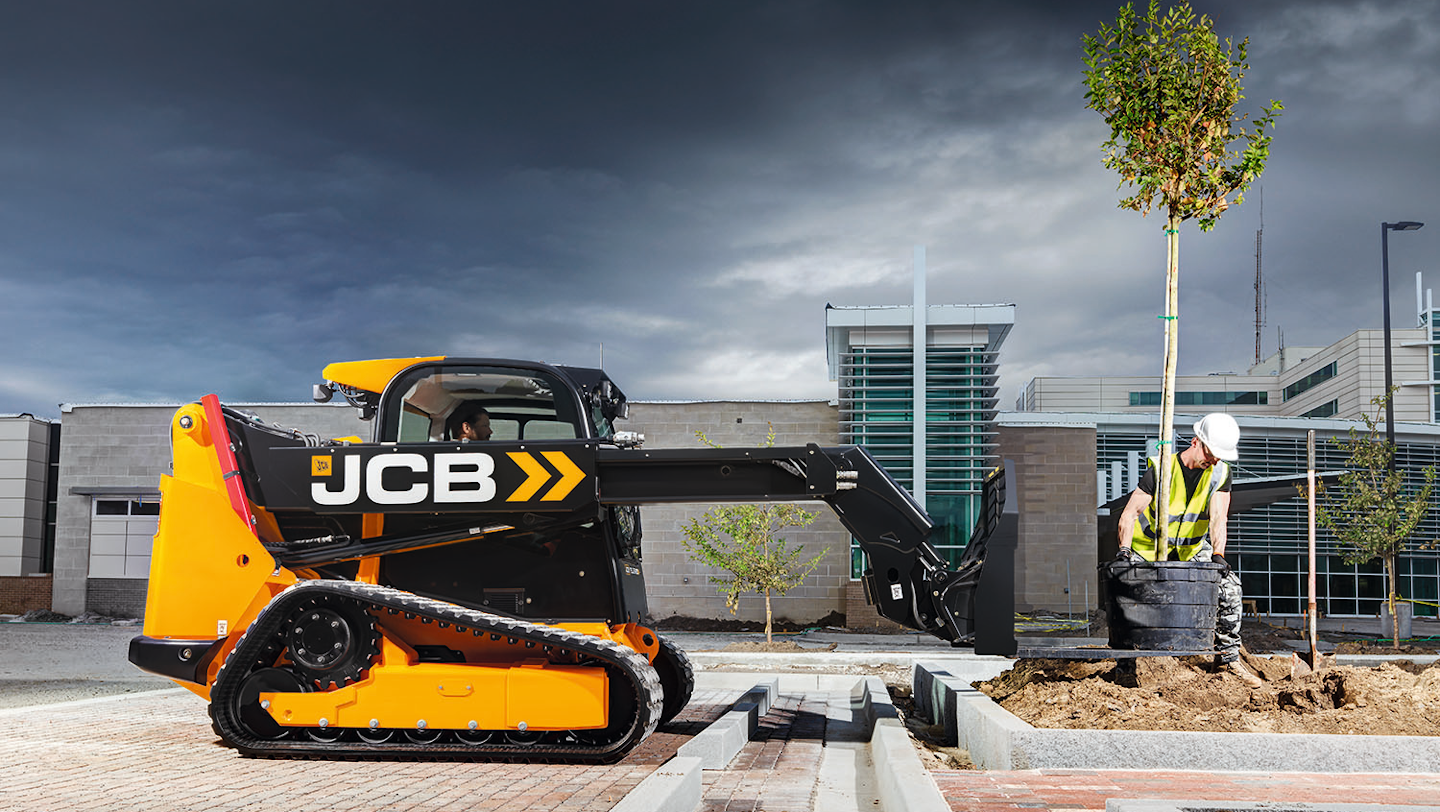 According to JCB, the Teleskid can lift 8% higher and reach 60% further forward than any other skid steer on the market, and is the only skid steer that can dig below grade to a depth of 3 ft.Another JCB innovation is the Teleskid, available as either a skid steer or compact track loader with a telescopic boom. The Teleskid has a forward reach of 8 ft., a lift height of 13 ft. and can dig below its chassis to a depth of 3 ft.
"The JCB Teleskid can do the work of four machines — a telescopic handler, masted forklift, compact loader and a skid steer — all in one easily serviced machine," says Burnhope. "The telescopic boom will allow operators to load trucks without a ramp, reach over curbing and dig below ground, all with clear visibility of the attachment."
According to the company, the Teleskid can lift 8% higher and reach 60% further forward than any other skid steer on the market. It also combines vertical and radial lift capability in a single machine. A unique bucket-positioning leveling system allows the bucket level to be set and maintained throughout the boom's range of movement.
Solutions for Congested Sites
The machines highlighted in this article are an indication of where the compact equipment market is headed as jobsites become increasingly congested in urban environments. While conventional machine platforms are extremely efficient at dedicated tasks, if you work in heavily congested areas, you may want to investigate compact machine solutions that can add versatility and offer the potential to reduce the total number of machines on site.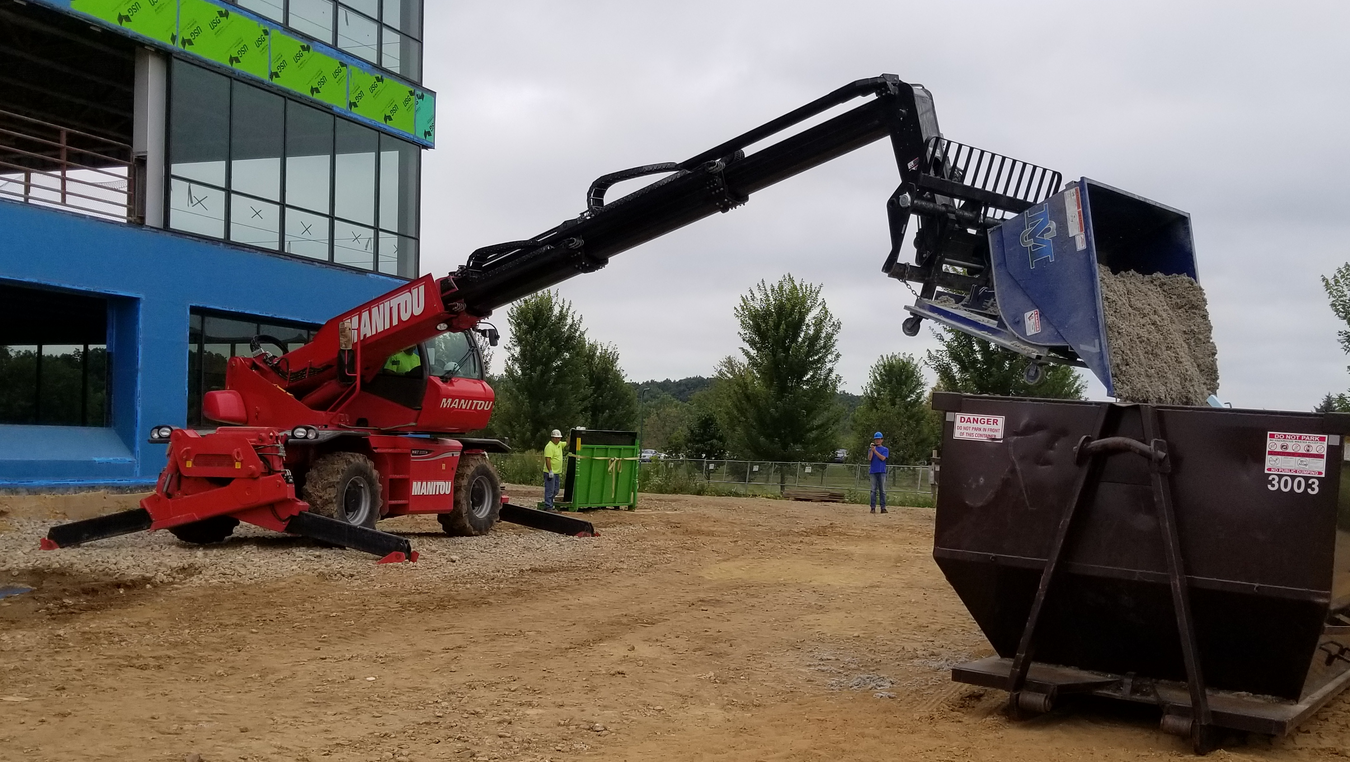 Companies in this article