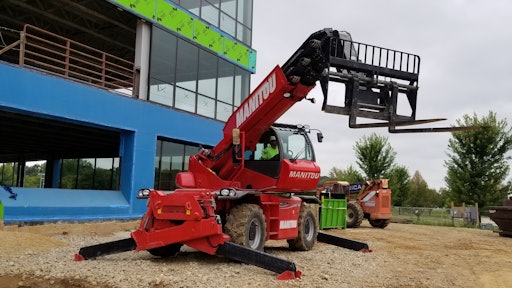 What looks like a telescopic handler, moves like a crane and can pick and place like no other machine?
The answer is a rotating telehandler, perhaps represented best in North America by Manitou's MRT Privilege Plus Series and its two newest models, the MRT 3050 and MRT 2470.    
Manitou promotes the new machines – indeed, the entire line – as three-in-one solutions: telehandler, [crane-like] winch and mobile elevating work platform. It's easy to be distracted, thinking about what it might cost to buy a telehandler that slews 360 degrees like a crane. But don't overlook the amazing capacity and potential ROI of these machines.
The biggest, the MRT 3255, will place 5,500 pounds at its maximum lift height of 103 feet. Conventional 12,000-pound telehandlers top out at 70 feet of lift height. The MRT 3255 will lift its 12,100-pound maximum capacity to about 43 feet on forks. With a 15,800-pound winch installed, it can place 12,100 pounds on the hook above 75 feet.
The MRTs (Manitou Rotating Telehandlers) do their heaviest lifting from two sets of outriggers, and their ability to rotate makes it easy to pick and place loads without driving around the site. As the name suggests, the MRT's essence centers on its ability to rotate 360 degrees, much like a crane but without the need for a certified operator. Add a longer boom length and you have a machine that can do things a traditional telehandler can't. 
"The MRT's ability to rotate 360 degrees, along with its longer boom length, allow it to reach areas traditional telehandlers aren't able to," says Steve Kiskunas, product manager at Manitou, noting there's no need to move machines around on the jobsite for pick and place applications. "It's very efficient, allowing you to swing and place materials, not pick, drive and place," he says. "Put it on outriggers and you gain even more capacity." 
The MRT Series in North America currently consists of six machines. Their maximum lift heights range from the MRT 1840 at 57 feet, to the MRT 3255 at 103 feet. See the chart associated chart for a look at how much these machines can lift at their maximum lift heights.
The MRTs are powered by Mercedes Tier 4 Final engines, paired with hydrostatic transmissions. They use Manitou's pentagonal boom design which the company says offers more precision and performance.
"The advantage of the pentagonal design is the shape of the boom keeps the boom sections straight and aligned when extending and retracting," Kiskunas explains. "The weight of the load and the boom places pressure on the V-shaped lower channel, and this in turn forces the boom to stay straight."
All hydraulic lines on the MRTs run along the outside of the pentagonal boom for ease of maintenance, and the chains for extension and retraction are placed in the upper part of the boom to reduce thickness and optimize reach capacity.
At 20.5 feet, the stabilizer system on the MRTs is the longest on the market, according to reports, and can detect ground pressure to alert the operator to poor ground contact. 
New features automate safety
MRT machines are compatible with a wide range of attachments, and feature the unique ability to identify the attachment being used and determine its correct capacity in any position. Using Manitou's automatic attachment recognition system, the MRT senses the exact weight of the load. Meanwhile, the Manitou load management system automatically detects the outrigger position - full, partial or none - and adjusts the load charts accordingly to alert the operator if the machine is overloaded and/or prevent the operator from moving a load into an unstable position. 
In short, the MRT has taken most of the usual safety decisions and made them automatic.
According to Kiskunas, Privilege Plus MRT models can be set up to work only in safe zones. For example, he says, if there's a high power line or highway near the jobsite, the operator can set areas where the machine will not operate.
Game-changing 360-degree continuous rotation
Understand that rotating telehandlers look a lot like their conventional cousins, but they're different. In simple terms, rotating telehandlers act like cranes in that they have a house that continuously spins 360 degrees, enabling the unique pick and place capability that is the hallmark of this class of equipment. The rotating house sits atop a four-wheel-drive chassis where the engine, travel system, outriggers, fuel and hydraulic tanks are located for easy access.
The operator's cab is different too. You won't find an open cab on rotating telehandlers like you might on some conventional telehandlers. The cabs of rotating telehandlers tend to be fully enclosed and are equipped with sophisticated electronic monitoring devices, like those mentioned previously, and load-moment indicators like those used in cranes.   
Manitou's line of rotating telehandlers is growing and gaining momentum here in North America, but there remains a lot of runway toward customer adoption.
"Over 1,000 MRT units are sold annually in the global market, and a majority of that volume has been in Europe," says Kiskunas. "There is an opportunity to reach similar levels in North America as contractors begin to see more applications for rotating telehandlers. As a market leader for a number of years, Manitou is eager to see an increase in North American industry demands."