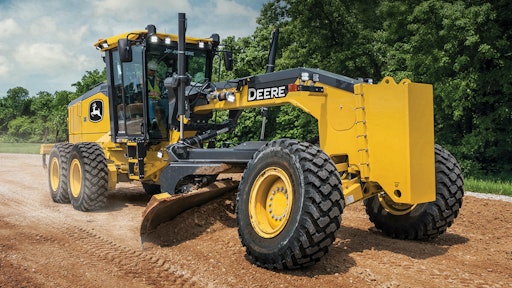 John Deere
"In today's industry, motor graders are known for being precise grading machines, but that precision comes with a price," notes Matt Goedert, solutions marketing manager for roadbuilding at John Deere. "Putting aside a dollar amount, the cost of harnessing a motor grader's abilities comes with an acclimation period that could take years to overcome. Simplicity of operation has always been a key part of our success in grader development."
One of the key advancements in the John Deere motor grader line occurred in 2019 with the launch of a mastless 3D grade control system. "It allowed us to always know the exact position of the blade," says Goedert. This was a key development for future developments in automation. "With our cutting edge SmartGrade technology operators can run their machines with no limitations, in any position. This freedom allows them to lean the front wheels, control the articulation, master circle side shift and easily pitch the blade, all while maintaining accuracy."
He adds, "With traditional grade control systems on graders, accuracies tend to degrade the more the blade moves outside of traditional grading positions. With SmartGrade, not having to constantly pay attention to where the masts are means the operator can focus on managing material to get to grade faster. The launch of SmartGrade kicked off an impressive level of automation development."
John Deere used the technology to develop blade flip, giving the operator the ability to mirror the blade rotation angle by pressing a button. Then machine presets were introduced that allowed operators to program a sequence, such as simultaneously stowing the ripper, turning on a series of lights and returning auto articulation to straight with the press of a single button. "Just a few months ago, we also introduced blade storage to the list," explains Goedert. "So operators can automatically raise the moldboard and set it to a predetermined angle."
Machine damage avoidance was also added to the automation features. This reduces the potential for machine damage by limiting blade movement. This helps prevent chunked out tires or ripped off steps. "The blade will be unable to penetrate tires, steps or structures, even in complex machine positions," says Goedert.  
Building upon the Machine Damage Avoidance and Blade-Stow automated features, Deere and Company has added to new features – Auto-Pass and Auto-Shift Plus. Auto-Pass and Auto-Shift PLUS technologies work together to reduce operator fatigue. Auto-Pass automates machine movements while the Auto-Shift PLUS transmission upgrade allows the machine to completely stop and start without the use of an inching pedal.
"Auto-Pass automates machine movements at the end and the start of grading passes," says Goedert. "By making the speed of the movements adjustable while turning 180 degrees, the operator can place the blade back on the ground to prepare for next pass with the press of a button. This feature can be programmed to raise and rotate the blade at the end of a pass, flipping the angle of the blade. This exclusive technology leads right back into the start of the next pass by automatically placing the blade at a predetermined elevation while also enabling the automatics of the grade control system."
The Auto-Pass feature programs the machine movements at the beginning and end of the grading passes. While adjusting the speed of these movements and rotating the blade 180 degrees, the machine will simultaneously place the blade on the ground while preparing for the next pass. Available as an option on the GP-Series models and standard on the SmartGrade motor graders, this feature can also be programmed to raise and rotate the blade at the end of a grading pass, mirroring the finished angle.
Building upon last year's launch of the AutoShift transmission, Auto-Shift PLUS removes the need for using the inching pedal. This enables the operator to use the throttle and brake, offering increased control of the machine. Auto-Shift PLUS allows for the machine to come to a complete stop without stalling, helping reduce fatigue while cutting smoothly around obstacles or structures.
"This option removes the necessity of an inching pedal or manually selecting a gear as the operator can simply use the throttle and brake to fully control the machine," says Goedert.
Another standard feature that is now included on all GP-Series machines is Configurable Float. Float switches can be programmed to control any auxiliary function, allowing programming of up to three float switches through the monitor. This adds versatility in applications where auxiliary functions are used often.