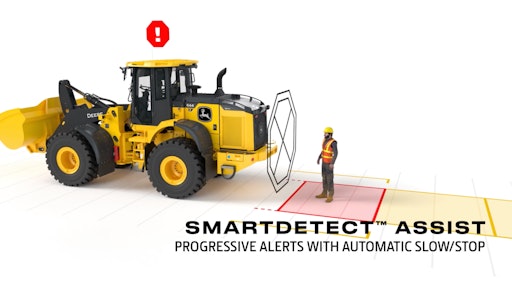 John Deere

John Deere will exhibit its latest solutions for the construction industry at 2023 CONEXPO-CON/AGG Show in Las Vegas, Nevada.
"At John Deere, we continue to provide customers with groundbreaking, smart technologies aimed to improve user experience in the present and yield proven results in the future," said Andrew Kahler, senior group product manager of precision construction, John Deere Construction and Forestry. "Our portfolio of precision construction technologies is strategically curated to help our customers manage their fleets, improve job site performance, and enhance operator skillsets, helping to equip the next generations of construction professionals."
At this year's CONEXPO-CON/AGG show, John Deere is showcasing its latest technology offerings including vision and object detection solutions, SmartWeigh, standard EZ Grade on P-Tier small dozers and a variety of other grade management and automation solutions available to customers.
Jobsite Safety
The next generation of John Deere production-class and utility-class loaders are specifically designed to support operator visibility and awareness. As a direct response to demand from operators, select models can be equipped with new vision and object detection technology. This technology can offer visibility and help detect obstacles that present jobsite risks.
Object Detection technology, paired with a high-resolution camera and a dedicated display, helps with operator experience and situational awareness. In addition, the vehicle trajectory logic technology overlays the projected vehicle reverse path to illustrate where the vehicle will move next.
Building upon object detection enhancements, the Advanced Vision System integrates two digital cameras on the sideview mirror frames, helping provide visibility to the sides of the machine. Within the cab display, operators benefit from an integrated view of all cameras, helping with spatial awareness via wide views and clarity.
The next phase of Deere's technology journey can be found with SmartDetect and SmartDetect with Assist. SmartDetect combines cameras and machine learning to help give operators a better view of their surroundings. The system alerts operators when an object enters the machine's projected travel path and provides detection alerts for people in the camera's field of view. With SmartDetect Assist, the machine will automatically stop before coming in contact with a person.
Innovations
A technology solution that will be on display at the show is SmartWeigh, which is now available on the full lineup of P and X-Tier utility wheel loaders and will soon be available on the production-size P-Tier models as well. Aimed to support cycle times when loading trucks or processing plants, this payload weighing system delivers dynamic weighing capabilities and calibration. This John Deere designed-and-supported solution helps operators hit loading targets and minimize material loss. Available fully equipped on loaders from the factory or as a 250-hour trial period, customers that do not typically utilize payload weighing systems can experience the features first-hand.
As part of the SmartWeigh system, the dynamic bucket weighing technology eliminates frequent raising and lowering of the boom. The bucket capture height can be set anywhere between 15-90% of boom height and can be captured at any boom speed. SmartWeigh does not require calibration with a known weight. This enables customers to calibrate the system themselves without the need for outside assistance. On top of this, payload weighing data is integrated into JDLink, meaning it is accessible and not just within the cab of the machine.
Also new to the P-Tier and X-Tier wheel loaders, Auto Level technology is designed to eliminate frequent bucket and fork adjustments. Operators moving or handling material do not have to worry about the load tipping too far backwards or forwards as the boom is raised up and down. This feature offers parallelism throughout the entire raise and lower cycle + or - two degrees.
Operator Performance
Visitors at the show can experience the full portfolio of John Deere Grade Management solutions, aimed to help operator performance. Now standard on the John Deere Small Dozer line-up, with EH controls, is EZ Grade technology, which aids operators in grading by making small blade corrections automatically. EZ Grade technology is also available on the SmartGrade 333 P-Tier Compact Track Loader, which will be on display at the show.
Also available on the full line-up of small dozers is 2D slope control technology, which helps operators in maintaining flat and sloping grades by automatically controlling the blade to a desired slope. Deere will provide solutions to meet customers where they are today and to grow with them as their grade management needs change. Whether it's EZ Grade, 2D Slope Control, 2D laser, or 3D SmartGrade in the future, Deere small dozers will have solutions for every customer.
Additionally, the small dozer line-up is available with a variety of innovations, including large touchscreen display and John Deere telematics. The data captured, formerly known as JDLink or WITOS FleetView receivers, has been integrated into John Deere's enterprise-wide Operations Center tool. This tool monitors not only machine data but also makes recommendations for a customer's jobsite with things like fuel data in a dashboard view. Customers who have purchased options such as WPT (Wirtgen Performance Tracker) with their machine will also be able to view this data in the Operations Center in the future.
Request More Information
Fill out the form below to request more information about
John Deere to Display Construction Technology at CONEXPO-CON/AGG 2023