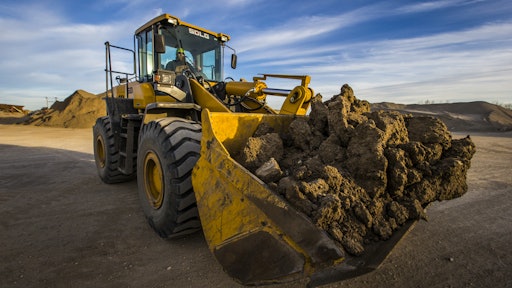 WF Botkin Construction, Regina, Saskatchewan, Canada, is a family-owned business with 57 years of experience. In addition to its bridge building activities, the company has a concrete plant, stationary and portable asphalt plants, a dirt crew and it deals in general construction.
Though the company has several material-handling sites in its region, it found it needed equipment to work a few days a week on a new bridge project. "We recently won a project to replace some bridges in Regina and we needed a wheel loader to support our operations," says Clair Botkin, vice president at WF Botkin. "We're primarily moving barricades around the jobsites and loading materials, so we didn't need a wheel loader working constantly. We didn't need the features of a more expensive loader for our work either."
Botkin brought his needs to its local dealer, Redhead Equipment. The two companies have had a relationship for years, so Botkin trusted the dealer to suggest a machine that would be a good fit. Redhead suggested the 38,250-lb. LG959 wheel loader from SDLG. Itfeatures a Deutz Tier 3 engine with 224 hp and 777 lbs.-ft. of torque; ZF transmission and axles; wet disc brakes; a hydraulic quick coupler and third function hydraulics; a modern fit and finish with high visibility; and an operator-friendly cab.
For its first project, the loader is building a box culvert bridge. The machine is moving barricades that detour traffic around the site, and handling granular materials for the bridge's construction. It is also placing backfill around the structure's culverts.
"The SDLG wheel loader has been working well on the jobsite," says Botkin. "It came with bucket and forklift attachments, which we definitely need and utilize. These attachments were a big reason why we went with SDLG. I would consider purchasing more of them when the need arises."
The project began in late spring and is expected to wrap up in October. When the job is complete, Botkin plans to transfer the wheel loader to one of its stockpile facilities, moving concrete rock, base material, sand and peat rock, among other materials.