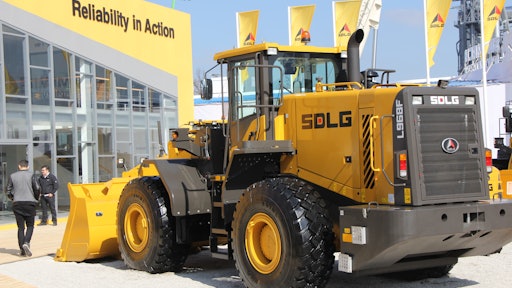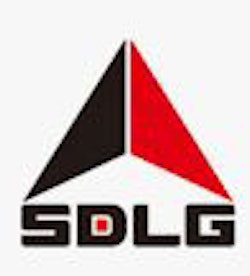 SDLG has returned to the world's largest construction equipment fair, bauma 2016, with an expanded product line, stronger global sales network and bigger customer base. On display at bauma is a range of SDLG's best sellers, plus a number of new launches — all designed around the company's core principles of reliable performance, robust design and better value for customers.
SDLG–branded machines are manufactured by leading Chinese construction equipment manufacturer, Shandong Lingong Construction Machinery Co., Ltd (known as Lingong). After celebrating a number of product launches and new market expansions in 2015, the company continues to build momentum as it moves forward in its drive to become China's leading construction equipment manufacturer.
This year's bauma 2016 exhibition in Munich sees SDLG show expansions and diversifications in its product line, while underlining its development as an international company. Ongoing growth saw SDLG boost its global reach in 2015 and the brand is now represented by 77 dealers worldwide, supporting thousands of SDLG machines across the globe.
New Additions Showcase Product Development

As part of its bauma 2016 offering, SDLG is showcasing its two notable new products, the E635F excavator and the L968F wheel loader.
The 3.6 t-rated E635F sits at the lighter end of the scale and includes a Yanmar 4TNV88 high-torque Tier III engine that enables powerful and reliable performance yet still offers energy efficiency benefits. Configured with proven Rexroth load-sensing technology, the excavator delivers power where it is needed most, while also offering greater flexibility to users through a choice of multiple work modes.
The ergonomic cab has air conditioning and all-round glass for maximum visibility, while the GPS system facilitates easier tracking and machine management. The widened X-shaped chassis gives the machine better stability on rough ground. The end result is a compact and powerful machine that delivers SDLG's trademark reliability and robust performance in a cost-effective package.
The SDLG L968F is a higher-spec wheel loader designed for construction, mining and aggregates applications. A 6 t-rated machine, it comes with a low-rev, high torque, Tier III-compliant engine.
With an SDLG-designed VRT200 rigid-axle transmission converter and synchronized four-speed transmission, the L968F offers improved stability on rough terrain and better traction in unstable conditions. The machine's hydraulic core is centrally arranged for easier maintenance and service, while the enlarged cab improves visibility and operator comfort. CE-certification has been achieved for the new L968F and it will be available to customers in eastern European market.
Full Product Line
SDLG is also showcasing the LG959F — an update to the LG958L, a CE-certified wheel loader that launched into Turkey last year. The LG959F offers a maximum breakout force of 152 kN and it can also be fitted with a 3.1 m³ bucket for optimum material handling. The model on show at bauma will be very similar to the model of the same name that is sold in North America.
Also on display is the G9190 motor grader. Demand for this model has risen sharply in recent months as the road building industry continues to develop in many world markets. The G9190 is part of SDLG's broad range of road building equipment and has a 15.8 t rating and a 150kw SD70B engine that helps it deliver a traction force of up to 82 kN.
The B877 backhoe-loader on show at bauma was launched into the Middle East in 2014 and then into Africa in 2015. The machine's turbocharged 70-kW engine is low on emissions, and high on fuel economy and provides a torque reserve of 40%. With its hydraulic torque converter and synchronized four-speed transmission, the B877 can reach speeds of up to 38 km/h.
Yu Mengsheng, president at Lingong, said the company is using bauma 2016 to show how far it has progressed as a company since its last appearance at the show three years ago. "SDLG is growing robustly and with good momentum as we continue to strengthen our sales network and aftermarket support," he said. "Several of our most popular models have been rolled out to major markets in recent months and as SDLG continues to develop in key regions, the company will rely even more on its strong sales network"
SDLG's stand at bauma 2016 alos includes the L968F and L948 wheel loaders; the E635F, LG6210E and LG6360E excavators; and the RD730 and RS7120 road rollers. The SDLG booth is in the outdoor area, stand FS 1105/7.