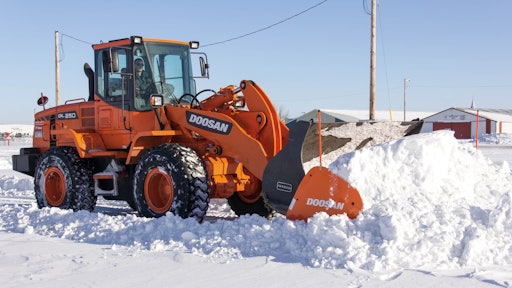 With winter quickly approaching, it's time to think about preparing your wheel loader for winter operation, specifically snow removal. Before the first snow arrives, it's important to ensure your wheel loader is properly maintained and prepared to push, lift and dump snow. Mike Stark, Doosan wheel loader product specialist, provides five tips to help you get the most out of your equipment this winter.
1. Review the manufacturer's operation and maintenance manual
It may seem like common sense, but it can't be overstated. Review your machine's operation and maintenance manual for recommended intervals and a checklist of seasonal maintenance items, as well as oil and fluid recommendations. Ideally, you and your loader operators should request maintenance training and assistance from your local equipment dealer on proper techniques, and familiarize yourself with decals and key maintenance points on the machine.
The loader operation and maintenance manual should instruct you on what machine components should be inspected regularly, including fluids and filters, the battery, tire pressure and heating and defrosting systems.
2. Check fluids and filters
Colder temperatures can affect a loader's ability to run efficiently, especially if it does not have the proper engine oil. That is why it is important to match wheel loader fluids to the proper ambient temperatures.
"If you use incorrect diesel engine oil, it can cause costly damage to the machine's internal components," Stark says. "These components can become plugged, corroded and ultimately not work efficiently. Make sure to refer to your owner's manual for instructions on filling your machine at the recommended intervals with the appropriate fluid in the correct increments."
Also verify the quality of fuel you are using from your provider, checking to make sure water and other contaminants are not present.
"Switching to a special winter blend fuel — typically No. 1 and No. 2 diesel — can help you prepare for cold temperatures," Stark says. "Investing in quality fuel that is blended appropriately for the climate and season may give you better peace of mind, lower your consumption, provide fewer filter changes and deliver long component life.
"It's a good idea to top off the diesel tank at the end of the day or shift," he advises. "Overall, it's a good practice to follow year-round. It reduces the air in the tank. The wheel loader heats up during the day. When the operator turns it off, it cools down, and no matter what, you start getting condensation in the tank."
Another item to consider is the type of aftertreatment system, especially those machines equipped with selective catalytic reduction (SCR) to meet Tier 4 emissions standards. SCR components require diesel exhaust fluid (DEF). This aqueous solution is susceptible to variations in hot and cold temperatures.
"In very cold temperatures, DEF can freeze so wheel loader owners should make sure they keep DEF in storage during the winter months," Stark says. "Purity and concentration are critical with DEF, so make sure to work with a local dealer to better understand how to store and handle DEF."
Stark also recommends inspecting the air filtration system and using the correct replacement filter to reduce the risk of premature engine failure.
3. Inspect tires, batteries and components
Winter maintenance also means checking the tires, batteries and other components before using or storing the loader. Undetected leaks or improper inflation can lead to premature wear and potentially tire failure over time.
"Low tire pressure can decrease push capabilities, which is not ideal for snow removal applications," Stark says. "Using L3 radial tires may be best during winter because they provide good traction in snowy conditions. Inflating tires with Nitrogen gas is a good alternative to assist in maintaining proper tire pressure."
He recommends contractors and operators become familiar with the manufacturer's operation and maintenance manual for proper psi and inflate the tires accordingly.
Before cold weather hits, inspect the loader's battery and charge it if needed. "There is always a draw on the battery, so unless the battery has been maintained or disconnected while stored, it will slowly run down and will need to be charged before use," Stark points out.
For batteries that need to be charged, a trickle charger can be connected to help build the voltage at a slower rate, improving battery life. Battery connections should also be inspected and cleaned at this time. Corroded terminals can cause hard starting and charging issues.
In addition, check the cab door and window seals to ensure there are no leaks or cracks. Install a new windshield wiper blade and add low-temperature washer fluid. Replace any burnt-out bulbs to ensure your operators have the appropriate lighting when working in low light or at night.
4. Store the wheel loader inside
Cold weather requires batteries to generate nearly twice as many cranking amps in order to turn over. If possible, when the temperature falls below 0° F, keep the loader in a heated facility; it's easier on the machine.
"If owners are not able to keep wheel loaders inside, it is important to park the machine out of the wind," Stark says. "It is also advantageous to keep the equipment out of direct sunlight, if possible."
If you are unable to keep the loader inside a building, consider using a block heater. A block heater will help keep the machine's engine warm, making it easier to start while reducing wear on engine components. 
5. Prepare attachments
Wheel loaders are valuable fleet assets during winter for a number of reasons, but one of the most prominent is their ability to be fitted with application-specific attachments.
Attachments such as quick couplers, buckets, pallet forks and snow pushers deserve the same attention as the machine. Perform visual checks of attachment components such as hoses, cylinders, guards and cutting edges for damage. Make sure snow pusher attachments interfacing with a bucket are properly secured with chains.