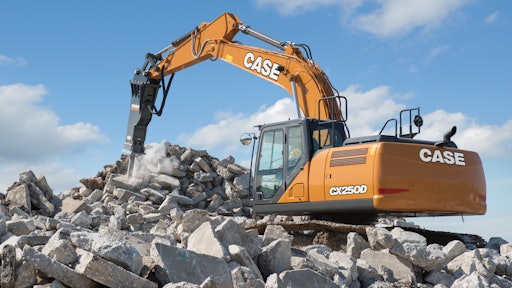 Case claims significant performance and efficiency gains for its new D Series excavators: up to 12% faster cycle times thanks to an electronically controlled hydraulic pump, and up to 14% greater fuel efficiency resulting from the smart hydraulic system combined with selective catalytic reduction to certify the diesel engines to EPA Tier 4 Final emissions limits.
Breakout forces are increased by as much as 6%. Productivity testing during research and development showed that certain models in the D Series could fill more than 9,500 additional trucks per year based on cycle time increases alone.
Each model also offers more standard features, including Case ProCare's complementary maintenance, than any previous Case excavator.
New models include:
CX210D: 160 hp; 48,973 lb.; bucket dig force: 31,923 – 34,621 ft. lb.
CX250D: 177 hp; 56,909 lb.; bucket dig force: 36,419 – 39,566 ft. lb.
CX250D LR: 177 hp; 63,523 lb.; bucket dig force: 17,310 ft. lb.
CX300D: 207 hp; 67,271 lb.; bucket dig force: 39,342 – 42,781 ft. lb.
CX350D: 268 hp; 82,483 lb.; bucket dig force: 51,639 – 56,157 ft. lb.
Case D Series excavators meet Tier 4 Final emissions standards through a combination of cooled exhaust gas recirculation (CEGR), selective catalytic reduction (SCR) and diesel oxidation catalyst (DOC) technologies. There is no diesel particulate filter (DPF), no DPF regeneration or associated service costs.
Video: Reeves Construction and the Case CX300D Excavator
Intelligent Speed, Power and Efficiency
The Case Intelligent Hydraulic System adds a larger control valve and multiple sensors to the electronically controlled pump. Four integrated control systems make the best use of the machine's hydraulic power and momentum to improve cycle times and add strength and fuel efficiency.
The four systems that make up the Case Intelligent Hydraulic System are:
Boom Economy Control (BEC), which reduces engine speed by employing gravity during boom-down and swing functions
Auto Economy Control (AEC), which reduces engine speed during idle and automatically shuts down the engine after a preset idle period
Swing Relief Control (SWC), which reduces hydraulic power at the swing start
Spool Stroke Control (SSC), which adjusts hydraulic pressure during digs
Using improvements to the Spool Stroke Control system, D Series excavators re-use hydraulic fluid that would normally be returning to tank whenever possible. This automatically speeds cycle times while reducing engine load, for greater efficiency. The operator works more efficiently even while experiencing a more productive machine without loss of precise control.
The D Series also provides the operator with three working modes – Speed Priority, Heavy and Automatic – that help the machine conserve energy and exert only as much power as needed to complete the job at hand.
Greater Feature Standardization
Case D Series excavators now offer more standard features than any previous Case excavator, including:
Free Swing for improved craning, laying or lifting of offset loads
Oil sample ports for quick sampling of engine and hydraulic oils
Easy pattern selector offering the operator's preference of ISO or SAE controls
Standard heated air-ride seat and joystick controls
Pressurized cab is iso-mounted to keep noise and vibration down
Bluetooth radio gives operators hands-free functionality
Rear-view camera feeds a 7-in. widescreen monitor
Widescreen monitor provides real-time access to performance parameters including fuel consumption, operating hours and machine information
Light it Up
An optional LED working light package for the D Series excavators illuminates similar to sunlight – more than three times brighter than halogens. The LED package includes six lights (two front, two rear and one on each side) and a side-view camera. A premium LED light package features the Case Maximum View monitor, which combines feeds from three cameras to provide a comprehensive view to the rear and both sides of the machine.
Request More Information
Fill out the form below to request more information about
Case Improves D Series Excavator Cycle Times 12% and Fuel Efficiency 14%