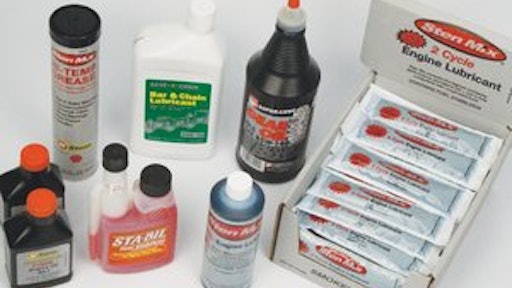 2412 parts washer
Top-load automatic parts washer
24-inch-wide rotating turntable with 500-lb. capacity
1/2-hp close-coupled, sealed pump deliver 20 gpm and 22 psi
Automatic low-water shutoff protection
Debris prevention screen
Karcher-Cuda Parts Washers
FilterFlat Oil Filter Crusher
The FilterFlat oil filter crusher converts used oil filters into recyclable metal and oil.
Simply place on a work bench or table and connect to shop air
Exerts 24,000 lbs. of crushing force
Can crush a 9-in.-tall filter to less than 2 in. in 45 seconds
Safety interlock door
Little maintenance required
Newstripe Inc.
Oil Products
Stens Industrial carries various types of two- and four-cycle oils for a number of applications.
Sten Mix multi-ratio oil increases horsepower, reduces fume emissions, extends engine life and contains anti-corrosion properties to protect equipment after sitting idle for extended periods of time.
Bar and chain oil, gear oil, gas stabilizer and numerous types of grease also available
Stens Corporation
Port-A-Lite 1250W2 Light Stand
1,250-watt SHO lamp fixture for high light output
Two-wheel base for easy portability
Sturdy, welded steel frame
Extends to height of 10 ft.
Light adjusts in all directions
Allmand Bros Inc.
Ready to Rent tags
Durable waterproof tags demonstrate that equipment has been checked and serviced and is ready for rental
Meets insurance company requirements
Multi-colored for quick identification
Sotcher Measurement Inc.
Safety Seal Tire Repair Kit
The Safety Seal "on the wheel" tire repair kit is designed to permanently repair flats without removing the tire from the rim or from the vehicle.
Creates a perfect seal at the inner liner
Repairs punctures up to 1.4-in. in all tubeless tires
Available in Auto/Light Truck, Large Truck and Heavy Equipment sizes
Each kit contains T-handle insertion tool, T-handle probing tool, safety seal repairs, special lube and extra insertion needle
Northshore Laboratories Corp.
Streamline Shop Series
Handles up to 60 gal. of new and used fluids
Vacuums hot, used oil at rates up to 8 gpm
Enclosed system eliminates spills and contamination
Filter Stinger vacuums used oil from filter before its spun off
Used filter receptacle
Sage Oil Vac
Typhoon Portable Wash Station
Portable, self-contained wash station needs no special plumbing or special permits
Pressure washer gun gives 360-degree washing access from outside wash rack
Built-in access ramp closes automatically, becoming a fourth wall to keep overspray on the rack and off your shop floor
Maintenance is minimal since theres no filter to change
Collected debris cycles into a disposal barrel; water replenishment can be handled with a hose; automatic alert signals if water level gets too low
Riveer Company