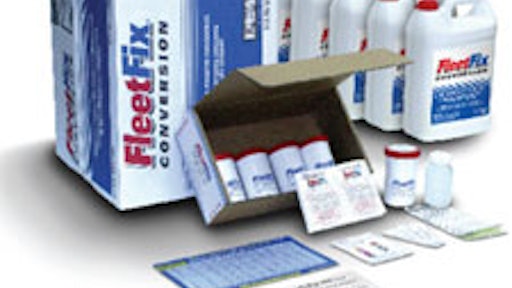 Many machines are leaving factories containing extended life coolants (ELCs). This is a plus for equipment owners, who benefit from the longer service life these fluids can provide - typically up to 600,000 miles, 6 years or 12,000 hours if properly maintained.
Yet, the change in coolants has also created some challenges for equipment managers. "There are a lot of vehicles coming into customers' locations nowadays with extended life coolants. Some of the old equipment still has conventional coolant in it," notes Carmen Ulabarro, coolant marketing specialist, ChevronTexaco. "A lot of customers are struggling with the fact that they have to maintain two types of coolants in their equipment."
Fleets transitioning to ELCs may also be faced with a lengthy conversion process. Until now, the only options have been to drain, flush and refill the system, or simply drain and refill with new coolant. Both methods take time to complete, plus require disposal of waste coolant. Draining and refilling without flushing the system also carries the risk of leaving behind old coolant and deposits.
A faster, easier option
While ChevronTexaco continues to recommend drain, flush and refill as the optimum means to convert equipment to ELCs, the company now offers a "quick fix" in the form of its FleetFix Conversion Pack.
A primary component of the FleetFix pack is a concentrated version of the inhibitors found in the company's ELC products. "We brought out FleetFix to help customers do the conversion a lot quicker than you would with a drain, flush and refill, and also a bit more economically because you don't have to get rid of the coolant. It never really leaves the system. It just gets treated with a high dosage of extended life inhibitor and basically gets turned into an extended life coolant," Ulabarro explains.
Once treated, the coolant can provide a service life comparable to an ELC. The only limitation is that the coolant cannot be diluted by more than 25% with water or another non-ELC product.
According to Ulabarro, FleetFix is suitable for both on- and off-road equipment. "This program can be used for any market segment . . . anything that has a cooling system that you want to convert from a conventional to extended life coolant," she states. "There's no limit as far as equipment size."
There is a recommended size, however, for fleets considering using the conversion pack.
"You do save money using FleetFix," says Ulabarro, "but the economics of saving money on real small fleets is not viable. It's better if you just do the best thing - which is to drain, flush and refill - because you don't have very many pieces of equipment. We're really targeting fleets that are 100 or more [pieces] in size."
Monitoring coolant condition
The conversion pack also includes test strips, freeze point charts and post-conversion coolant tests to ensure the coolant meets quality standards.
"Part of the program requires that the customer check the coolant condition before adding FleetFix," says Ulabarro. "You check the coolant in service by checking the freeze point, nitrite levels and pH. If those pass, we consider that the coolant in place is in good enough condition to have the inhibitor put into it."
Once the inhibitor has been added, the coolant is circulated through the system. Then another sample is taken and mailed to a testing lab.
"They evaluate the coolant to be sure enough inhibitor has been put in, and that the coolant was in good enough shape for it to be treated," Ulabarro explains. She adds that only a very small percentage of coolants fail to pass lab testing.
Even with such safeguards, concerns may come up regarding the level of deposits remaining in the cooling system. "A lot of the inhibitors in conventional coolants have a tendency to lay down deposits," says Ulabarro. "But when you add FleetFix, you're not adding any more deposit-building materials." Rather, she says the product serves to dilute existing deposits, which eventually disappear over time.
Ulabarro adds that the FleetFix program has been field tested for the past eight years on over 150,000 vehicles and has been found both safe and effective.
Detroit Diesel POWER COOL
POWER COOL off-highway coolants meet all Detroit Diesel MBE and MTU engine specifications.
POWER COOLR Off-Highway long-life fully-formulated ethylene glycol coolant uses inorganic salts as the inhibitor formulation and nitrite-based SCA
POWER COOLR Off-Highway 6000 with non-nitrite organic acid inhibitor is suited for water-cooled systems only
Available in bulk, 55-gal. drums, 5-gal. pails and 1-gal. containers
BP Lubricants Castrol Pyroplex Protection ES Grease
The anti-corrosion, extended-service Castrol Pyroplex Protection ES grease is designed to shield against salt-related corrosion.
Synthetic, lithium-complex formula for on- and off-road applications
Suitable for salt spreaders, trucks and other heavy-duty equipment
"Stay-in-place" ability combined with mobility and high-pressure performance enable extended service intervals and reduced wear and tear on moving parts
GC-LB and NLGI 1 and 2 approved
Amsoil Antifreeze/Coolant
The Amsoil antifreeze/coolant is universal in application and can be used in gas- and diesel-powered heavy-duty trucks.
Compatible with other EG coolant formulations
Life span of up to 750,000 miles
Poly organic acid technology prevents corrosion, improves protection against liner pitting and seals hairline cracks
ATP Blue Magic Air Tool Lubricant
Blue Magic Air Tool Lubricant is specially compounded for lubricating pneumatic tools and air motors.
Additives absorb moisture into lubricant to form a stable emulsion that clings to the inside of the tool
Lubricates, rustproofs and prevents ice from forming in tool exhaust
No separation of water and oil during idle time
Donaldson PowerCore Air Cleaners
The two-stage PowerCore standard line air cleaners with Ultra-Web incorporate a compact design and higher filtration efficiency suitable for a range of vehicles and engine sizes.
High-efficiency inertial separator tubes close-coupled to a fluted media design
Racetrack shape permits use in space-constrained areas and provides increased mounting flexibility
Pirtek Oil Spill Response Kit
The Oil Spill Response Kit is a universal kit that can be used for both petroleum and water-based fluids and coolants.
Contains enough absorbent socks and pads to handle up to 4 1/2 gal. of fluid
Comes with a temporary containment bag and tie
Kits packaged and sealed in a heavy-duty plastic bag for weather resistance
Small enough to fit in any vehicle cab or under the seat
Kendall Super-D 3 Diesel Engine Oil
The Super-D 3 multigrade diesel engine oils are suitable for EGR, ACERT or conventional diesel engines, as well as mixed fleets with diesel or gasoline vehicles.
Provide greater wear and corrosion protection and soot control
Available in 10W-30 and 15W-40 viscosity grades that meet or exceed requirements of API CI-4, CH-4, CG-4, CF-4, CF and SL
SAE 15W-40 also meets requirements of API CI-4 Plus
ConocoPhillips Premier Greases
This line of premier greases will be available across the Conoco, Phillips 66 and 76 Lubricants brands.
Expanded assortment of grease products for industrial, construction, mining and other commercial and automotive industries
Shell ROTELLA T Synthetic-Blend
The ROTELLA T Synthetic-Blend high-performance, heavy-duty multigrade engine lubricants are designed for use in advanced diesel engine designs meeting tightened emission requirements and requiring advanced oil performance.
Meet warranty and service requirements of virtually all four-stroke cycle diesel and gasoline engine manufacturers
ChevronTexaco Delo Grease EP
Delo Grease EP (extreme pressure) improves mechanical stability and water resistance.
For light- to heavy-duty trucks and off-road equipment
Uses ISOSYN technology for synthetic-type performance
Low-temperature pumpability and high-temperature stability
Exxon XD-3 EXTRA
The XD-3 EXTRA engine oil surpasses the API CI-4 performance specifications.
Compatible with current and previous diesel engines requiring API CH-4, CG-4 or CF-4 engine oils
Stands up to intense heat of EGR-equipped engines
Provides stronger TBN retention, greater soot dispersancy and longer drain and overhaul intervals