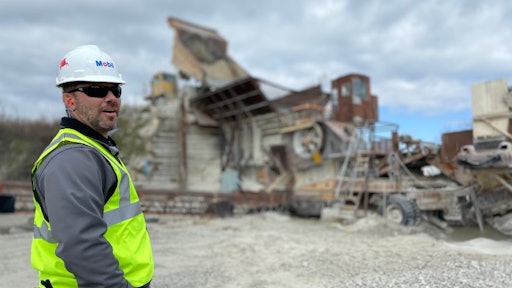 ExxonMobil
The evolution of technology to create smart factories, commonly known as Industry 4.0, has given rise to the next phase of industrialization, where humans and machines collaborate to increase production and efficiency. Referred to as Industry 5.0, this evolution has the promise of an exciting future in the construction space, in which construction sites will connect equipment and fleet owners and operators to understand how to increase equipment uptime.
For early adopters of smart technologies, most of the Industry 5.0 discussion is centered on the future-state visions of the connected worksite – a future in which operations are automatically analyzed and optimized to boost profit. But data alone does not make this possible. While some may think that technology can replace humans, humans are actually critical to the success of any technology or connected site.
Unlocking the full potential of Industry 5.0 requires human capital to act as the fleet's unifying element. Construction businesses need to ensure that they are incorporating technology in their operations in a way that breeds success, with humans at the core. And there are a few steps to achieve this.
Step 1. Shift personnel mindsets to set clear goals
Successfully implementing an Industry 5.0 strategy requires moving away from using "Maintenance 1.0" techniques to service "Industry 5.0" operations. This means shifting from narrow equipment-level views toward a strategy that looks at the many moving parts of an operation holistically. This requires that you ask yourself: "What data do I need to help operations run more efficiently?"
You can then identify the right technologies to get that data, but the data also needs to measure human contributions. The data needs to tell you how to reach maximum capacity, even if that means moving from preventive maintenance to predictive maintenance. Optimizing the performance of critical equipment will remain a priority, but this shift means you will have a more sophisticated view of what data to monitor and what actions to take. 
Step 2. Understand dependencies to build data strategies
Today's technology market includes countless solutions from sensor companies and software vendors. This can make it difficult for contractors to identify the products best suited for them. As an added challenge, many of these solutions provide data opportunities that are only relevant to specific equipment rather than the whole site.
Consider vibration analysis, for example, which is a critical equipment condition monitoring tool that uses sensors to measure Root Mean Square Amplitude (RMSA). This method uses an ISO convention; but without measuring and comparing these results to the construction project's other processes, there is a limit to how insights can be analyzed. When these insights are paired with additional equipment condition monitoring strategies, such as infrared and/or used oil analysis, personnel can then have a clearer sense of the state of their equipment.
Further, integrating these sensors with an existing ERP system can present a challenge and updating to a new ERP system requires planning and hefty evaluation. Therefore, bolt-on solutions don't offer the most actionable insights and can cause contractors to gather an overabundance of data from a variety of sensors and equipment.
When developing an Industry 5.0 program, you first need to identify operational goals and over-arching business ambitions. With this understanding, you can identify which performance metrics matter most toward achieving those goals and where the restrictions are. From there, you can focus on building out a technology stack and data strategy optimized around those specific metrics and bottlenecks.
Step 3. Optimize human operations
Once a fleet has defined goals and metrics, as well what type of data provides the greatest opportunity, the next step is to activate the people. To do this effectively, there are three questions worth asking:
How impactful is one's daily work in meeting the overarching production goals of the company?
What is the impact on the annual goals of the company when a single work task is left undone?
How effectively do teams communicate across the business (i.e., maintenance, production, HR, etc.)?
By answering these three questions, and optimizing internal communications, you can unlock untapped human potential within your company. Based on industry conversations, it seems few companies are aware of resolutions to these challenges and/or the potential growth associated with overcoming them.
Step 4: Carefully select partners that understand the needs of your fleet
With countless solutions on the market, making careful and strategic investments can be tough. Construction companies should turn to suppliers who can become partners with them in their operation – partners who have a depth of maintenance and operational experience of their own so they can evaluate the entire operation and provide recipes to success for the construction crew.
When set up properly and with the right "end goal" in mind, a human-centered approach to Industry 5.0 will provide actionable insights that are far more specific and impactful than technology alone can provide, helping deliver on key business ambitions and operational goals year after year.
Adam McMurtrey, CMRP, is a Mobil Serv Field Engineer at ExxonMobil.