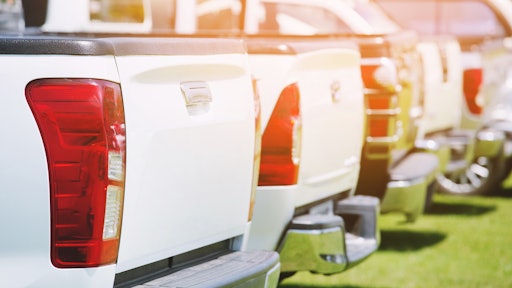 ©methaphum – stock.adobe.com
For construction managers, operating costs start well before crews hit the ground. To afford the best equipment and technology available for workers to get the job done, something has to give. Doesn't it make the most sense to save money in areas of the business that do not directly affect project roadmaps?
Many fleet managers in the construction industry have jumped through hoops the last couple of years as labor shortages continue to pinch a historically strained market. Construction companies can bleed money quickly with high equipment costs and employee turnover rates, and to make matters worse–inflation continues to soar. Fuel is one of the top two operating costs for construction fleet managers, representing a sizable chunk of the bottom line. With fuel prices out of whack and driving up costs across all industries, construction companies face the possibility that cost-conscious customers simply don't have the funds to do business.
Along with the surging fuel costs that compromise fleet managers' financial flexibility, material costs are also on the rise due to supply chain shortages, made worse by expensive fuel. Construction sites have seen reduced job completion rates and diminished access to materials due to supplier challenges associated with the price hikes.
While these price hikes continue rocking the market, it is critical to understand that there are quite a few actions fleet managers in the construction industry can implement across their business to improve efficiency, productivity, safety and customer service, all while making sure costs remain manageable. Without disrupting project roadmaps, GPS tracking and telematics will help fleet managers and drivers navigate the road to fuel efficiency.
Reduce Downtime With Preventive Maintenance
Making sure vehicles are maintained and running at peak efficiency is one of the most basic ways fleets can reduce fuel costs. Vehicles with older or malfunctioning parts can lack in performance and reduce fuel efficiency.
Fleet managers should track several indicators as they pertain to maintenance on vehicles, including, but not limited to:
Smog checks
Brake inspections
The vehicle's last oil change, based on miles driven, not date
Transmission flushes
Tires are another important element of maintenance for fleet vehicles, as more miles on the road tend to wear on tires at a quicker pace. Purchasing and maintaining quality tires strengthens reliability and is critical for healthy fleet operation. Some things that can easily be implemented into a regular maintenance schedule include:
Checking the vehicle's alignment at factory-recommended intervals
Performing regular rotation and balance
Checking tire pressure
Monitoring tire tread depth
GPS tracking and telematics keep close tabs on these elements, alerting managers that it's time for a maintenance check. Keeping a consistent routine will help keep vehicles running at peak performance.
Reduce Travel Time for Field Workers
Since a significant amount of construction services occur out in the field, construction managers and contractors must find ways to manage a largely mobile workforce. A lack of coordination and collaboration between the back office and field workers can lead to increased travel time and fewer jobs completed per day. Optimizing your scheduling and dispatch processes through field service management software (FSM) empowers field managers to see where field workers are before dispatching them to the next job. By improving routes with FSM, managers will cut fuel expenses without compromising completion rates.
Monitor Driving Patterns and Reduce Speeding
A U.S. Department of Transportation report shows that driving behavior is the most significant contributor to fuel efficiency. The report also found up to a 35% difference in fuel consumption between a good and bad driver, adding that telematics has shown to be successful in improving vehicle efficiency.
Braking, acceleration patterns, and speeding can all play a role in fuel consumption. If a driver has a lead foot, he or she will quickly burn through gas. In fact, for every 5 mph over 30 mph, an extra $0.20 per gallon of gas is burned. Not to mention speeding can lead to more accidents, fines, increased wear and tear and cause damage to an organization's reputation–none of which construction businesses can afford to leave to chance.
Use Fuel Cards
Fuel cards will help managers track vehicle-related expenses, and many offer discounted gas prices from approved suppliers, a great way to cut fuel expenses. Integrating fuel cards with GPS tracking also helps prevent fraud, which can be a huge problem for fleet managers. Integrating fleet fuel cards with your GPS tracking shows the overall cost breakdown of fuel spend, including cost per gallon, gallons purchased, total cost of fuel, miles per gallon and cost per mile. Integrating fuel cards with GPS tracking also prevents employees from abusing fuel cards. Fuel card integration empowers fleet managers to catch abuses at the pump by matching miles driven against fuel purchases to ensure accountability.
Track Vehicle Mileage and Reduce Idle Time
The most significant step in lowering fuel costs is knowing exactly how much fuel your fleet is burning, regardless of whether the vehicle is driving or idling.
The U.S. Department of Energy estimates that an idling truck will waste nearly a gallon of fuel each hour. One use case revealed that through GPS tracking and telematics, around 200 gallons of fuel were found to have been wasted due to extended idle time that equaled almost 400 hours in one month. Within three months of learning of the inefficiencies, fleet managers were able to decrease idle time by 30%.
Remove Any Extra Weight
Every extra pound can contribute to a vehicle requiring more fuel. Every 100 pounds added to a truck reduces the fuel economy by about 1%. While a few extra pounds here and there might seem insignificant, they will lead to unnecessary expense over time.
Overloaded vehicles can also cause faster wear and tear on tires, requiring more frequent maintenance. Never load up more than what is necessary for any trip.
Where to Go From Here
Unfortunately, change is likely not on the horizon as Russia's invasion of Ukraine has shocked the economy. By considering the steps above, fleet managers will save on fuel and can put that money toward initiatives that propel the business forward, including purchasing advanced equipment for construction projects, supporting professional development through paying for worker certifications, or deploying digital transformation efforts. GPS tracking and telematics will provide construction fleet managers with the means to improve efficiency, productivity, safety, and customer service as we continue navigating the gas price crisis.