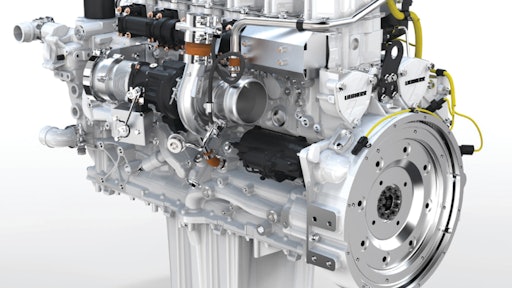 Tier 4 is the law of the land. It is no longer avoidable if you want to purchase new equipment. But there are many unanswered questions that make the decision to purchase more difficult than in the past. By now you are already aware of the increased purchase price necessary to cover substantial R&D and the addition of exhaust aftertreatment devices.
Certain factors will drive demand for Tier 4 equipment, such as bid specifications and permits requiring diesel emissions reductions. Tier 4 equipment may be required or give you an advantage when bidding government jobs or work located in EPA-designated non-attainment zones (most major urban areas).
But questions do remain about performance, reliability, operating costs, maintenance and residual values. The answers to many of these question may remain in flux until a core number of machines enters the market.
You can expect price increases anywhere from 8% to 20% depending on the type of equipment. This cost increase will be partially offset by fuel economy improvements up to 5%.
One of the enabling technologies is selective catalytic reduction (SCR). This technology requires diesel exhaust fluid (DEF) fluid to be injected into the exhaust upstream of a catalytic converter. DEF consists of 32.5% urea and 67.5% de-ionized water. DEF is injected at a rate to maintain a predetermined ratio with diesel fuel use. Assuming a 2% to 3% dosing rate, you would use approximately 2 to 3 gal. of DEF for every 100 gal. of diesel fuel. At the current time, truck stops are selling DEF for approximately $1.80 per gallon. To calculate your operating cost with an SCR system, you must not merely consider diesel fuel economy, but instead factor in total fluid economy — diesel fuel plus DEF consumption.
Understand Your Options
There are no universal solutions for Tier 4. Some equipment will use SCR while other equipment will utilize a form of exhaust gas recirculation with exhaust aftertreatment. Some machines will use a diesel particulate filter (DPF) with either active or passive regeneration, while others can get by with a diesel oxidation catalyst (DOC). The technologies used will depend on the size of the diesel engine, the application, whether the machine conforms to Tier 4 Interim or Tier 4 Final standards and the technology approach of the particular manufacturer. This means you must be much better informed about the emissions devices on the various brands and models of machines you are considering and how it may impact your fleet.
Equipment will continue the technology transition through next January. Keep in mind that Tier 4 Final implementation dates are staggered. For engines from 175 to less than 750 hp, the Tier 4 Final regulations took effect on January 1, 2014. For engines from 49 to less than 75 hp, it took effect on January 1, 2013. For engines from 75 to less than 175 hp, Tier 4 Final is required by January 1, 2015.
Tier 4 Final Motor Grader Off to a Good Start
With Tier 4 Final products in the 175- to less than 750-hp category just becoming available, it is difficult to find many people who have experience with these products. But there are a few making their way to the market.
Weld County Public Works in Colorado turns its fleet on a regular basis, so it has been exposed to various emissions tiers, including the recent addition of a Tier 4 Final John Deere 770G motor grader. "We have over 2,300 miles of road in Weld County to maintain," says Mike Livengood, senior motor grader foreman. "We have 29 different motor graders stationed at various towns and places throughout the county." Additional motor graders are used to build roads and complete projects. "We have 42 motor graders in all."
The motor graders are a mix between leased and purchased machines. "On our purchased machines, we have them on a cycle so that we don't have to buy a whole bunch at once," says Livengood. "We have two to three machines that we replace every year. This year, we are looking at two more machines [in addition to the 770G already purchased]."
The Tier 4 Final John Deere 770G has been in use for about a month and a half. "It has done very well so far," says Livengood. "We are pleased with it."
The county purchases its motor graders on a low-bid basis, and then they are required to stay in the fleet for 10 years or 14,000 hours. But past experience and operating expense are factored into the equation. "Unfortunately, we have had a few problems with some of the other equipment lately and I was able to show that [the 770G] was actually more cost-effective for us as far as operating costs," says Livengood.
"As far as Tier 4 Final, from what I have been told and what I have seen already on this machine, the burn-off does not happen as often. We have not had a regen on this machine yet," says Livengood. Regeneration happens automatically as needed to oxidize soot that builds up in the DPF. Unlike soot, ash that builds up cannot be oxidized during regeneration and requires that the DPF be cleaned by a certified DPF service center. The other machines in the fleet with DPFs require the filters to be changed in five years for this service. "I have been told this DPF may not have to be changed until 15,000 hours." Given that the county's 10 year/14,000-hour replacement cycle, Livengood hopes to avoid the cost of a filter change on the 770G.
The Tier 4 Final machine also promises better fuel economy, but it is too early for Wayne County Public Works to determine the actual benefit. "At this point ,that is not something we can go into too much because it is in a break-in period," says Livengood. "That is going to make a little difference. So we have not seen a whole lot of increase in fuel efficiency yet. Time will tell."
One of the only differences in operation is the addition of DEF. "We are not using that much of it, so if we are saving fuel, that is going to cut down cost," says Livengood. "I don't see anything more adding cost over what we ran before."
In terms of operation, it is similar to other machines equipped with a DPF. A light comes on when the DPF regenerates and the operator is instructed to let it regenerate if possible or cancel it if necessary. "There is nothing the operator has to do; the machine does it," says Livengood. "As long as there are no buzzers or lights going off, then we are not doing anything different than we have done before."
Maintenance is also pretty much the same as other models in the fleet. "We haven't changed anything," says Livengood. "There are a few less grease zerks, which means our initial maintenance on a daily basis doesn't require as much time."
Livengood acknowledges that a public works department is a little different than a contractor. Yet, the regulatory requirements are the same. "Basically, this is a regulation. We have to deal with that regulation, so we are just going to have to increase our budget to cover those costs," he states. "Nobody likes an increase in price. But if the machines run better and cleaner, then it is good for everybody and the environment. We don't have a choice."
A Cautious Approach
Many contractors are planning to prolong the move to Tier 4 until the technology is proven. Frank Manfredi, Manfredi & Associates, released an in-depth research report last year called Quarantined Markets: A Study of the Impact of Emission Regulations on Equipment Sales and Prices. In the report, Manfredi says he believes the Tier 4 regulations will impact new equipment sales. Equipment users told Manfredi they will extend the life of their existing Tier 3 machines by rebuilding them for as long as possible. In addition, they will search for "good" used Tier 3 machines and add them to their fleet. They will also seek out remanufactured Tier 3 machines.
K D Equipment Corp., a small site development and utility contractor, took a proactive approach, upgrading its fleet before the regulations took effect so it has time to monitor Tier 4 equipment performance. "We bought a new excavator about two years ago because we knew Tier 4 was coming," says Frank Rivett. Prior to joining his son in the business full time, Rivett spent over three decades selling equipment, including big engines and generators.
He cites the advanced electronic controls and the emissions controls that de-rate the engine in the case of a problem as a cause for concern. "Electronics are great when they are working. But one bad sensor can wipe out production because they are cutting back to 60% performance. I am just gun shy of that technology."
DEF systems and exhaust gas recirculation add complexity, as well. "It looks like an expensive animal to maintain if something goes sideways on you," says Rivett. "Until you get thousands of hours on these machines, you are not going to know what the real costs are. We will have to wait and see what the final outcome is as far as repair and the operating costs."
Used Equipment Values
Residual values are an important consideration in the total life cycle costs of any construction equipment. These values can be influenced by international sales, since a significant portion of North American construction equipment is sold overseas to less-regulated markets. Manfredi & Associates has determined that an average of 10% of all the machines sold at all auctions and 15% to 20% of all machines sold at the Florida auctions are sold to purchasers from Latin America. In total, 18,000 to 27,000 used machines are sold annually to Latin America.
A major stumbling block is that Tier 4 generation engines and equipment must use ultra-low sulfur diesel (ULSD) fuel, used only in the U.S., Canada, Europe and Japan. While most manufacturers have now announced kits that will allow the aftertreatment devices to be removed so this equipment can burn higher sulfur fuel and be sold in less-regulated countries, that does not mean these customers will pay more for the equipment that was initially 8% to 20% more expensive to purchase new.
Manfredi predicts that if the devices are removed, it will result in an added expense to machines that are already 15% to 25% more expensive than machines without emissions devices.
In addition, Manfredi & Associates expects traditional export markets such as Latin America to be inundated with less expensive machines built in countries (such as China) that do not require higher emissions standards. It estimates the U.S. EPA regulations will result in a reduction in the quantity of used machines exported and sold to less developed countries. A reduction in exports will result in a 15% to 20% increase in the supply of used machines in the North American marketplace. There is a direct relationship between equipment supply and prices. Manfredi concludes that a surplus of used machines will result in a decline of between 15% and 20% in the prices of North American used machines equipped with emissions-compliant engines.
Another undetermined impact will be the prices of pre-Tier 4 used machines. Diesel equipment is known for its durability, so Tier 4 equipment will represent only a fraction of in-use equipment for some time.