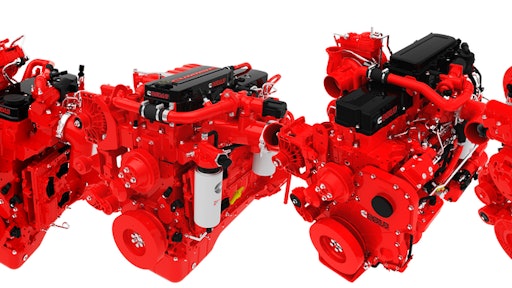 Ask any rental professional what keeps them up at night and one of the most common responses is the headache of dealing with Tier 4 emissions regulations. Whether it's the increased cost of the equipment, the maintenance requirements or the potential resale challenges, opinions on this subject are invariably strong. And like all major transitions, adjusting to changing engine technology takes time. 
U.S. EPA Tier 4 Final and EU Stage IV low-emissions regulations for the 75 – 173 hp node took effect on Jan. 1 of this year, requiring new standards for nitrogen oxide (NOx). While a considerable challenge for engine manufacturers, the implementation of Tier 4 Final requirements actually alleviates several of the frustrations associated with Tier 4 Interim technology, such as the need for active regeneration and the issue of plugged diesel particulate filters (DPF).
Tier 4 Final solves most of these problems, with selective catalytic reduction (SCR) being a key enabler. Since PM and NOx inversely impact each other, Tier 4 Interim fought a battle because anything done to improve one created more of the other. SCR solves that problem but adds complexity and cost, so manufacturers held off on its use until Tier 4 Final so as to avoid increasing the cost of engines too dramatically at one time. Today, enhanced NOx reduction through SCR allows for optimized fuel combustion in-cylinder which reduces particulate matter (PM) and can eliminate the need for a DPF.
To find out how the latest engine technology can simplify things for your business, we talked to several leading engine manufacturers. Following is an excerpt from that discussion:
Rental: How has Tier 4 Final technology changed from Tier 4 Interim?
Steve Corley, chief sales officer for Deutz Corporation: In a short period of a few years, engine manufactures were able to understand the challenges faced by operators and develop more robust engines and after-treatment systems by taking the guess work away from the operator so they could focus on their job. The use of advanced engine controls and effective use of sensors has essentially reduced engine emissions to near zero levels on all four constituents (NOx, HC, CO and PM). On engines rated above 75 HP, Tier 4 Final requires us to reduce NOx by 90 percent compared to Tier 4 interim and this has been achieved with the addition of selective catalytic reduction (SCR) systems. The system requires a catalyst and the use of diesel exhaust fluid (DEF). A DEF tank also needs to be fitted in the machine that will require fill ups at appropriate intervals. The machine control panel will have to include additional lamps that indicate when DEF needs to be added. DEF is used on all modern on-highway trucks and is proven technology. One benefit at Tier 4 Final is that our 4-8L engines will now adopt a passive DPF system, meaning it will continuously regenerate and not store PM that needs to be burnt through a regeneration cycle.  
Kevan Browne, Cummins: The transition from Tier 4 Interim to Final has required no significant change to Cummins engines, other than enhancements to the fuel injection and the combustion formula. With the Tier 4 Final regulations focused on reducing only NOx, this was achieved with the incorporation of selective catalytic reduction (SCR) into the exhaust aftertreatment system for engines rated above 74 hp (55 kW).
Cummins' approach to installation transition was making our Tier 4 Interim solution "machine adaptive" to meet Tier 4 Final, so that OEMs could more easily make that later change. We designed our Tier 4 Interim aftertreatment as a modular system, able to later incorporate SCR for Tier 4 Final. For our mid-range engines, space was made available by replacing the diesel particulate filter with a smaller, simpler diesel oxidation catalyst (DOC) system.
Rental: How was the elimination of the DPF achieved?
Jeff Wilke, product manager, Diesel Engines Americas, Kohler Engines: Kohler's KDI line, which now includes eight engines, achieves Tier 4 Final emission compliance without a DPF due to a number of innovative design features, including Kohler's direct injection system, cooled exhaust gas recirculation (EGR) and diesel oxygenated catalyst (DOC). A high-pressure common rail system is also integrated, which utilizes pressures at 2,000 bar (29,000 psi) to deliver better atomization of fuel, improved fuel consumption and a reduction in emission particulates.
Corley: For diesel engines that power most types of rental equipment we do not require a DPF. For engines rated below 75 HP we only require a DOC and for 75 – 135 HP we use DOC/SCR combination. This was achieved through the use of sophisticated in-cylinder performance enhancements to reduce the PM, removing the need for a DPF. This does negatively impact the NOx emissions which is then easily mitigated by the SCR system. For engines rated 135 HP -350 HP, the duty cycles of those machines are such that we chose to use a coated passive DPF to ensure PM control in all conditions. At the top of our power range from 400 – 750 HP we chose a twin SCR system that runs the exhaust through two catalysts to ensure compliance to Tier 4 Final. The engine does not have any EGR and the in-cylinder PM level is such that we do not need either a DOC or DPF. 
Browne: With SCR now part of the exhaust aftertreatment for Tier 4 Final, this provides a greater degree of latitude within the combustion formula to control Particulate Matter (PM) formation. Higher fuel injection pressures and smarter electronic controls are further enablers to reduce PM. As a result, the DPF is replaced by a simpler, filter-free Cummins diesel oxidation catalyst (DOC) able to remove around 30 percent of the PM. The DOC is significantly smaller than a DPF, freeing up installation space.
The combined DOC-SCR system is utilized on Cummins Tier 4 Final engines ranging from 100 hp to 400 hp (75-298 kW). Above this output the DPF remains for Tier 4 Final as installation space is less constrained with these larger machines. The higher load factors of heavy-duty equipment enable the DOC-SCR to act as an almost passive device with no impact on machine operation.
Rental: How do the newest engines compare in terms of performance?
Browne: The move to near-zero emissions at Tier 4 Final has been achieved with an additional increase in fuel economy to that achieved at Tier 4 Interim. As a result, Cummins-powered Tier 4 Final machines have been able to achieve up to 8-percent improved fuel efficiency compared to their Tier 3 equivalents. Even higher gains have been realized as OEMs have introduced machines with more fuel-efficient "economy" operating modes. Cummins has worked very closely with OEM customers to optimize machine performance so that the full potential of our Tier 4 engine technology is utilized with torque shaping, idle control and electronic feature sets.  
Cummins was determined to make no compromise on engine performance while meeting the Tier 4 Final regulations. In terms of power delivery and torque response we were able to retain – or improve upon – the performance gains realized at Tier 4 Interim. As an example, the four-cylinder QSB4.5 is uprated to 173 hp (129 kW) and has a 12-percent higher peak torque at Tier 4 Final, offering the opportunity for some equipment to downsize from a similar-output six-cylinder engine.
The response from OEMs and operators to Cummins Tier 4 Final products has been very positive. Our engines have clearly demonstrated that they can boost equipment productivity, reduce operating cost, run exceptionally clean and lower the carbon footprint.
Wilke: By forgoing a DPF, end users can expect reduced engine maintenance, enhanced heat management, improved overall performance, and better fuel efficiency. Equipment manufacturers also benefit from a more compact engine footprint, which delivers a higher level of flexibility in product design and engine integration.
Corley: The biggest improvement observed in Tier 4 Final engine is in the brake specific fuel consumption compared to Interim Tier 4 and Tier 3 engines. On average fuel consumption saving of 3-6 percent could be achieved from Tier 4 Final engines compared to the previous Tiers. We have also been able to increase the power output on some models such as our TCD 3.6 L4 which now offers 135 HP compared to 122 HP at interim Tier 4. This is due to the addition of the SCR controlling NOx output and a more efficient combustion process.  
Rental: How do they compare in service intervals and maintenance?
Corley: Service intervals are not impacted by the move to Tier 4 Final. It remains very important that the operator uses our recommended fluids and always runs clean ultra-low sulfur diesel fuel, otherwise the after-treatment system will be damaged and lose efficiency. These new technology engines have advanced filtration systems to ensure they can operate for 500-hour between-service intervals while maintaining the near-zero emission levels. With all the advanced electronics on these engines, there is more information available to the operator than ever in the past. We expect these engines will last longer than previous mechanical engines due to the sophisticated engine monitoring and early warning systems that will ensure the operator will take action should an issue occur with the engine.
Wilke: The service interval has been extended as a result of how cleanly these new engines run. All KDI engines have standard oil change intervals of at least 500 hours and up to 750 hours – or more –on approved applications.
Browne: No additional service or maintenance events are required for Cummins Tier 4 Final engines compared to that of our Tier 4 Interim engines. With regard to the Tier 4 Final aftertreatment system, Cummins engines rated up to 400 hp (298 kW) are now filter-free with no scheduled service-cleaning now required.
Rental: How will they affect equipment resale prices?                                                                                 
Wilke: When comparing Tier 4 Final solutions to previous Tier engines, purchasers should be careful to consider total cost of ownership. Be mindful of how the extended service intervals, ease of maintenance, and enhanced fuel efficiency can help save significant dollars over the life of the equipment. Also, consider the possibility of downsizing as a cost-saving strategy. In some instances, end users can step down in engine size while still maintaining the power level that's needed.
Browne: At this time, it is perhaps too early to estimate the effect of Tier 4 Final technology on equipment resale prices and, of course, other market factors will need to be taken into consideration. However, one significant influence on resale value will be the long-term durability of the engine. Operators of Cummins-powered equipment can be confident that our Tier 4 Final engines will achieve the same impressive life-to-overhaul as they experienced with our Tier 3 engines. This longevity has been proven with Tier 4 engine tear-down inspections undertaken after many thousands of hours of operation. The rugged Cummins aftertreatment system is specially protected against severe shock-loads and is designed to achieve the same life as the engine.
Corley: That will have to be seen over time; however we do not foresee resale prices being adversely impacted by Tier 4. In fact, they could have a higher resale value in the USA than Tier 3 machines due to contracts that demand only Tier 4-powered equipment be used, or in California where fleet averages on emissions output will impact the amount of equipment they can operate. We have also considered that some equipment may be exported to areas where Tier 4 compliance is not required and ULSD is not available. Should that happen we offer a downgrade kit where the Deutz partner will remove the after-treatment system and apply a new electronic dataset and remove the EPA certification label.