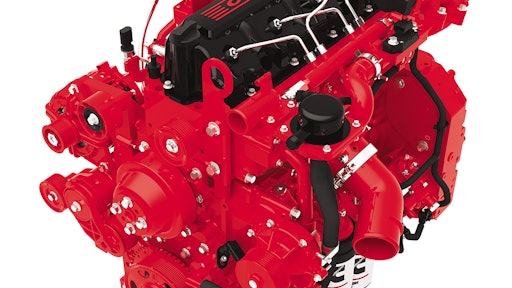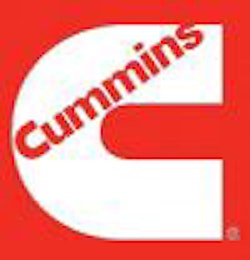 Cummins Inc. announced today that production has started on the 4-cylinder QSF2.8, QSF3.8 and QSB4.5 engines certified to meet U.S. Environmental Protection Agency (EPA) Tier 4 Final low-emissions regulations. The new generation of engines provides a simplified technology approach focused on compact installation packages for space-constrained construction and material handling equipment across the 49 hp-to-173 hp (37-129 kW) output range.
The QSF and QSB engines utilize filter-free, flow-through exhaust aftertreatment systems and a clean-combustion formula focused on fuel efficiency. For rental companies, that means a lower cost of operation and higher uptime availability as they transition their fleets to Tier 4 Final-compliant equipment.
Tier 4 Final capability is showcased in the Cummins booth (#8813) at the American Rental Association (ARA) Rental Show in New Orleans, Feb. 22-25, with the 4-cylinder engine lineup displayed together with 200- and 275-kW mobile rental generators from Cummins Power Generation.
The 2.8-liter, 3.8-liter and 4.5-liter offer an ideal range of engine displacements and incremental performance to align with rental equipment step-ups in capacity, size and operating weight across a broad product range. The ability to power-match is also realized with the potential for installation downsizing at two pivotal points - with a new, lower 74-hp (55 kW) rating for the QSF3.8 and a higher 173-hp (129 kW) rating for the QSB4.5.
"With these downsizing opportunities and use of simplified technology across the range, Cummins is redefining the ability of 4-cylinder engines to power compact equipment with simpler technology for applications including skid steers, forklifts, excavators, wheel loaders, telehandlers, air compressors and more," said Brian Wilson, Cummins General Manager - Global Compact Business.
"We anticipated the need to reduce the impact of Tier 4 Final at specific power points, as that option would allow some types of equipment to move to a much simpler and more cost-effective installation solution without any loss in performance," added Wilson.
Equipment positioned in the 75 hp-to-90 hp (56-67 kW) power band can transition to the new QSF3.8 rating at 74 hp (55 kW) and take advantage of using a simple Cummins Diesel Oxidation Catalyst (DOC) in place of Selective Catalytic Reduction (SCR) aftertreatment or a Diesel Particulate Filter (DPF) system. The 3.8-liter displacement ensures that machine capacity and low-end torque performance are retained at the lower 74-hp (55 kW) rating.
Compared to an SCR system, the Cummins DOC reduces the aftertreatment space claim by more than 50% and eliminates the on-board Diesel Exhaust Fluid (DEF) tank and the associated cost of replenishing the fluid.
Increasing the top rating of the QSB4.5 to 173 hp (129 kW) for Tier 4 Final presents the opportunity for equipment using a 6-cylinder engine at a similarly rated power to downsize to a much smaller 4-cylinder QSB4.5 installation, with the added benefit of fuel consumption savings of up to 10%.
The QSB4.5 is performance-upgraded for Tier 4 Final with a compact Variable Geometry Turbocharger (VGT Turbo) specifically developed by Cummins Turbo Technologies for the engine platform to provide higher boost at all engine speeds with impressive levels of torque response.
For QSF2.8 and QSF3.8 ratings below 75 hp (56 kW), the Cummins DOC provides a "fit and forget" solution, completely transparent to the equipment user as it functions as a filter-free device able to reduce emissions from the exhaust without the need for regeneration or any service cleaning. For applications above 75 hp (56 kW), the Cummins SCR system achieves very high emissions conversion efficiency with filter-free, flow-through operation. The SCR works as an integrated system with the engine combustion so that DEF use is reduced to as low as 3% of fuel consumed.
The SCR system is used in combination with a DOC for higher outputs up to the 173 hp (129 kW)-rated QSB4.5 for premium performance equipment. The Cummins DOC-SCR system allows a greater latitude within the in-cylinder combustion formula to realize faster engine response and improved fuel efficiency.
Emissions control of the exhaust is complemented by a light-flow, cooled Exhaust Gas Recirculation (EGR) system, sized to fit within the QSF and QSB engine envelopes. Due to the efficiency of the aftertreatment in removing emissions, the EGR system needs to recirculate only a low proportion of the exhaust gases back to the in-cylinder combustion.
Companies in this article