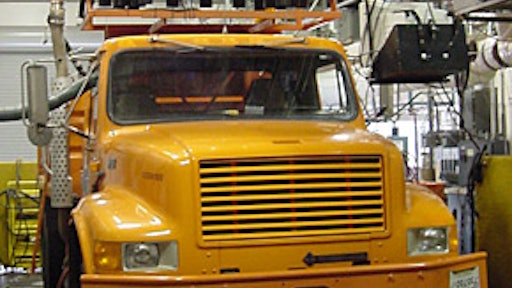 Cleaire Advanced Emission Controls announced the opening of its Heavy-Duty Chassis Dynamometer Emissions Laboratory for outside contract services. Cleaire Advanced Technology Testing Services is located in Richmond, Calif., on the campus of the Chevron Technology Center. As one of only a handful of CFR-compliant heavy-duty chassis dynamometers, the laboratory is capable of testing a variety of medium and heavy-duty power train technologies including diesel emission control systems, hybrid power trains and alternative fuels.
"We are excited about opening our doors to external customers to perform contract testing services," said Gale Plummer, Cleaire CEO.
The chassis dynamometer consists of a Froude-Consine transient motoring dynamometer capable of full road-load and wind simulation, with power absorption sufficient to test any vehicle up to 575 horsepower. The lab is therefore capable of accommodating transient driving schedules like the Urban Dynamometer Driving Schedule (UDDS), New York City Bus (NYCB) or virtually any other driving cycle in addition to steady state tests. It is equipped with a full scale insulated dilution tunnel for both continuous and bag measurements of nitrogen oxide, nitrogen dioxide, carbon dioxide, carbon monoxide and total hydrocarbons, as well as the ability to integrate other gaseous pollutant measurements at the customer's request A secondary dilution system allows for measurement of particulate matter (PM) over a test cycle, and a coriolis mass flow sensor provides fuel consumption and fuel economy. The facility is capable of handling vehicles ranging from pickup trucks to Class 8 trucks, buses and other heavy-duty vehicles, single or tandem axle drive with inertia simulation from 6,000 to 85,000 pounds.
In additional to chassis dynamometer testing, Cleaire is also able to offer services in the areas of field testing, data acquisition and a range of hot and cold flow bench test capabilities to evaluate catalysts and filter technologies.
Companies in this article