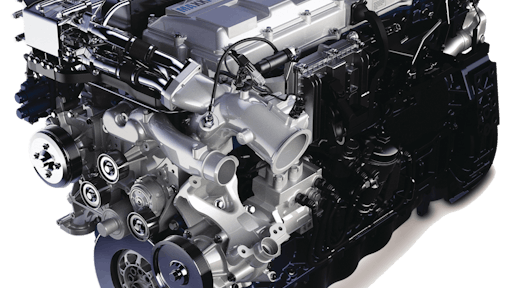 After attempting to blaze a trail to diesel-emissions compliance with a variant of exhaust gas recirculation (EGR) that didn't require exhaust aftertreatment, Navistar is negotiating with Cummins to adopt that engine maker's approach to satisfying 2010 U.S. Environmental Protection Agency exhaust requirements.
Navistar entered a non-binding memorandum of understanding that proposes Cummins Emission Solutions supply its proven urea-based aftertreatment system, which is similar to the systems all other heavy-duty truck engine makers have certified to 2010 exhaust standards.
Navistar plans to combine its in-cylinder technology engine with the Cummins aftertreatment solution to create what the company calls ICT+. "With this clean engine solution, we are taking the best of both technology paths to provide our customers with the cleanest and most fuel efficient engines and trucks on the market and to meet stringent U.S. emissions regulations," says Daniel Ustian, Navistar chairman, president and CEO.
The memorandum of understanding with Cummins proposes that Navistar offer the Cummins ISX15 engine in certain models beginning in January 2013. The ICT+ technology is forecast to roll out in Navistar's MaxxForce 13-liter engine also in early 2013. During the transition to ICT+, Navistar plans to build and ship current model EPA-compliant trucks in all vehicle classes using combinations of earned emissions credits and/or non-conformance penalties.
"The actions announced today establish a clear path forward for Navistar and position the company to deliver a differentiated product to our customers and provide a platform for generating profitable growth," says Ustian.
What remains unclear is which, if any, Navistar products are expected to rely on the nonconformance penalties for compliance, and the ability to be sold on the U.S. market. A U.S. district court recently struck down the EPA rule that created the penalty system. Navistar is appealing the ruling, so the future of that avenue for satisfying EPA emissions limits is clouded.
The company is also securing the financing necessary to carry out its plans. A group of banks led by JPMorgan Chase Bank, N.A. and Goldman Sachs Lending Partners LLC, and including Merrill Lynch, Pierce, Fenner & Smith Incorporated and Credit Suisse have committed to provide Navistar an up-to-five-year, $1 billion senior secured term loan. A portion of the proceeds from this financing will be used to pay down the existing borrowings under Navistar's ABL credit facility.