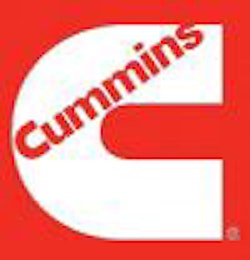 Cummins Inc. has started production of 6-cylinder engines certified to meet the U.S. Environmental Protection Agency (EPA) Tier 4 Final regulations, equivalent standards in Canada and Stage IV in Europe. Engine production across a broad 190- to 675-hp output will increase during the course of the year as off-highway equipment manufacturers release machines ready to meet the near-zero emissions standards, that took effect Jan.1, 2014.
This latest generation of 6.7- to 15-liter Cummins engines will be featured in a wide range of Tier 4 Final construction machines, material handling equipment, power packs and cranes set to debut at CONEXPO 2014, taking place March 4-8 in Las Vegas.
The Tier 4 Final engines provide the ability to transform machine performance, not just with ultra-clean operation, but with faster cycle times for increased productivity and reduced fuel use for lower operating costs.
"By making an early start with Tier 4 Final development, we were able to undertake our largest-ever field test and OEM installation program, extending to more than 70 machines operating under the most demanding duty cycles and challenging geographies, including high altitude, high humidity, extreme heat and cold. As a result, our field testing has validated that the Tier 4 Final engines achieve the same impressive levels of uptime availability and reliability as experienced by users of our proven Tier 4 Interim and Tier 3 engines," added Foden.
Production of the QSB6.7 and QSL9 engines takes place at the Rocky Mount plant in the United States and at the Darlington plant in the United Kingdom, together with the Oyama plant in Japan. The QSX15 engine is built at the Jamestown plant in the United States. The early production version of the all-new QSG12 engine is available for OEM installation work.
Field test work is underway for Cummins 4-cylinder engine range, with production of the QSF3.8 and QSB4.5 on schedule for January 2015, aligning with the emissions effect date for engines rated 75 hp to 173 hp (56 -129 kW). During 2014, production volumes of the compact QSF2.8 will ramp up to meet the need for applications below 75 hp (56 kW).
The foundation for Cummins "Technology That Transforms" approach for Tier 4 Final is the ability to design, integrate and manufacture all the key enabling technologies as a single system by utilizing the broadest portfolio of engines, turbocharging, filtration and exhaust aftertreatment systems available in the industry.
Achieving innovative - but dependable - technology is realized by leveraging Cummins unique degree of experience with on-highway emissions, based on a population of more than 500,000 engines in service meeting EPA10 and EPA13 emissions standards similar to those of Tier 4 Final/Stage IV. Using the same base engine platforms for both on- and off-highway applications and common systems such as Selective Catalytic Reduction (SCR) aftertreatment, has enabled proven technology to be introduced at the start of production.
The full 49- to 675-hp engine lineup for Tier 4 Final/Stage IV emissions at the Cummins booth will be a key focus of engine attention at CONEXPO, including the new QSF3.8 and QSG12 engines. In addition to engines, Cummins will also display some of the first Tier 4 Final-ready power packs in the industry, together with a power rental trailer.
Cummins portfolio of key enabling technologies will be highlighted with the new NanoNet(TM) fuel filters, which provide exceptional levels of fuel system protection; and Variable Geometry Turbochargers (VGT) enabling enhanced engine response. Cummins Emission Solutions will feature its recently announced EcoFit(TM) urea tanks, lines and quality sensor, establishing a full package aftertreatment and dosing system with SCR technology.
Companies in this article