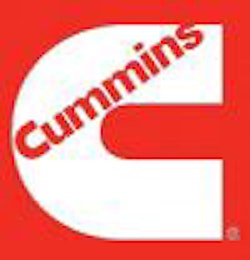 Cummins Inc. will announce the extension of the QSF engine line-up in North America during the The Rental Show, held February 22-25 in New Orleans, LA, and in Europe at the INTERMAT exhibition, held April 20-25 in Paris, France. New configurations will be focused on simplified installation packages intended for rental equipment applications across the 49- to 74-hp power range meeting EPA and EU low-emissions regulations.
New QSF2.8 ratings will be introduced without charge air cooling (CAC) to offer a cost-effective power solution for space-constrained installations. The QSF3.8 will be available at a lower 74-hp rating with the "fit and forget" Cummins diesel oxidation catalyst (DOC) to bring the same service-free aftertreatment advantage provided by the smaller QSF2.8 engine.
"By adding these new configurations to the QSF2.8 and QSF3.8 engine range, we are anticipating a strong preference from rental companies to specify compact equipment that can offer the simplest solution and lowest cost of operation as they transition their fleets to meet lower emissions," commented Brian Wilson, Cummins general manager – Global Compact Business.
The simplified non-CAC version of the 2.8-liter QSF is made possible by an upgraded fuel injection and combustion formula able to retain the necessary torque and power delivery without the need for higher-density airflow. Removing the CAC system reduces cooling load on the equipment, freeing up space and simplifying the engine installation.
The QSF2.8 without CAC is available at 49- and 65-hp ratings for both 2,200- and 2,500-rpm applications. The non-CAC ratings join the existing QSF2.8 lineup with CAC from 49 to 74 hp at 2,500 rpm configured for applications with more demanding duty cycles.
The QSF3.8 will move down to a 74-hp rating, bringing the benefit of the smaller "fit and forget" Cummins DOC-only solution to a broader range of rental equipment applications. This will allow equipment positioned in the 75- to 90-hp category to eliminate the need for a more complex selective catalytic reduction (SCR) or diesel particulate filter (DPF) system. The 3.8-liter displacement ensures that machine capacity and low end torque performance are retained at the lower 74-hp rating.
The 74-hp rating also provides an opportunity for compact equipment using a 2.5- to 3-liter engine with 65- to 74-hp output to upgrade their operating capacity and improve low end torque by moving to the larger displacement 3.8-liter engine with a DOC.
With the addition of the 74-hp rating, the QSF3.8 output now extends up to 130 hp.