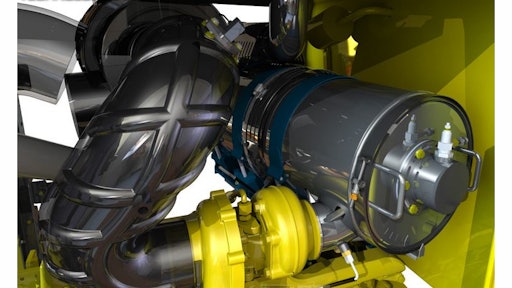 John Deere collaborated with retrofit supplier Nett Technologies Inc., based in Mississauga, Canada, to offer an actively regenerated DPF solution for some legacy John Deere construction machines. Kits are available through John Deere dealers.
Nett not only developed and verified the retrofit diesel particulate filters, but has also worked closely with John Deere Construction & Forestry engineering to design, validate, and package these under-the-hood kits.
Nett secured California Air Resource Board (CARB) Level 3 (greater than 85% reduction) verification for the VorTEQ 100 DPF and it will carry the CARB 5-year/4,200-hour mandatory warranty. The VortTEQ system utilizes a controller, monitor, and diesel burner to monitor filter condition and control regeneration. It is a stand-alone system for off-road diesel engines between 65 hp and 175 hp and does not interact with vehicle electronic or operator monitor systems. It meets local line-of-site requirements.
The VorTEQ 100 is a custom designed replacement for the original equipment exhaust components to reduce installation time to minimum. Equipment models listed above now have compatible retrofit kits, though this is only the first phase. Deere says more verified kits will be added in the near future.