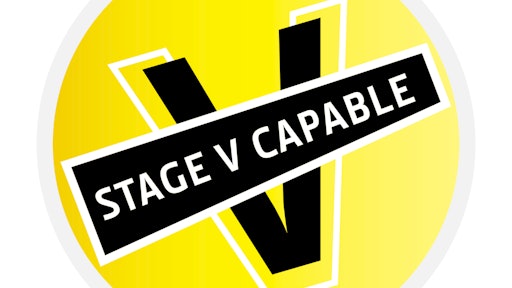 With the opening of bauma 2016 in Munich, Germany, John Deere Power Systems announced it is prepared to lead OEMs through the transition from Stage IV to the EU's anticipated Stage V regulations with its proven experience and expertise.
The John Deere modular building block approach to emission control is proven and has led to a DPF solution that is capable of complying with the requirements indicated in the EU Commission's proposal COM (2014)581 concerning Stage V emissions. One of the significant impacts expected of Stage V will be the introduction of a particle number (PN) limit for engines in the 19- to 560-kW (25 to 750-hp) power band, which will necessitate use of DPF (diesel particulate filter) technology by OEMs. The company has been employing DPF technology since Tier 4 Interim/Stage III B, with more than 150 million DPF hours logged in the field.
John Deere is leveraging new catalyst technologies and emissions control calibrations to enable downsizing of their aftertreatment. OEMs benefit by retaining the same engine performance in a reduced package size. According to the company, its next-generation aftertreatment solutions will deliver greater package flexibility and offer easier installation while providing up to a 20% reduction in size and up to 40% reduction in weight.
"John Deere adopted DPF technology as part of an integrated emission control system because it is the best solution for most applications. By treating NOx and PM downstream of the engine, John Deere engines with DPF are optimized for increased torque response, low-speed torque, and fluid efficiency; and provide responsive power at higher altitudes," said John Piasecki, director of marketing, sales and customer support.
John Deere Power Systems has extensive experience with the development and integration of DPF technology in both John Deere and OEM equipment through Stage III B and Stage IV implementation. This experience continues to lead to enhancements in efficiency and optimization of aftertreatment solutions that strengthen application flexibility for OEM customers.
"This depth of diverse application experience extends throughout our distributor network and with all John Deere service dealers. They have a comfort level with DPF technology because John Deere has been using it for years," Piasecki said.
Piasecki said the company recognizes as Stage V approaches, OEMs new to DPF technology may be worried it will add installation complexity or impact operational performance. "We are committed to helping OEMs through every step of the application process to make it as seamless as possible," Piasecki said. "We are well positioned to transfer our experience level directly to our customers, giving them peace of mind and a distinct advantage in the process. John Deere has expertise in integrating the engine and drivetrain into the rest of the vehicle for optimized performance, operator convenience, fluid economy and overall value."
The company is also prepared for the growing complexity in world emissions standards; by 2022, there may be at least five different levels of emissions standards globally. "We are fully committed to supporting our customers around the world with solutions to meet their unique application needs," said Geoff Stigler, director – sales, marketing and customer support – EAME, ASIA and AU. "OEMs, regardless of location, are best served through timely and strategic preparation, and John Deere is ready to help them identify and implement the best solutions for their business. Our modular building block approach offers greater application flexibility to help OEMs meet increasingly challenging machine design goals."