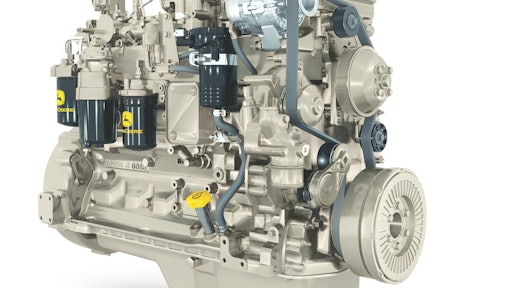 At Intermat 2015, held April 20-25 in Paris, John Deere Power Systems (JDPS) announced it will extend its generator drive power solutions with the introduction of four new PowerTech prime power generator drive engines. The new engines meet U.S. EPA Tier 4 Final emissions regulations without the need for a diesel particulate filter (DPF), giving OEMs with space-constrained installations more options for their prime power generator set applications. The engines utilize a John Deere Integrated Emissions Control system equipped with cooled exhaust gas recirculation (CEGR), a diesel oxidation catalyst (DOC) and a selective catalytic reduction (SRC) system, and join the existing lineup of Tier 4 Final generator drive engines that use the same technologies plus a DPF.
"We've been able to develop constant speed engines that do not require a diesel particulate filter (DPF) to meet both stringent emissions regulations and the performance our customers have come to expect," said Darrin Treptow, manager, worldwide marketing for John Deere Power Systems.
Product enhancements including increased power, low idle speeds, dual frequency ratings and easy paralleling enhance customer performance for prime markets. Low idle speed capability reduces fluid consumption and decreases wear on the engine during transport or start-up and shutdown checks. Electronic controls enable easy synchronization when operating generator sets in parallel, while offering flexible dual frequency operations of 50 Hz at 1,500 rpm or 60 Hz at 1,800 rpm. In addition to generator sets, these engines can provide power to selected constant speed applications.
New PowerTech generator drive engine models and power ratings include:
PowerTech PSL 4.5L: 128 kWm
PowerTech PVL 6.8L: 160 kWm and 192 kWm
PowerTech PSL 6.8L: 216 kWm and 240 kWm
PowerTech PSL 9.0L: 273 kWm, 326 kWm and 345 kWm
John Deere plans to begin production of the PowerTech PSL 4.5L generator drive engine in late 2015, while the PowerTech PVL 6.8L, PSL 6.8L and 9.0L generator drive engines will enter production in 2016.
"We listened to generator set manufacturers to understand the features and services they needed to meet the challenges they face. That's why our new engines continue to offer easy operation and compact generator set packaging, all while continuing to meet customer performance expecations," Treptow said.
Request More Information
Fill out the form below to request more information about
Deere PowerTech Generator Engines Meet Tier 4 Final Minus a DPF