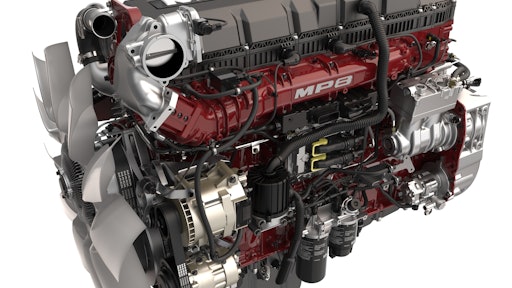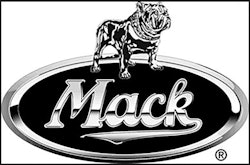 The 2017 Mack MP Series engines bring significant improvements in fuel efficiency, power and productivity, while reducing greenhouse gas emissions. Thanks to several upgrades and enhancements, the new engines boost fuel efficiency from 2.1 to 8.8 percent compared with prior model year engines.
Mack's 11-liter MP7 and 13-liter MP8 engines feature an updated wave piston design that raises the compression ratio and enables more complete combustion of fuel, while a common-rail system more precisely injects fuel. Combined with a two-speed coolant pump, these features help increase MP7 fuel efficiency by up to 5.1 percent and MP8 fuel efficiency by up to 5 percent. 
A number of additional improvements were made to both engines, including a new two-piece valve cover, shimless rockers and a low-pressure fuel system with an enhanced, integrated aftertreatment dosing module to reduce maintenance needs. An updated, double-walled EGR flow sensor helps reduce condensation and soot buildup in cold weather, while a new intake throttle enables a faster warm-up when the engine is started.
With a new 425 horsepower rating, the 2017 MP7 offers 13-liter power in a lightweight, efficient 11-liter package ideal for weight sensitive applications.
The updated 2017 Mack MP series engines complement Mack's recently launched Mack mDRIVE HD 13- and 14-speed automated manual transmissions. With up to two low-ratio creeper gears, the new mDRIVE HD variants provide improved startability for heavy loads, while maintaining proper gearing for fuel efficiency at speed.
Request More Information
Fill out the form below to request more information about
Mack Trucks Boosts Fuel Economy with 2017 11- and 13-L Engines