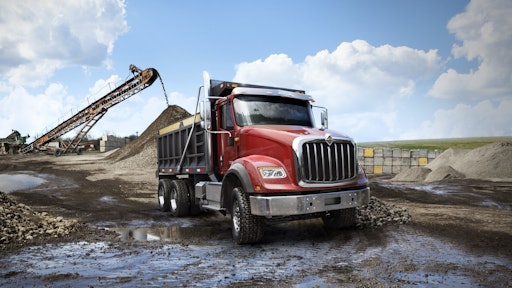 Attendees at World of Concrete 2016 and the NTEA Work Truck Show were rewarded with practical vocational truck solutions that can be spec'd into their existing fleets without having to depend on new infrastructure or adapt new technologies. Increased capability, weight and space savings and increased efficiency all ranked at the top of the list.
The trade show season started with a bang. It's rare for all-new vehicle launches in the Class 8 vocational truck market. But the day prior to the opening of World of Concrete, Navistar launched its International HX Series. This is the first all-new vehicle introduced by International Truck since 2010.
The move highlights a potential turning point for the company. "The launch of the HX Series is an opportunity for International to recapture a leading position in the vocational market – a segment we previously led," says Troy Clarke, President and CEO, Navistar Inc.
A Refreshing Change
The HX Series fills a large void in International's product line. "We had to make some trade-offs during the last several years where we had to exit some key markets - not by choice but really by design," says Dave Hillman, general manager, International Vocational Trucks. "We had to step back from some core markets, primarily around the premium dump trucks and concrete mixers. The HX Series gets us back into those market segments in a big, meaningful way."
The new truck series will eventually replace the International PayStar line. In fact, company officials indicated that the entire vehicle line will be refreshed over the next couple of years, with Workstar and Durastar eventually being replaced, as well.
For now, certain configurations of the Paystar will remain."The PayStar still offers a few configurations that we haven't released in the HX Series, most notably in the sleeper cab configuration," explains Hillman. "But that is coming. So we expect to have the PayStar and HX sold alongside each other for the next year or so."
Four HX Series models will be offered in both set-forward and set-back front axle models with short or long hood, depending on the application. Three models were unveiled at World of Concrete:
HX515: 115-in. BBC set-forward axle straight truck with primary vocations including concrete mixer, construction dump, refuse/roll-off and crane
HX615: 115-in. BBC set-back axle truck or tractor with primary vocations including construction dump, concrete mixer, platform stake/crane and refuse/roll-off
HX620: 120-in. BBC set-back axle truck or tractor with primary vocations including heavy haul tractor, construction dump and platform stake/crane
The HX515 and HX615 models are powered by Navistar N13 engines, while the HX520 and HX620 models offer the Cummins ISX15 engine.
The fourth model, the HX520, will be a 120-in. BBC set-forward axle truck or tractor with primary vocations including heavy haul tractor, construction dump and platform stake/crane. It will be formally unveiled at Truck World in Toronto in April.
Weight reduction was a key consideration in the design of the HX Series. "Every pound we can take out of the chassis is another pound that customers can deliver in terms of product," says Hillman. A couple of areas of weight reduction focused on the frame rails and cab suspension.
[VIDEO] First New International Vocational Class 8 Truck in 10 Years Cuts Weight

"We have introduced the industry's strongest frame rail, which is a 12.5-in. rail that has the same strength rating as most double 10-in. rails," Hillman states. "That saves about 13% weight out of the frame system." This frame rail delivers a strength of 3.5-million RBM.
International also redesigned the cab suspension. The DriverFirst Cab Air Suspension includes 52-in. springs to produce a comfortable and quiet ride. "Not only did we improve the ride for the driver, we saved weight while doing it," says Hillman. In addition a dedicated vocational aluminum cab is designed to offer better durability than steel.
International is taking orders for the vehicles immediately, with the first vehicles delivered this spring.
Weight Savings Adds Capability
At the NTEA Work Truck Show, Ford also discussed weight reduction, but in a different context. It expanded the use of its military-grade aluminum alloy cab and body from its current F-150 to its 2017 Super Duty pickups and chassis cabs.
"It provides a lot of weight savings that we are reinvesting in more capability," says Craig Schmatz, chief program engineer, Super Duty, Ford. "For example, the frame is fully boxed front to rear on the pickups. On the chassis cabs, it is going to be boxed under the cab and you will have a C section in the back for the upfitters. This frame is up to 24 times stiffer on the pickups and up to eight times stiffer on the chassis cabs."
Other components have also been upgraded, such as the brakes and axles. The front axle now features a Gross Front Axle Weight Rating (GAWR) of up to 7,500 lbs., 250 lbs. more than claimed by the closest competitor.
Ford asserts the 40,000-lb. Gross Combined Weight Rating (GCWR) of its 2017 F-350, F-450 and F-550 chassis cab pickup trucks is more than any other truck in the class. It allows a fully loaded Super Duty F-Series chassis cab truck and trailer to carry half of the maximum GCWR of a semi tractor-trailer on most U.S. highways. To move these big loads, Ford increased the ratings of its second-generation 6.7L Power Stroke V8 diesel engine to 330 hp and 750 lbs.-ft. of torque.
Current Solutions Expanded and Enhanced
Several powertrain options were highlighted at the Work Truck Show. Mack Trucks chose the venue to expand its mDRIVE HD automated manual transmission (AMT) for applications that require creeper speeds. "We have enhanced the capabilities of our mDrive by introducing a 13- and 14-speed transmission," says Curtis Dorwart, vocational products manager. "That brings in two extra lower gears. Now we can go down to a 32:1 ratio."
Mack Adds Creep Speeds to mDrive Automated Manual Transmissions

Available in direct or overdrive configurations, the new mDRIVE HD 13-speed offers a low reduction gear ratio designed for easier starting on steep grades or when the truck is under heavy load. The mDRIVE HD 14-speed, available only in an overdrive configuration, adds a second ultra-low, creep speed reduction gear. Both transmissions offer up to four reverse gear ratios.
The new mDRIVE HD models share their architecture with the standard mDRIVE HD, including reinforced internal components and the same gear ratios for the 12 forward speeds. Addition of the low reduction and multispeed reverse gears is made possible by a short extension added to the front of the transmission case. The new transmissions are less than 5 in. longer and only 90 lbs. heavier than the standard versions, maintaining a weight advantage of nearly 150 lbs. over automatic transmissions.
The new low gears not only improve performance in off-road, heavy haul and construction applications, but they also enable use of a faster rear axle ratio to improve on-road fuel economy. For the first time, customers will now have the option to spec the mDRIVE HD in Mack Pinnacle truck models, including the new mDRIVE 13- and 14-speed models.
All mDRIVE transmissions, including the standard mDRIVE and mDRIVE HD, were updated with a redesigned gearbox control unit and a new clutch with a larger torsional damper to reduce driveline vibration. Component wear monitors were added to enable predictive maintenance.
Mack stretched its warranty coverage of all mDRIVE transmissions and clutches used in heavy- or severe-duty applications. The mDRIVE and mDRIVE HD standard warranty now extends to 36 months with unlimited miles for heavy-duty applications. In severe-duty applications, warranty coverage is extended to 12 months and unlimited miles for the mDRIVE, and 24 months with unlimited miles for the mDRIVE HD.
The mDRIVE updates include several improvements to power take-off (PTO) controls, including new main cab harnesses for all models, a reinforced range housing to handle higher PTO bending torque and an all-new cab-mounted Body Builder Module. The Body Builder Module is customizable, with user-configured software parameters to control engine speed and block reverse gears when the PTO is engaged. Dual PTOs are now supported.
Available exclusively with Mack's MP series engines, the mDRIVE HD 13- and 14-speed AMTs will be available for order in August on Pinnacle, Granite and Titan by Mack models.
Single-canister Aftertreatment Systems
Mack and Cummins both introduced compact emissions aftertreatment solutions that combine the diesel particulate filter (DPF) and selective catalytic reduction (SCR) technology into a single canister.
According to Mack Trucks, combining all parts of the Exhaust Aftertreatment System (EATS) into one package enables customer flexibility and allows for increased space for chassis-mounted equipment, which is often needed on work trucks and short wheelbase tractors. Customers can also opt for larger fuel tanks without the need to lengthen the wheelbase.
Its ClearTech One is more compact than a two-component system, allowing for a shorter wheelbase for improved maneuverability. The smaller package is also about 15 lbs. lighter than the current two-unit EATS. It is optimized for passive regeneration and SCR performance. The SCR catalyst is mounted downstream of the DPF, preventing hydrocarbon, ash or soot from entering the system. There is also no need for a second diesel oxidation catalyst (DOC) to be located before the SCR system.
ClearTech One will be available for order in August 2016 in Mack Pinnacle and Granite models. The company also will continue to offer the two-unit ClearTech EATS for specific applications such as tandem steering.
The Cummins 2017 Single Module aftertreatment system for mid-range engines features up to a 70% reduction in space claim and up to 30% reduction in weight over current systems. Simple and optimized diesel exhaust fluid (DEF) dosing with the UL2 Urea Dosing System eliminates the need for engine coolant lines to and from the DEF injector, reducing installation complexity and allowing for easier serviceability. The injector's proprietary atomization nozzle minimizes the risk of deposit formation, and offers a freeze-robust design and improved reliability.
In addition, a range of systems ideally sized for the engine and rating ensures the most efficient operation for improved fuel efficiency across a diverse range of applications.
Proven Solutions Evolve
Cummins also updated its powertrain offerings by introducing the 2017 B6.7 and L9 engines, the latest evolution of time-proven engine lines.
With a 200- to 325-hp, 520- to 750-lb.-ft. ratings range, the B6.7 is the next generation in a line of B Series engines dating back to the introduction of the 6BT5.9 in 1984. New for 2017 is an increase in fuel economy for the entire range of B6.7 ratings.
Optimized for stop-and-go duty cycles, the B6.7 efficiency ratings (200 to 260 hp) offer an increase in fuel economy of up to 7% over the current product. The performance ratings (280 to 325 hp) also offer enhanced efficiency while still meeting demanding duty cycles; customers can expect up to a 5% increase without sacrificing power. Further fuel economy improvements can be realized with features such as the Stop-Start system. This technology allows the engine to operate only when necessary, saving fuel while creating a quieter ride for the driver.
With ratings from 260 to 380 hp and 720 to 1,250 lbs.-ft., the 2017 L9 offers optimized ratings for some of the toughest duty cycles. New for 2017 is a 350-hp/1,150 lb.-ft. rating that maintains more power and torque across a wider rpm range.
Product Lines Expand
Detroit, a subsidiary of Daimler Trucks North America (DTNA), previously announced its intention to expand its diesel engine line into medium-duty applications. At the Work Truck Show, it displayed its first entry into this market, the DD5. The Detroit DD8 is slated to follow in 2018.
The DD5 will initially offer two power ratings - one with 210 hp and 575 ft.-lbs. of torque and another with 230 hp and 660 ft.-lbs. torque - with plans for additional ratings in 2018. The engines will have a 45,000-mile maintenance interval and be equipped with the Detroit Connect Virtual Technician remote diagnostics service. The DD5, along with all other Detroit engines, will meet the GHG17 standards early.
The DD5 will be available for orders later this year in Freightliner Class 5/6 M2106 trucks ideally equipped for pick-up and delivery applications. More extensive availability throughout DTNA's product portfolio will begin when production shifts from Manheim, Germany to the Redford, MI facility in 2018.
Ram Trucks used the Work Truck Show to unveil expanded PTO capability. With its partner, DirectDrive PLUS, Ram chassis cabs provide an innovative solution that allows a full-power left-hand PTO on 4x4 models. In this case, a fixed tube is installed through a void space in the transfer case. The PTO driveline shaft is attached to the RamDrive PTO with a splined coupling that passes through the tube to the rear of the transfer case where the shaft is supported with a high-speed external flange bearing.
As a result of the expanded capability, Ram Trucks claims the 2016 Ram 3500, 4500 and 5500 Chassis Cab trucks will offer the widest selection of PTO options. This includes PTO capability on the right and left sides in both 4x4 and 4x2 configurations. This PTO capability is available with the 6.4-liter HEMI gas or 6.7-liter Cummins diesel engines.
In addition, Chassis Cab trucks offer 60 hp of PTO output. "Fuel Saver Technology" that allows the engine to operate using four-cylinder mode in the 6.4-liter HEMI creates greater efficiency on a jobsite with the ability to run a compressor and generator simultaneously off the PTO.
International Trucks also announced the availability of the Cummins ISL9 diesel engine for its DuraStar and WorkStar models. The ISL9, which is rated up to 380 hp and 1,250 lbs.-ft. of torque, features flexible horsepower and torque ratings for medium-duty and vocational applications.
The DuraStar is also available with a Navistar N9 engine offering 275 hp and 860 lbs.-ft torque up to 330 hp and 950 lbs.-ft torque. The WorkStar is offered with Navistar N9 and N10 engines from 275 hp and 860 lbs.-ft torque up to 370 hp and 1,250 lbs.-ft torque, as well as the N13 engine with 365 hp and 1,250 lbs.-ft torque up to 475 hp and 1,700 lbs.-ft torque. DuraStar and WorkStar models are also available with a suite of traditional manual and automated manual transmission offerings from Eaton and fully automatic offerings from Allison.
The DuraStar and WorkStar with Cummins ISL9 are available for order today and will be in production this summer. In addition, the DuraStar will become the first medium-duty truck to utilize the Bendix Wingman Fusion collision avoidance system.