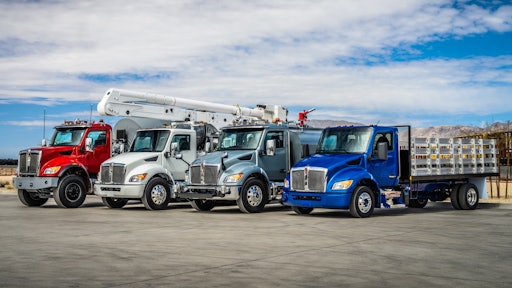 Kenworth
The new models include the T180 (Class 5), T280 (Class 6), T380 (Class 7) and T480 (light Class 8). There are also vocational model variants known as the T380V and T480V. They feature a vocational hood, full parent rails and a fixed grille for customers needing Front-engine Power Take-off (FEPTO).
One of the key changes versus the previous generation Kenworth medium-duty trucks is the cab design. Enhancements include increased cabin space, a re-designed interior and new driver control technologies. The new 2.1-meter cab is 8-in. wider than the previous version.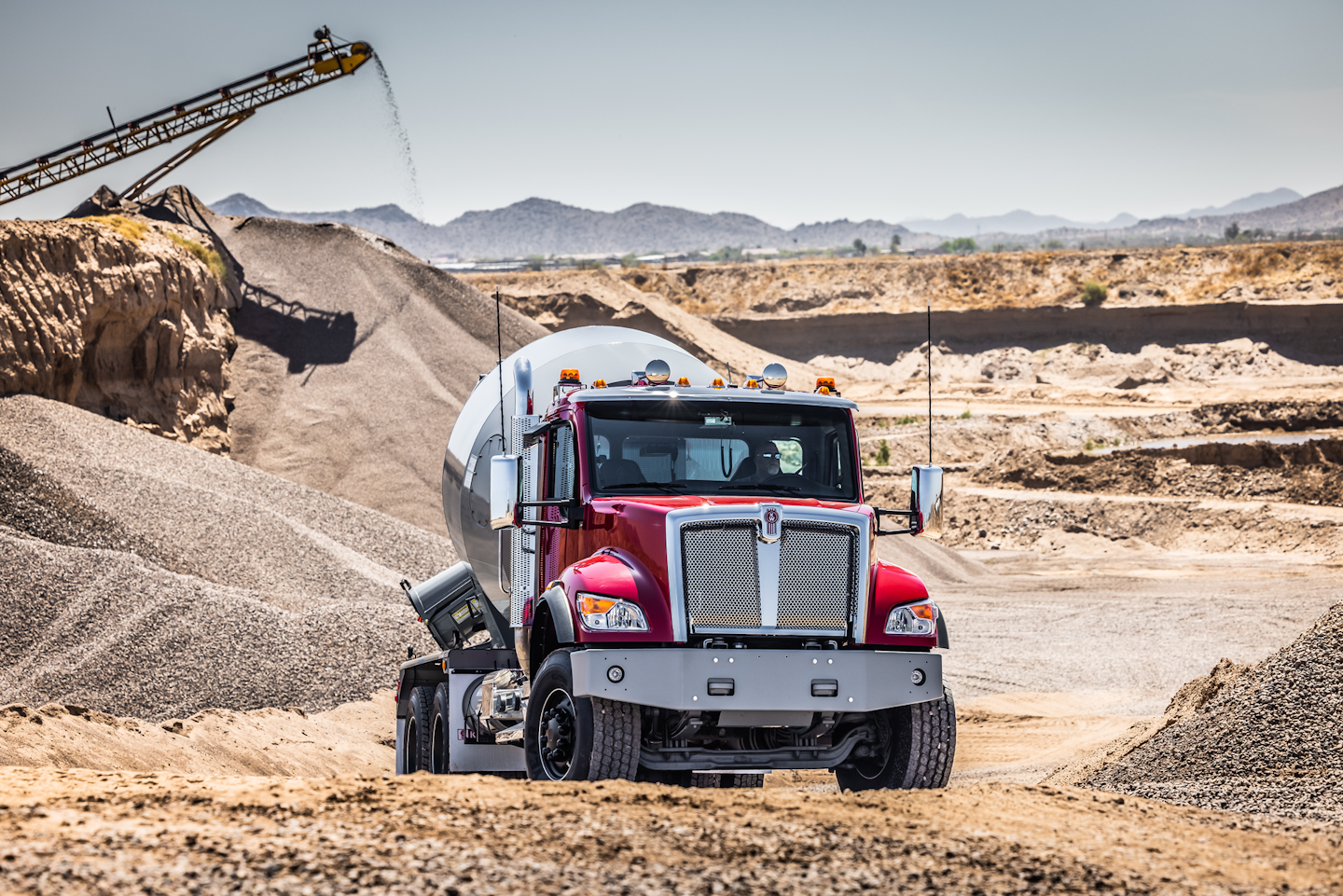 There is a vocational 'sloped' hood for the T380V and T480V.Kenworth
The wider cab features a large front windshield which improves visibility by close to 17 percent versus previous models. "Not only can the driver see out better from left to right, there is more visibility directly in front of the truck thanks to the sloped hood," says John Luoma, Kenworth product planning director. "With the new cab construction, we're also able to reduce interior noise by up to 50 percent."
"The wider 2.1-meter cab gave us the opportunity for bench seating to truly accommodate three people very comfortably," says Mark Wagner, Kenworth medium duty product manager. Three-person seating with a bench seat is standard for the T180, T280 and T380 and optional for the T480. Customers can also select various seating options including high- or medium-back seats. "And getting in and out of the truck is now easier with a lowered cab, redesigned steps and widened door."
The trucks may be specified with either a standard low roof or a raised roof option. Designed to accommodate height-restricted applications, the low roof is 63-in. tall, 4-in. shorter than the raised roof. The cab has also been lowered up to 2 in., depending upon the configuration. "Our surveys show that in-city drivers can climb in and out of a truck up to 60 times a day, so this is a really big benefit to drivers," says Luoma. "It's just a little over 40 in. to climb into the cab for those using our short hood models."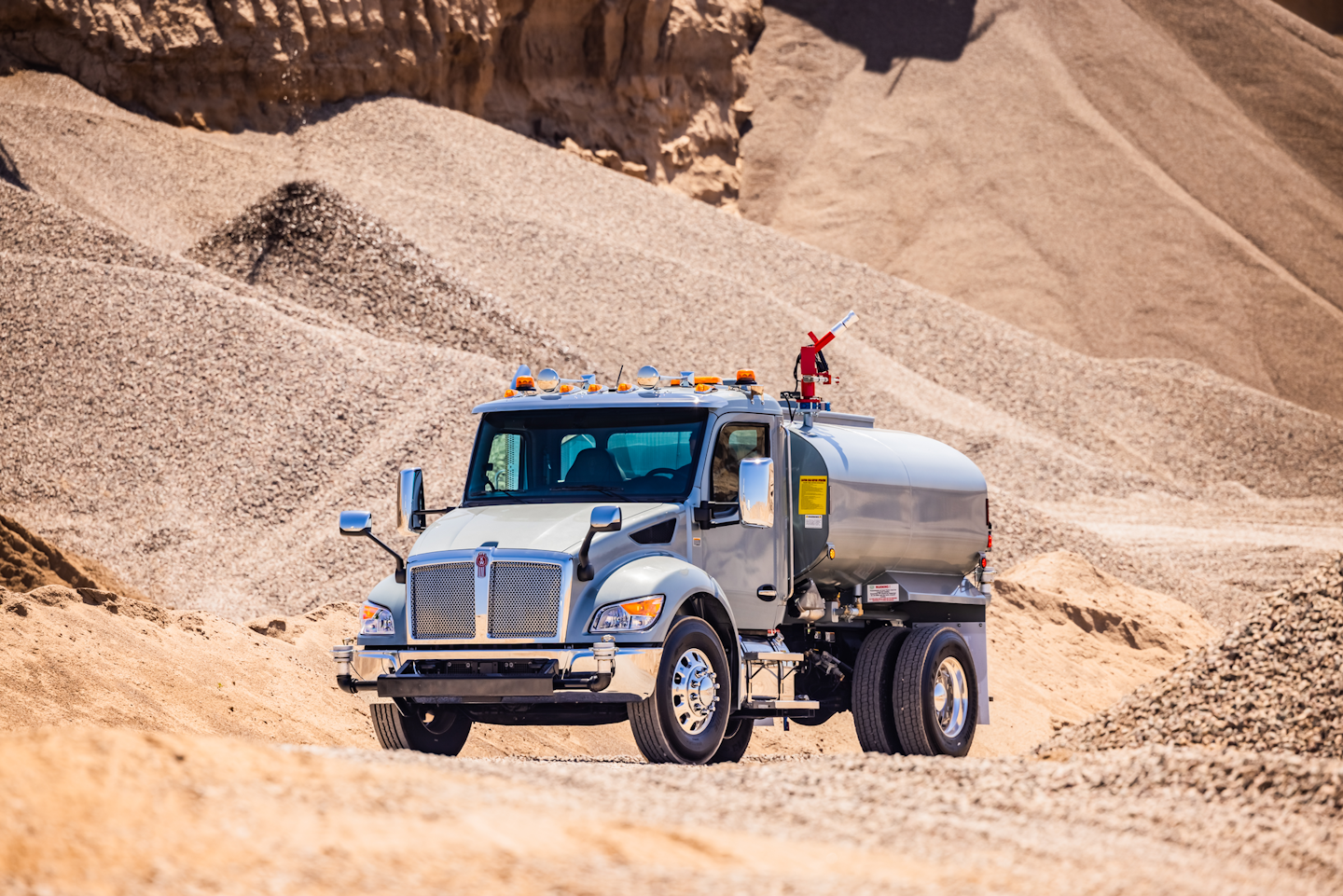 Kenworth
The new wider cab required new hood designs. There are three hood types to match the intended application. A short aero hood (107.5-in. BBC) accommodates front axles from 8K to 20K lbs. A medium aero hood (109.5-in. BBC) is available for higher horsepower and AWD applications. Then there is a vocational 'sloped' hood for the T380V and T480V.
"Product flexibility is achieved with each configuration," says Luoma. "For example, we have some snow plow, mixer and pumper customers who will need the T480V for its full parent rail extensions and front-engine PTO for hose and reel installation. The grille is mounted to the cooling module to allow for steady legs, crane outriggers, or for other attachments that can be located in front of the hood. Thanks to the new cab position, the BBC is 8-in. shorter than the T470 it replaces. This gives the truck a shorter footprint, tighter turning radius and more maneuverability. It can also accommodate 16K- to 20K-lb. rated front drive axles."
Digital Display Offers Customization
A new instrumentation cluster with a 7-in. high-definition digital display is centered between four standard analog gauges – speedometer, tachometer, oil pressure and coolant temperature. This digital display allows drivers to personalize information to match their preferences.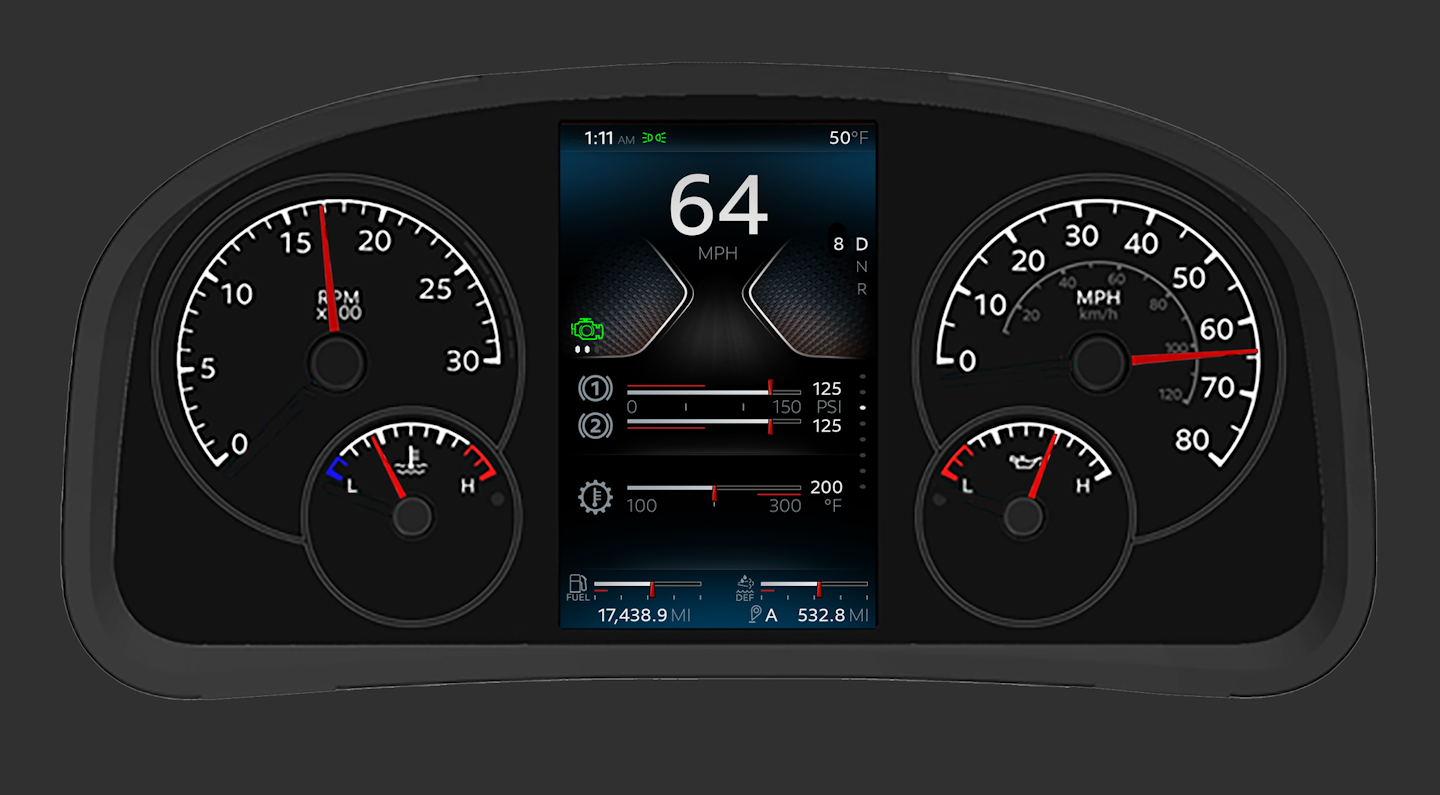 A new instrumentation cluster with a 7-in. high-definition digital display allows drivers to personalize information to match their preferences.Kenworth
Within the digital display, drivers can select from a variety of screens that show specific vehicle information, trip information, gauges, etc. In any display screen view, drivers will be alerted to warnings or faults by having them presented automatically on the screen. An optional SmartWheel allows drivers to navigate between screens using either the scroll switch mounted to the steering wheel or the menu control switch located above the ignition.
New Medium-duty Powertrain
Engine options include the 2021 PACCAR PX-7 engine rated up to 325 hp PACCAR PX-9 engine up to 380-hp, depending upon BBC. For the first time, Kenworth medium-duty trucks will be available with the near-zero emission Cummins Westport L9N natural gas engine that delivers up to 320 hp.
A new PACCAR TX-8 eight-speed automatic transmission is standard on the medium-duty line. When matched to the PACCAR PX-7 or PX-9 engine, the transmission offers a maximum torque rating up to 1,000 lb.-ft. and a 57,000-lb. GCWR.