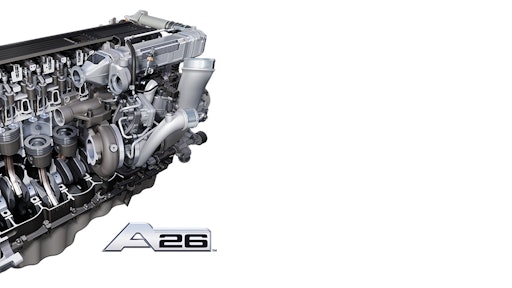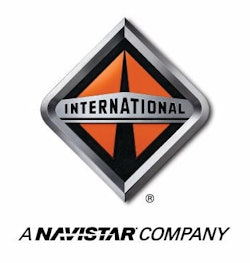 Navistar's new 12.4-L International A26 engine is built from Volkswagen's proven MAN D26 engine crankcase, and produces up to 475 hp and 1,750 lb.-ft. of torque. Navistar says the design is 600 to 700 lb. lighter than a traditional 15-L big bore engine.
At 2,299 lb., Navistar calls the A26 is the lightest engine in its class. The A26 is 55 lb. lighter than the engine it replaces, and enables 200 lb. of additional weight reduction in vehicle-mounted components. Its compacted graphite iron (CGI) crankcase has greater strength and fatigue resistance than traditional gray iron. Composite valve covers and shot-peened aluminum flywheel housing help save weight.
Engineered to deliver up to 5% greater fuel economy, the A26 has a simplified air management system, featuring a new variable geometry turbocharger. Fuel injection pressure is maximized by the engine's 2,500 bar (36,300 psi) high pressure common rail fuel system. Coupled with new cylinder-head coolant passages that are 50% less restrictive to reduce parasitic loss to the water pump, the A26 reduces both fuel consumption and emissions.
Navistar was driven by a commitment to deliver customer uptime, developing the A26 through an initiative called Project Alpha, which assembled a new team of the powertrain engineers. The initiative pursued a fresh approach that emphasized simplicity over complexity and using only proven components to deliver industry-leading uptime.
"Project Alpha has fundamentally changed how we design diesel engines," said Bill Kozek, president, Truck and Parts. "The International A26 has been tested to extremes and meets a demanding B10 design life standard for an unprecedented 1.2 million miles."
A titanium compressor wheel with a simplified single-stage design reduces complexity and enhances reliability of the A26's variable geometry turbocharger. Larger piston pins, connecting rods and bushings help optimize load distribution for enhanced durability, while smaller piston cooling jets increase oil pressure to improve lubrication, increasing oil change service intervals up to 70,000 miles.
Navistar says the A26 is the quietest engine in its lineup, with a uniquely sculpted crankcase that absorbs vibration and reduces harshness for a quieter in-cab experience. The engine's six-blade fan, specially designed gear teeth and sophisticated calibration and programming are specifically built to reduce engine noise.
The A26 is backed by a two-year, unlimited-mile engine warranty.
The A26 engine is available for order in the International LT Series of long-haul vehicles and RH Series of regional haul vehicles.
Volkswagen Truck Buys a US Foothold with 17% Stake in Navistar

Request More Information
Fill out the form below to request more information about
Navistar Pits its New 12.4-L Diesel Engine Against 15-L Big Bores