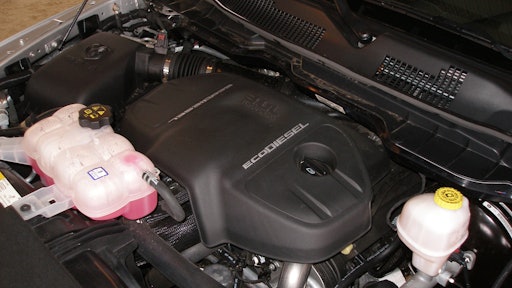 The U.S. Environmental Protection Agency has issued a "notice of violation" against Fiat Chrysler Automobiles, alleging that its turbocharged 3.0-liter V-6 EcoDiesel engine used in 2014 to 2016 model-year Ram 1500 pickup trucks and Jeep Grand Cherokee SUVs may have auxiliary software that can alter the emissions in a way not fully disclosed by the automaker. And by failing to disclose this software and selling the vehicle in the U.S., FCA may have violated Clean Air Act. FCA is the parent company of Ram, Jeep and several other brands.
Not long ago, a class-action lawsuit was brought against FCA and Cummins Inc., accusing of them of similar charges. That suit targets Ram heavy-duty pickups only. Cummins denied the allegations and even threatened to countersue.
(more at PickupTrucks.com . . . )
The regulator would not go as far as to say Fiat Chrysler Automobiles used a "defeat device," the term for software used by Volkswagen to deliberately trick emissions tests, but instead said that FCA failed to disclose engine-management software in the vehicles and slapped the automaker with a Notice of Violation (NOV). The EPA's NOV stems from expanded testing that began in September 2015. The regulator alleges that the FCA vehicles in question had at least eight undisclosed auxiliary emission control devices (AECDs) that reduced the effectiveness of emission controls when driving at high speeds or during extended driving. That means the vehicles emit what the EPA defines as a harmful level of nitrogen oxides, or NOx. About 104,000 vehicles are affected by the allegations.
The agency is still investigating whether these undisclosed AECDs constitute defeat devices. The EPA has not yet determined how the violations can be fixed, whether through an additive to the vehicle's powertrain, with a software update, or by altering hardware. "Those technical discussions are still underway," Giles said.
(more at CarandDriver.com . . . )