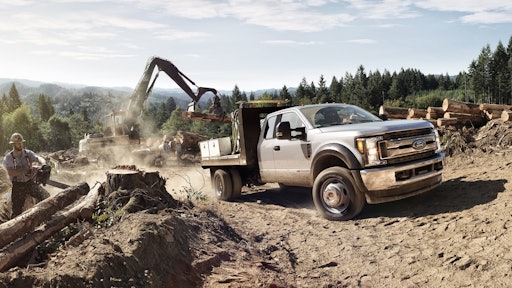 For years, truck manufacturers have waged a horsepower/torque war, with heavy-duty diesel pickups nearing an astonishing 900 ft.-lbs. of torque. As capability has exceeded many customers' needs, manufacturers have turned their attention to the next battleground — fuel economy.
While torque and horsepower still earn bragging rights, many of the latest innovations — such as 10-speed transmissions, weight-saving materials, start-stop technology, engine management systems and aerodynamic technologies — promise lower operating costs. Those being addressed with the 2017 models are reducing weight; increasing aerodynamic efficiency; limiting fuel use when power is not needed; implementing more efficient transmission technology with more gears to keep the engine power band closer to its "sweet spot"; and increasing engine combustion efficiency.
Ford Enhances EcoBoost and Cuts Weight
EcoBoost is Ford's core technology to drive fuel economy. Smaller displacement, more efficient turbocharged engines produce the same power as their larger displacement counterparts at a significant fuel savings.
Ford targeted fuel-conscious customers with a choice of two EcoBoost engines — a 2.7-liter four cylinder or a 3.5-liter V6 — for its popular F-150. These EcoBoost options currently account for more than 60% of all F-150s sold.
"EcoBoost is delivering the value, capability and performance F-150 customers insist upon, while helping improve their No. 1 demand — better fuel economy," says Doug Scott, Ford truck group marketing manager. The F-150 is the only truck in its segment offering turbocharged direct injection engines.
For 2017, all F-150 pickups equipped with EcoBoost engines come with Auto Start-Stop Technology. Specially tuned for truck customers, Auto Start-Stop shuts off the engine when the vehicle is at a stop, except when towing or in four-wheel-drive mode. When the brake is released, the engine quickly restarts.
The technology contributes to a reduction in CO2 emissions due to decreased idle times. "Now, with every EcoBoost-equipped F-150 mildly electrified with standard Auto Start-Stop technology, customers' fuel efficiency is expected to improve, as well," says Scott.
The 2.7-liter EcoBoost equipped F-150 with standard Auto Start-Stop offers EPA-estimated fuel economy of 19 mpg city and 26 mpg highway. This fall, a second-generation 3.5-liter EcoBoost with standard Auto Start-Stop and a new 10-speed automatic transmission will provide at least 30 lbs.-ft. more peak torque compared with the first-generation 3.5-liter EcoBoost engine, enabling more than 450+ lbs.-ft. for a V6.
The Ford-built 10-speed automatic transmission delivers improved acceleration and performance compared with previous six-speed automatic transmissions due to optimized wide-span gear spacing coupled with drag reduction actions. Three overdrive gears and a wider span enable lower numerical rear axle ratios to help improve fuel efficiency at highway speeds while maintaining towing performance.
The 10-speed gearbox is the first from Ford not to employ cast iron components. It uses advanced materials and alloys that result in lighter weight. In addition, an integrated torque converter/turbine clutch helps shave more than 2 lbs. while also reducing the packaging footprint.
Adaptive shift-scheduling algorithms monitor more than a dozen powertrain and driver control signals in real time, ensuring the right gear at the right time.
Ford also expanded the use of its military-grade aluminum alloy body technology, which was first used on the F-150. The 2017 Ford F-Series Super Duty features a high-strength, military-grade, aluminum alloy body and high-strength steel frame that help reduce weight up to 350 lbs. Ford reinvested the weight savings into more robust components that provide more towing and hauling capability. The fully boxed frame is more than 95% high-strength steel and up to 24 times stiffer than the previous frame. The aluminum alloy body is more dent and ding resistant than the previous steel body.
Chevrolet and GMC Innovate Powertrains
For customers who do not need the capability of a full-size truck, the mid-size truck segment has gained popularity. After successfully re-entering the mid-size truck market in 2015, the Chevrolet Colorado and GMC Canyon have continued to evolve.
For 2017, they offer a new V6 engine and eight-speed automatic transmission, in addition to the previous Duramax 2.9-liter diesel. According to Stan Ludlow, chief engineer for the 2017 Colorado, "The Colorado is currently the most fuel-efficient pickup truck in America, with an EPA-estimated 31 mpg highway when equipped with the diesel engine. As such, for the new V6 and eight-speed combination, we focused on improving everyday driving performance."
The second-generation double overhead cam engine architecture retains the same 3.6-liter displacement as before, with an updated suite of advanced engine technologies. This includes improved variable valve timing for intake and exhaust, improved direct injection and, for the first time, Active Fuel Management (cylinder deactivation), which disables two cylinders under light throttle applications. Horsepower and torque increase to an SAE-certified 308 hp at 6,800 rpm and 275 lbs.-ft. at 4,000 rpm.
The GM-developed Hydra-Matic 8L45 eight-speed transmission is approximately the same size and weight as the 6L80 six-speed automatic it replaces. However, the eight-speed automatic offers a wider 7.0 overall gear ratio spread than the 6L80 transmission's 6.0 ratio. This results in a numerically higher first gear ratio, helping drivers start off more confidently with a heavy load or when trailering, and numerically lower rear axle ratios that reduce engine rpm on the highway for improved efficiency.
Extensive use of aluminum and magnesium, combined with similar packaging to the outgoing 6L80 transmission, equates to no increase in overall weight for models equipped with the new 8L45 transmission.
The full-size Chevrolet Silverado and GMC Sierra pickups rely on a trio of EcoTec3 engines that feature direct injection, Active Fuel Management and continuously variable valve timing to make the most of power, torque and efficiency across a broad range of operating conditions.
The ability to more precisely control combustion enables the engines to run with a higher compression ratio — 11.0:1 for the versions with regular fuel recommended. Higher compression is one of the best ways to simultaneously boost power and efficiency. An eight-speed transmission is available with the Silverado LTZ and High Country models with the 5.3L and 6.2L engines.
The Chevrolet Silverado and GMC Sierra HD trucks offer a next-generation 6.6-liter Duramax turbo diesel engine that produces an SAE-certified 445 hp and 910 lbs.-ft. of torque. It offers 90% of peak torque at a low 1,550 rpm and sustains it through 2,850 rpm.
This engine employs a common rail direct injection fuel system with new high-capability solenoid-type injectors. High fuel pressure of 29,000 psi (2,000 bar) promotes fuel atomization for a cleaner burn that reduces particulate emissions. The injectors also support up to seven fuel delivery events per combustion event, contributing to lower noise, greater efficiency and lower emissions. Technology advancements enable less complex solenoid injectors to deliver comparable performance to piezo-type injectors.
A new electronically controlled, variable-vane turbocharger produces higher maximum boost pressure (28 psi) to help the engine make more power, and revisions to enhance the capability of the exhaust brake system.
A patented air intake system drives cool, dry air into the engine for sustained performance and cooler engine temperatures. Marked by a hood scoop, the air intake system provides 60% of the air to the Duramax diesel engine from an inlet at the front of the hood. The air provided to the engine is very close to the outside ambient temperature and much cooler than the air under the hood.
There's also a ram-air effect from the incoming air at highway speed that helps pack more air into the engine. The air filter housing also draws 40% additional air from a dry location in one of the front fenders. It blends with the cooler air from the hood inlet before funneling into the Duramax's combustion chambers. This assures the engine can breathe even if the hood is completely blocked.
Maximized engine performance requires more than cool air; the air must also be clean and dry. Accordingly, the functional hood scoop includes a unique air/water separator to ensure only combustion-enhancing dry air is drawn into the engine. The air charge enters an expansion chamber containing a sharp, 180° turn on its way to the air filter housing. That creates a velocity change that causes humidity or mist to form larger, heavier droplets that are flung centrifugally against the outside wall of the housing. The collected water drains through a valve, while the air charge continues on to the filter housing and into the engine.
Kevin Dunn, global vehicle performance for splash engineering, explains, "Big, heavy raindrops from a thunderstorm are relatively easy to eliminate from air. The more challenging issue comes from the mist-like spray generated by semi trucks on wet highways. Those very fine water droplets prove more challenging to separate from the air. The air intake is an elegant solution that works well with water droplets of all sizes."
Ram Advances Fuel-saving Technologies
Ram Trucks reports that fuel economy is the No. 1 un-met customer need in half-ton trucks. The Ram 1500 uses a number of fuel-saving features including a standard eight-speed transmission and an EcoDiesel engine that yield double-digit percentage improvements. Other efforts to components, such as accessory drives, reduce parasitic loss, and advances in thermal dynamics engineering all contribute to full-size truck efficiency.
The Ram 1500 with 3.0-liter EcoDiesel V6 engine is rated at 29 mpg while delivering 240 hp and 420 lbs.-ft. of torque. The EcoDiesel is a turbocharged 60°, dual overhead camshaft (DOHC) 24-valve V6 engine that is mated to the TorqueFlite eight-speed automatic transmission. Together, the powertrain system delivers a towing capability of up to 9,200 lbs.
But the fuel-saving technologies on the Ram 1500 extend well beyond the EcoDiesel. These trucks also utilize fuel-saving systems, including a TorqueFlite eight-speed automatic transmission, stop-start, thermal management system, pulse-width modulation and active aerodynamics with grille shutters and air suspension.
Other engine options include the 3.6-liter Pentastar V6 engine with variable valve timing that offers 305 hp, 269 lbs.-ft. of torque and fuel economy of 25 mpg, and the 5.7-liter HEMI V8 engine with fuel-saving cylinder shut-off and variable valve timing that provides up to 22 mpg, 395 hp and 410 lbs.-ft. of torque.
Reducing parasitic losses was a key design criteria. Pulse-width modulation is a fuel-saving technology for the Ram 1500 that reduces parasitic electrical load. The technology eliminates unnecessary load on the alternator.
The forward cooling fan takes advantage of pulse-width modulation, adding a 0.2% improvement in fuel efficiency. A variable-displacement air conditioning compressor, pulse-width modulated vent blower and humidity sensor reduce air conditioning demands. The variable-displacement compressor lessens loads on the engine, reducing parasitic losses for enhanced fuel efficiency and helping to maintain a consistent cockpit temperature. Like the compressor, the pulse-width modulated blower continually controls fan speeds for optimal performance in all driving scenarios. Like other pulse-width modulation applications, the blower ensures an infinite amount of varying fan speeds.
The Ram 1500 also features a low 0.360 coefficient of drag and offers active aerodynamics with an Active-Level Four Corner Air Suspension and active grille shutters. Active-Level Four-Corner Air Suspension offers automatic load leveling and allows drivers to raise and lower the vehicle to one of five ride height settings. Smart sensors automatically lower the truck at highway speeds to help reduce drag and increase efficiency.
The Ram 2500/3500 pickups and 2500, 3500, 4500 and 5500 chassis cabs utilize a number of features, including Fuel Saver Technology, to maximize efficiency and lower the total cost of ownership. The 2500/3500 pickups are available with a 5.7-liter HEMI V8, 6.4-liter HEMI V8 gas engine or  6.7-liter Cummins diesel, while the chassis cab models are available with the 6.4-liter HEMI or 6.7-liter Cummins.
The 5.7-liter HEMI engine features variable valve timing. Interactive Deceleration Fuel Shut Off shuts valves down during cruising and deceleration for optimal efficiency. The 6.6-liter HEMI features both variable valve timing and Fuel Saver Technology cylinder deactivation to maximize fuel efficiency.
The Ram Heavy Duty also features the Ram Active Air intake system for the Cummins diesel engine. A computer-controlled valve system directs air through the grille or through the fender to optimize performance in all conditions. When the intake system senses extreme heat, it draws cooler air from the front of the vehicle, a function that also engages at high altitudes for superior throttle response in low-oxygen environments. When conditions are wet from snow, ice or water fording, the system pulls air from an underhood inlet, clear from snow packing and water. These technologies all contribute to efficiency and help to capitalize on every cubic inch.
Nissan Expands Lineup
"Nissan is undertaking an all-out assault on the light truck market in the U.S. this fall with a steady stream of new trucks, SUVs and crossovers," according to Fred Diaz, division vice president and general manager, North America Trucks and Light Commercial Vehicles, Nissan North America, Inc.
The TITAN XD stakes out a position between traditional heavy-duty and light-duty pickups. For the 2017 model year, the Nissan full-size pickup lineup expands with the arrival of the TITAN half-ton.
The TITAN Single Cab is the first-ever single cab offering. It is designed to provide an affordable entry point in the commercial fleet/work truck market. The Single Cab is the second of three eventual TITAN body configurations, joining the current Crew Cab and future King Cab.
Like the Crew Cab configuration, the TITAN XD Single Cab will be offered with a choice of two engines — the Cummins 5.0L V8 Turbo Diesel rated at 310 hp and 555 lbs.-ft. of torque, and the 5.6-liter Endurance V8 rated at 390 hp and 394 lbs.-ft. of torque. With about a foot shorter wheelbase, the TITAN Single Cab will be offered initially with the new 5.6-liter Endurance V8; a V6 engine will be available at a later date. Diesel-equipped models will feature an Aisin six-speed automatic transmission; V8 gasoline engine-equipped versions will utilize a seven-speed automatic transmission.
The TITAN half-ton's exterior design is focused on improved aerodynamics (an approximate 10% reduction vs. the previous generation) and incorporates a front spoiler, roof and tailgate spoilers, front tow hook hole cover, underbody covers, rear tire wind deflectors and a seal between the cab and bed.
The TITAN half-ton also includes an Active Grille Shutter, which helps reduce drag by closing the grille opening behind the radiator when a large amount of airflow is not needed (based on coolant temperature, vehicle speed and air conditioning system pressure).
While the 2017 TITAN half-ton's new 5.6-liter Endurance V8 engine shares its displacement with the previous-generation V8, that is where the similarities end. The new engine features Direct Injection Gas technology, which provides better wide-open throttle performance and improved fuel economy and emissions performance (vs. a non-direct injection system) by reducing engine knock, improving combustion stability and offering precise injection control. An 11.2:1 compression ratio (9.8:1 in the previous TITAN) is provided by a new piston design, aiding overall engine efficiency and performance, and a Multi Control Valve assists in managing the engine's thermal efficiency better than a traditional thermostat.
Toyota Offers New Engines
The new Toyota Tacoma features two engines.
A 2.7-liter DOHC four-cylinder with VVT-i (Variable Valve Timing with intelligence) produces 159 hp and 180 lbs.-ft. of torque at 4,000 rpm. EPA estimated city/highway/combined mpg for the 4x2 with automatic transmission is 19/23/21. Estimated fuel efficiency for the 4x4 with a manual transmission is 19/21/20 and 19/22/20 for the automatic.
For added performance, the Tacoma offers a V6 with a 3.5-liter Atkinson cycle and VVT-iW (Variable Valve Timing with intelligent Wider Intake), equipped with Toyota's D-4S technology featuring both direct and port fuel injection. The new V6 will generate 278 hp, an increase of 42 hp over the previous V6, and 265 lbs.-ft. of torque at 4,600 rpm. Estimated city/highway/combined mpg for the 4x2 automatic is 19/24/21. Estimated mpg for the 4x4 manual is 17/21/19 and 18/23/20 for the automatic.
Both engines will be paired with a new six-speed automatic transmission with electronic shift. The V6 can also be mated to a new six-speed manual transmission and the four-cylinder to a five-speed manual. The new powertrain makes the Tacoma more powerful and fuel efficient.
The Toyota Tundra comes standard with the 4.6-liter i-Force V8 that produces 310 hp at 5,600 rpm and 327 lbs.-ft. of peak torque at 3,400 rpm. The most popular Tundra engine is the available 5.7-liter i-Force V8. It generates 381 hp at 5,600 rpm and 401 lbs.-ft. of peak torque at 3,600 rpm. Many models with the 5.7-liter V8 are certified Flex-Fuel Vehicles that can use up to E85 blend fuel.
Both V8s feature an aluminum cylinder block and double overhead cam heads with four valves per cylinder. In both, the Dual Independent VVT-i and Acoustic Control Induction System get credit for a broad torque curve. Both engines come teamed with a six-speed electronically controlled automatic transmission.