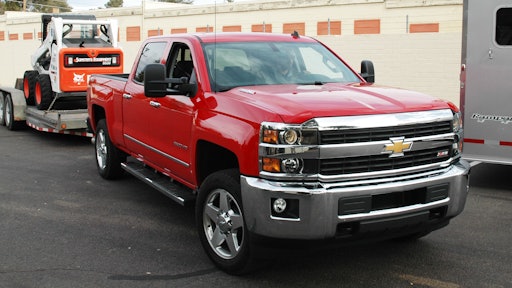 One week after the U.S. Department of Justice filed a suit alleging diesel emissions cheating against Fiat Chrysler America, a new class-action lawsuit accuses General Motors Co. of cheating on emissions testing with its diesel-powered Chevy Silverado and GMC Sierra heavy-duty pickups.
The class-action suit filed Thursday in Detroit federal court covers a total of 705,000 ¾-ton and 1-ton pickup trucks from the 2011-16 model years equipped with 6.6-liter V-8 Duramax turbo-diesel engines. Plaintiffs are represented by the same law firm that targeted Volkswagen Group for emissions cheating, which generating billions of dollars in settlements and penalties for the automaker.
German auto supplier Bosch also is named as a defendant in the lawsuit which portrays the company as "an acting and knowing participant in the scheme to evade U.S. emissions requirements." Both companies are accused of programming software "to detect a possible emission testing environment and to comply with emissions requirements in that circumstance, but to turn off the emissions controls when ... testing ... is not detected."
Six automakers have been linked with diesel cheating since 2015.
Barclays analyst Brian Johnson wrote to investors: "... Given that this is coming from a class-litigation firm, it could just be 'fishing' for a settlement around charges of deceptive advertising; we'd only know that it's more serious if the EPA steps in, as they did in the cases of FCA and VW ..."
The Environmental Protection Agency, the California Air Resources Board and the U.S. Justice Department would not comment Thursday on whether there is any investigation of GM vehicles.
(more on suit accusing GM Duramax of diesel cheating . . . )