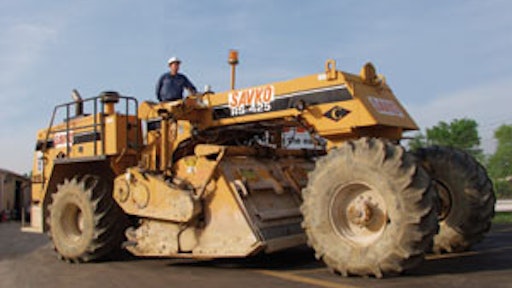 Founded in 1946, Columbus, OH-based Nickolas Savko & Sons Inc. started out specializing in digging basement foundations and pouring concrete. Today, it's one of the largest site development and underground utility contractors in the greater central-Ohio area. In 2004, it laid more than 500,000 linear feet of pipe, moved more than 2 million cubic yards of earth and placed 150,000 cubic yards of concrete.

The company has grown from having one pickup truck and a few employees to employing over 250 and operating approximately 250 pieces of heavy equipment and 200 trucks.

"For nearly 60 years, our family has provided the highest quality site development services to our customers," says Martin Savko, vice president of Nickolas Savko & Sons Inc., and son of founder Nickolas Savko. "As with any major construction company, our equipment is the life blood of our day-to-day operations and our business in general."
Finding the right partner

With equipment playing such a major role in the company's success, Martin Savko knew that a well-developed, comprehensive oil analysis program was a top priority. However, after years of participating in oil analysis programs with several other lubricant providers, Savko often became frustrated with the service and results he was receiving.

"Reports were not clear and were often difficult to understand. This caused the reaction to those reports to be delayed or simply overlooked, risking catastrophic damage to critical pieces of equipment," says Savko. "We often wasted valuable time just trying to interpret them so we could react. This is not something that we have time for."

Looking to find the right partner, Nick Savko & Sons chose ExxonMobil Lubricants & Specialties to provide a comprehensive oil analysis program for its heavy equipment, which includes dump trucks, dozers, excavators, concrete placing machinery and paving equipment.

With its large fleet of equipment and trucks, Nick Savko & Sons requires nearly 1,500 oil analysis samples each year. This adds up to as many as 30 reports per week.

"In our oil analysis testing, we carefully examine for things such as elevated wear metals and the presence of silicon — which may indicate an air intake leak — and the presence of constituents such as sodium and potassium that are found in most coolants," explains Bill Brandt, senior lubrication engineer, ExxonMobil Lubricants & Specialties. "The presence of these elements in a used oil sample indicates potential coolant leaks."

Analysis also checks for signs of excessive soot loading caused by excessive idling and engine lugging, as well as viscosity effects caused by fuel dilution and over-extended oil drains.

As part of Mobil Planned Engineering Service, lubrication engineers such as Brandt contact their customers to alert them to any irregularities in analysis results, and often contact them to make sure they have reacted to the reports.

"I can remember occasions in which Bill himself reached out to me personally six times in one week to make sure I was aware of samples that needed immediate attention," says Savko. "The personal attention we received was above and beyond what we expected."
Analysis identifies critical leak

A CMI Soil Stabilizer plays a critical role in Nick Savko & Sons' daily operations. "The CMI soil stabilizer is extremely important to our fleet because it enables us to continue our work regardless of the ground and weather conditions," says Savko. "Without it, a simple thunderstorm could set our project back two or three days — and that's not something we like to have happen."

The soil stabilizer undergoes routine oil analysis sampling via the Mobil Monitor EM/PA II used oil analysis program. In a recent test of one of the samples, Brandt noticed the presence of unusually elevated levels of copper, sodium and potassium, tell-tale signs of glycol in the engine. If left unchecked, the leak could lead to a catastrophic engine failure.

Understanding the potential consequences of the glycol leak, Brandt immediately notified Savko of his concern for the condition of the machine.

"To rebuild that engine in-frame would have cost Nick Savko & Sons upwards of $13,500, plus an additional $10,000 for 10 days of lost production and $10,000 per week for a temporary replacement," says Brandt. "We felt an immediate need to notify Savko so the team could react and prevent any further damage to the equipment."

ExxonMobil recommended a pressure test of the cooling system on the cylinders in order to locate a possible seal leak. The pressure test was executed and the leak within the cylinder was located and repaired. Once the repairs were completed, the machine was drained, flushed and refilled with new Mobil Delvac heavy-duty engine oil, and returned to full working order.

"The personal attention ExxonMobil provided not only saved our company more than $25,000 in repair and lost production costs, but also helped preserve the excellent reputation of Nick Savko & Sons for on-time project completion," Savko says. "Each year, more than 85 percent of our sales come from repeat business due to our ability to meet deadlines and deliver on-time results. The reliability of our equipment plays a major role in maintaining that level of service."
Etnyre Chipspreaders
Etnyre's FWD and QUAD chipspreaders are designed to spread aggregate in the chip seal process.
Computer-controlled application rates
Front-wheel or four-wheel drive
Fixed spread hoppers from 10 to 15 feet
148- to 230-hp engines
Bomag ProTack TW500
The ProTack TW500 tack wagon from Bomag is designed for heating and spraying emulsified asphalt for various projects.
12-gpm direct-drive asphalt pump
5.5-hp Honda engine
Primary tank holds 500 gallons and features a 10-inch fill spout
50,000 BTU vapor propane burners
40-foot-long, 1/2-inch-diameter hose allows operators to spray in an 80-foot work area without moving the base unit
6-foot spray wand with replaceable tip
Heavy-duty trailer frame with two 3,500-pound GVW axles, electric trailer brakes and safety chains
Dynapac PL 350 S Planer
The PL 350 S cold planer has a 4-inch cutting depth and a 14-inch working width.
60-hp Cummins B3.3 diesel engine
6,174-pound operating weight or 9,481-pound maximum weight with ballast
Up to 82-fpm working speed and 3.6-mph transport speed
127-gallon water and 32-gallon fuel tank
Rosco SPRH-H Chip Spreader
Rosco's SPRH-H chip spreader features 10- to 16-foot spread hoppers.
Automatic conveyor belts
Hydrostatic drive and swing-over control console
Automatic application rate control from operator's station
Large 3.5-yard receiving hopper
Keizer-Morris Asphalt Hot Box Dump Store hot mix asphalt at plant temperatures for up to three days or reclaim stockpiled asphalt for off season repairs with the Asphalt Hot Box Dump from Keizer-Morris International.
4-ton capacity hot box/reclaimer unit will carry a load from plant to jobsite and dump the asphalt where needed
Triple wall construction and high efficiency insulation keeps the load hot while minimizing fuel consumption
Heavy-duty frame is constructed with 6-inch channel and is carried by two 7,000-pound-rated axles and four tires rated over 3,500-pounds of capacity each
Can also transport cold patch asphalt and other road repair materials
Terex/CMI PR950 Roto-Mill
The PR950 Roto-Mill Pavement Profiler makes cuts up to 15 inches deep with a standard full-lane cutting width of 86 inches at working speeds reaching 170 fpm.
950-hp Cummins six-cylinder diesel engine
Power-band, V-belt direct-drive system
Quick-mount cutter design with optional 150-inch cutting drum
Four steering modes
42-inch high-capacity conveyor swings 60 degrees to the left or right of center
Three- or four-track designs
Bergkamp Plant Mix Rubberized Slurry Seal Applicator Truck
These applicator trucks from Bergkamp Inc. are designed for plant mix rubberized slurry seal.
3,000-gallon slurry seal tank with 8-inch discharge, butterfly valve for positive seal, knife valve for production regulation, with door for quick cleanout
400-gallon water tank with hydraulic-powered pump for spraybar and handhose
Full tank agitator — hydraulic powered — speed stays constant while truck engine rpm varies
Includes spreader box lift, sideshift and diverter
Marini MP 1300 Milling Machine
The 275-hp MP 1300 cold planer milling machine features a centrally mounted cutting drum that allows precise milling next to obstructions.
51.4-inch standard cutting width and milling depths to 12.6 inches
Operation controlled from a centrally located operator's station or via remote-mount controls at ground level
Front-loading conveyor swings 36 degrees right or left of center and folds for transport
Four-track stability and independent or coordinated front and rear steering provide improved travel performance

Roadtec RX-900 Cold Planer
The RX-900 cold planer is available with an 860-hp Caterpillar or optional 950-hp Cummins diesel engine.
Three- or four-track assemblies
Cuts 14 inches deep and from 7 feet 2 inches to 12 feet 6 inches wide
42-inch front load-out conveyor
Hydrostatic drive for propulsion and conveyor system
Working speeds up to 128 fpm
Proportional joystick controlled steering with coordinated, crab, front only and rear only modes
Caterpillar PM-201
Caterpillar's PM-201 features a 650-hp Cat C18 engine with ACERT technology.
83-inch rotor width
12-inch rotor depth
41,310-pound operating weight
Load Sensing Propel System
Choice of three rotor designs
High capacity, versatile conveyor
Wirtgen W 2000 Combo Cutter
The W 2000 Combo Cutter milling machine can change drum widths easily from 24 to 36 to 48 inches in width.
565-hp engine
For shoulder widening
Cuts zero to 12 inches deep
Wirtgen Type III Quick Change tooth holder system
Segmented rear modlboard with independent control and side-shifted material discharge conveyor to maximize material flow
Terex RS800 Reclaimer/Stabilizer
The RS800's heavy, unitized mainframe with center-mounted 800-hp Caterpillar engine and cutter distribute the machine's 67,500-pound weight and horsepower for high production.
V-belt driven
Four-speed rotor transmission
Full depth cutter for up to 20-inch cutting depth and 10-foot width
Bi-directional travel
DuraPatcher Road Repair Machine
The DuraPatcher pothole and road repair machine from Duraco Industries puts out emulsion and rock combination for permanent repairs in any weather condition.
Operator friendly
Repairs streets and highways
Injection-type repair
Companies in this article