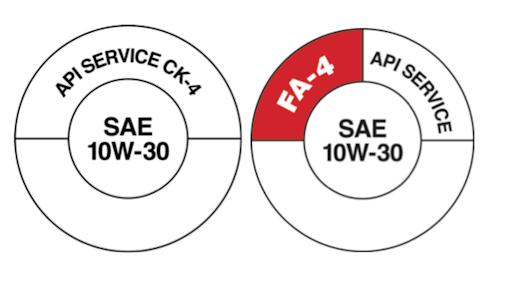 By Kevin Ferrick, Senior Manager for Engine Oil Licensing, API

With the arrival of two new diesel engine oils categories in December of 2016, shops servicing construction equipment and trucks need to be prepared for accommodating them and for training technicians and service people about their application.
API CK-4 oils succeeded CJ-4 engine oils and are backward compatible diesel oils. Backward compatible means CK-4 may be used where CJ-4, CI-4 with CI-4 PLUS, CI-4, CH-4, and earlier service categories are recommended. API FA-4, on the other hand, is a new arrival intended for engines built beginning with the 2017 model year. There are currently 430 CK-4 oils and 65 FA-4 oils licensed by API and more are expected.
With some new diesel engines requiring FA-4 oils, shops and technicians need to know how to manage CJ-4, CK-4, and FA-4 oils in their facilities. It is recommended that you create a transition plan for the shop; there may be a need for increased storage and the clear identification of the lubricants will reduce confusion.
Estimate the volumes of each oil you will require, particularly if you own or service 2017 trucks. Always check with the truck manufacturer to see whether they require FA-4 or CK-4 oil and the viscosity grade needed.
Be sure to mark tanks, storage, tools, etc. in advance of the first delivery of product to avoid co-mingling different products and misapplication. Assess your shop's need for both oils and check on the availability from your supplier. Also ask about specific viscosity grades since some are changing. Identify a clear date to incorporate the new oils into the shop and clearly communicate that information to staff.
Here are six things you can do to ensure the new oils are being installed and dispersed properly.
Engine Requirements

—

FA-4 oils may not be recommended for all new engines, so be sure to check with engine manufacturers about which engines are supposed to use FA-4 oil
Bulk Tanks

—

Replacing CJ-4 with CK-4 should be a simple transition because CK-4 is backward compatible and an improvement over CJ-4. You can still carry CJ-4 oils in drums if you want to keep some on hand.
Inventory

—

Monitor volumes of API CJ-4 lubricants vs. API CK-4 & FA-4 to ensure proper supply.
Identification

—

Clearly mark all bulk or packaged oil as appropriate for API CJ-4, CK-4 & FA-4 oil
Dispensing Oil

—

All dispensing equipment should be properly labeled with product name and viscosity grade to prevent misapplication.
Education

—

Technicians should be made aware of the changes to oil categories and requirements for each.
To help technicians differentiate between the two new oils, API developed a special Service Symbol Donut. The new FA-4 donut features a shaded section that sets it apart from the traditional Donut being used with API CK-4.
Visit www.dieseloilmatters.com for more information about the API CK-4 and FA-4 service categories for on- and off-highway vehicles and equipment.