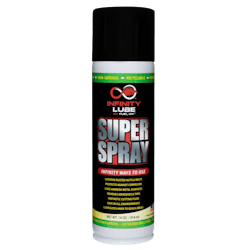 Fuel Ox

The Fuel Ox Infinity Lube Super Spray, a 100% plant-based metal treatment that can be used as a penetrant, lubricant and cutting fluid as well as a cleaner, conditioner and protectant of all metal surfaces, is now National Sanitation Foundation Institute (NSF) certified as Food Grade H-1. This certification implies the product is safe for use in facilities with foodstuff.
"We are incredibly proud of this designation," said Rand Taylor, CEO of Fuel Ox. "Gone is the stigma that plant-based industrial products are less powerful. Our Infinity Lube Super Spray has been tested against all sorts of competitive products; outlasting conventional toxic petroleum-based sprays by up to 10 times, performing in an assortment of applications that other sprays would not even dream about, and reducing toxicity by 100%. Now that it's also NSF certified- it's truly one-of-a-kind."
Fuel Ox's Infinity Lube Super Spray is designed for commercial or residential external mechanical system and/or metal surface that needs a lubricant, cleaner, degreaser, surface protectant or cutting fluid.
The company's plant-based products also help to reduce toxic chemicals in the environment, which are normally emitted by other petrochemical competitors. Infinity Lubes are concentrated and powerful, resulting in minimized replacement parts, less power to operate the machinery and a safe work environment.
"We have several more incredible products like this in the pipeline, and we're excited to roll them out," highlighted Taylor.
Request More Information
Fill out the form below to request more information about
Fuel Ox Infinity Lube Super Spray Receives NSF Certification