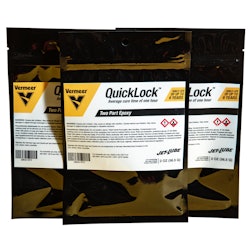 Vermeer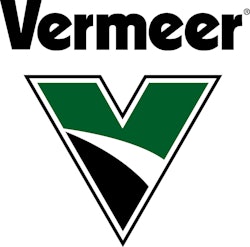 The Vermeer QuickLock two-part epoxy thread-locking compound stabilizes threaded connections between the drive chuck and sub saver of a horizontal directional drill (HDD). It cures in as little as one hour, instead of the industry-standard 24-hour period, enabling HDD crews to get back to drilling after swapping out the sub saver.
"In the past, HDD crews often chose to wait until the end of the shift to replace a worn-out drill sub saver because of the time it takes traditional thread-locking compounds to cure. With Vermeer QuickLock epoxy, new crews can replace the sub saver, go to lunch and get back to drilling. This not only helps crews work efficiently but can help prevent thread damage to drill rods because worn sub savers are being replaced sooner," said Vermeer product manager Cody Mecham.
Vermeer QuickLock epoxy comes in a 2.3-oz. (65.2-g) double-section plastic pack that keeps the resin and catalyst separate. It can be mixed within the pack before applying to the threaded joint. It is zinc-free and has a shelf life of up to six years.
"The extended shelf life and quick cure time make it simple for crews to maintain the sub saver and maximize the life of their drill rod threads," said Mecham. "It's an economic and durable option for threaded tooling connections that require a strong permanent bond."
Request More Information
Fill out the form below to request more information about
Vermeer QuickLock Epoxy Thread-locking Compound