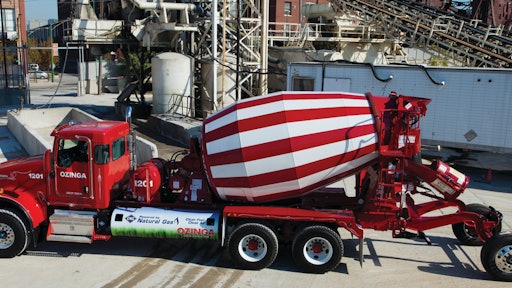 Environmental stewardship wasn't the only reason Ozinga Ready Mix Concrete paid the premium to replace 13 concrete mixer trucks with Kenworth W900S trucks fueled by compressed natural gas. The CNG trucks are also delivering operating-cost reductions and bid-winning advantages that justify the purchase in dollars and cents.
"We looked at what we wanted to accomplish — reduce our country's dependence on foreign oil, improve our company's environmental image by cleaning up emissions from our mixers and lower our fuel costs," said Tim Ozinga, director of corporate communications for the four-generation, family-owned concrete company. "Since city officials are trying to reduce emissions from trucks that operate in downtown Chicago, we thought placing all of our new CNG trucks in operation there (Ozinga's Chinatown Plant) would have the greatest impact."
Ozinga put the CNG-fueled mixer trucks to work in late 2011. Each is equipped with the 8.9-liter Cummins Westport ISL G engine, six-speed Allison 4500RDS automatic transmission and the McNeilus Bridgemaster mixer body. Rated at 320 hp and 1,000 lb.-ft. of torque, the ISL G uses a maintenance-free, three-way exhaust catalyst and complies with 2010 EPA and CARB emissions requirements without selective catalytic reduction or a diesel particulate filter.
Replacing diesel trucks with more-expensive natural gas units might seem counterintuitive in today's difficult economy, but Ozinga is focused on total cost over the life of the trucks.
Natural gas has cost consistently less than diesel – about $1.50 less per diesel gallon equivalent – Ozinga said. The company expects fuel cost savings to repay the natural gas premium in less than three years (Ozinga keeps trucks about six years). The company does plan to install a CNG fueling station, which will push the break-even point for CNG out much longer. But company executives see the effort as an opportunity to position the company as an environmental leader in Chicagoland construction.
"More and more homeowners and small businesses are looking to source their concrete from companies that can demonstrate a commitment to a greener operation," Ozinga said. "Contractors are also looking for suppliers who can help them with improving their chances for meeting certification requirements for the Leadership in Energy and Environmental Design (LEED) Green Building Rating System."
In the first few months of operation, the Kenworth CNG mixers have met and exceeded company expectations, according to Pete Huisenga, fleet manager at Ozinga.
 "Drivers have told us that they're responsive, shift fast and provide good power," Huisenga said. "They also tell us the engines are remarkably quiet and the truck interiors are very comfortable."
Cummins Westport says its CNG-fueled engines are 5 ½ decibels quieter than comparable 2007 Cummins diesel s at peak torque and load and nearly 10 decibels quieter at idle. Huisenga said customers have already commented about the lower noise. That has significant benefits, he points out, when working in residential neighborhoods and at public projects like the new Metra station at Comiskey Park, and the rebuild of Wacker Drive's lower and upper decks.
"It's good to know that the Kenworth CNG mixers not only pay back in fuel cost savings and driver satisfaction, but also further our environmental stewardship efforts," Ozinga said. "These efforts fit with our company's heritage of serving the greater needs of our community and our country."