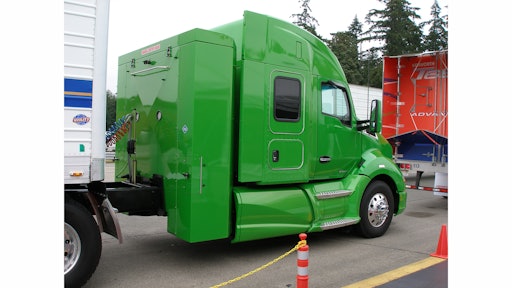 The Kenworth T880 day cab and 52-in. mid-roof sleeper can now be specified-with the factory installed Cummins Westport ISX12 G natural gas engine.
The T880 with the ISX12 G, rated 400 hp and 1,450 lb.-ft. of torque, works in the usual range of vocational truck types up to a maximum gross combined vehicle weight rating of 80,000-lb. It is available with manual, automatic, and Eaton UltraShift Plus transmission options, including 10-speed LAS and 13-speed MHP series.
The Cummins Westport ISX12 G can run on either compressed natural gas (CNG) or liquefied natural gas (LNG) fuels. The engine uses a maintenance-free, three-way exhaust catalyst instead of diesel exhaust fluid and a diesel particulate filter.
Kenworth works with such companies as Agility Fuel Systems, Trilogy Engineered Solutions and McNeilus to provide natural gas tanks and fueling systems for the trucks. Kenworth says a ready-mix truck with natural gas engine can carry the equivalent of 90 gallons of diesel fuel on its frame rails, but large back-of-cab fuel systems can carry up to 163 diesel-gallon equivalents.
The T880, which first went into production in late 2013, will eventually replace the venerable T800 vocational truck in Kenworth's lineup. The T880 uses Kenworth's 2.1-meter-wide, stamped aluminum cab with 23 inches of room between the seats. The truck features an air-assisted hydraulic clutch, complex reflextor headlamps, five-piece Metton hood for faster repairs, and lightweight, factory-installed lift axles.