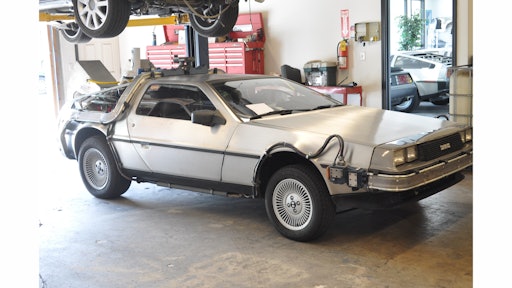 The Delorean Motor Company (DMC) installed the EZ Oil Drain Valve on its famous time machine, the Delorean DMC-12, to make oil changes easier, faster and cleaner at the touch of a finger.

This Delorean will travel to every state in the U.S. to raise awareness and funds for Parkinson's research. All donations collected will benefit the Michael J. Fox Foundation for Parkinson's Research, through Team Fox. This time machine is going to rack up a lot of miles going to every state, hence the need for oil changes and that's where the EZ Oil Drain Valve comes in handy. It's going to be part of a "drive to cure Parkinson's."
Traditional oil changes of removing the stock drain plug is a thing of the past. Now with a one time installation of the EZ Oil Drain Valve, the quick release ball valve allows you to change oil with 100 percent control right at your fingertips. Just give the lever a quarter turn to open, and to close return back to its locked position.