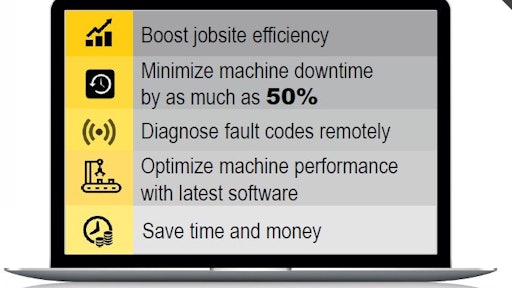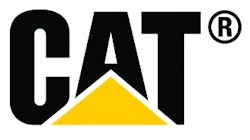 Caterpillar has introduced a new suite of Cat Connect technology that offers remote equipment diagnostics and software updates to reduce machine and engine downtime. Remote Services include two key offerings – Remote Troubleshoot and Remote Flash – that leverage telematics data to allow Cat dealers to remotely keep customers' equipment operating at maximum production and efficiency.
"Remote Services provide a solution to more effectively and efficiently maintain equipment," says Herwig Peschl, Caterpillar global marketing manager. "By using both technologies, you can boost your jobsite efficiency, minimize your machine downtime by up to 50%, diagnose all faults remotely and optimize the machine performance [by remotely downloading] the latest software.
With Remote Troubleshoot, customers can continue to use their equipment while the dealer reviews and diagnoses a fault code from the office. Once the cause of the fault code or alarm has been identified, the dealer could possibly resolve the issue remotely, saving time, money and inconvenience.
"In many instances, if a repair is required, the dealer can dispatch the right technician with the right parts and tools to fix the machine or engine right the first time, saving time and money," Peschl notes.
Technicians are able to make the repair in the shortest time possible and when it's convenient for the customer. 
Remote Flash ensures Cat equipment operates with the most current version of onboard software. This new service enables remote updates to the software of a connected machine or engine, at a time convenient to the operation, without the need for a service technician to visit the jobsite.
Customers receive notification from their Cat dealer, or in some instances directly from Caterpillar, when a new software update is available for a piece of equipment. Machines or engines can then be updated at the jobsite without waiting for a dealer technician to arrive and install the update.This ensures the benefits of the software updates are realized as soon as it's convenient for the customer.
Once a customer receives the flash-file push notification for a targeted product, the authorized user simply confirms the machine or engine is ready to begin the flash, initiates the process and confirms the post-flash performance.
Currently Remote Troubleshoot is available on Next Gen excavators, and Remote Flash is available on Next Gen and 336F XE hydraulic excavators, M3 Series motor graders, L and M Series medium wheel loaders from the 950M to the 972 XE models, and 10 models of Oil and Gas engines. Both services work for Cat machines or engines with an onboard PLE641 or PLE742 card and telematics 2017B software or newer. More equipment will be eligible for the Remote Services offerings with future updates.