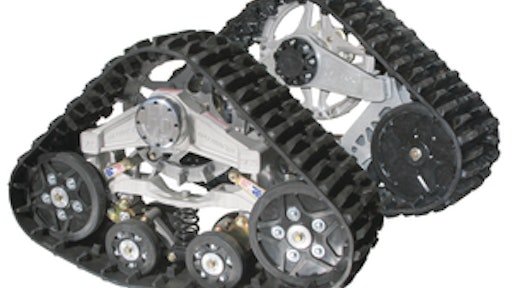 LiteFoot ATV Track System
Mattracks has added the LiteFoot XL and LiteFoot HD model series to its product lineup.
LiteFoot XL entry level all-terrain ATV track system features many of the same components used on other LiteFoot track systems on a durable structural steel frame
LiteFoot HD for heavier UTVs delivers a 4,200-lb. GVWR, plus offers XT and M3 tread options, heavy-duty components, a beefed up suspension, steel drive sprocket and metal hub wheels
Mattracks
Steel Track Undercarriage Option
A steel track undercarriage option is available on the Bobcat T250, T300 and T320 compact track loaders.
Provide durability in abrasive working conditions, such as demolition or forestry
Extra weight increases traction to provide more pushing force in earthmoving applications
Similar to the tracks used on bulldozers
Bobcat Co. - Doosan Infracore
Loegering VTS Versatile Track System
The Loegering Versatile Track System (VTS) offers skid steer operators the ability to run their machine with tires or as a full rubber track undercarriage system with suspension.
Skid steer can be convereted to a track loader in under an hour
Complete rubber track undercarriage bolts directly to a skid steer's standard hubs
Forward placement of the front idler wheel maintains flotation and stability
Bi-directional suspension adjusts independently from one side of the machine to the other
Rear idler provides stability for grading up inclines and traversing side hills
Terex Corporation
Rubber Track
Rubber tracks are available for all makes and models of compact equipment.
High-performance design delivers maximum durability
Aggressive tread pattern
Smooth ride and comfort
Non-metal core and jointless tracks available
DRB America
Aftermarket CAT and Terex ASV Parts
Bair offers a selection of aftermarket parts for Caterpillar multi terrain loader and Terex ASV compact track loaders.
Reusable Larry Lugs replace broken, worn or delaminated rubber lugs, bolting into place in 10 minutes without removing the track
Front/rear idler and bogie wheels
Grease gun-operated, hydraulic track tensioners ready to install with no modifications
Bair Products Inc
F Series Over-the-tire Bar Track
The F Series Over-the-tire Bar Track uses heavy-duty, contractor-grade components such as 1 1/4-in. hardened, field-replaceable bushings and 80,000 psi links to ensure durability.
Open side plates promote cleanout in the pivot area
Open cross bar design provides cleaning and exposes the tire to provide maximum traction, flotation and cleaning
2-in. wide bars
Improved sidewall design for heavy-duty tires
Available for 10.00, 12.00, 14.00 and 15.5 size skid steer tires
Grouser Products
J'Tracks Skid Steer Split C
The J'Tracks Skid Steer Split C features a continuous wound belted cable system, premium 70% virgin rubber and 30% synthetic rubber for extended wear life and increased traction.
Traction works especially well on hard or rocky surfaces
Raised rubber ridge for rollers to run on creates less vibration
Global Track Warehouse
ROBUSTUS Track System
The ROBUSTUS rotating bushing track system increases the life of all components and reduces ownership and operating costs.
No need to turn bushings and pins and replace sprocket segments during the life of the undercarriage
Wider track link rail ("big footprint" track link) provides an extended running surface area
Reinforced hardware improves joint stability
Berco Pin Retention (BPR) and an improved seal design produce a lasting seal capacity
Fully compatible with existing frames and standard components
Berco of America, Inc
TRT-900 Rubber Tracks
The TRT-900 rubber track product line will include tracks for mini-excavators, compact track loaders, dumpers, utility equipment, demolition machines and other industrial equipment.
Mini Ex and CTL tracks feature continuous wound cable technology, 100% forged metal pieces, brass-coated cable bundles and three-stage natural rubber compounds
NMC tracks for Caterpillar and ASV track loaders offer premium rubber compound, an aggressive directional tread pattern and optimal flotation
Trelleborg Wheel Systems Americas, Inc.
Companies in this article