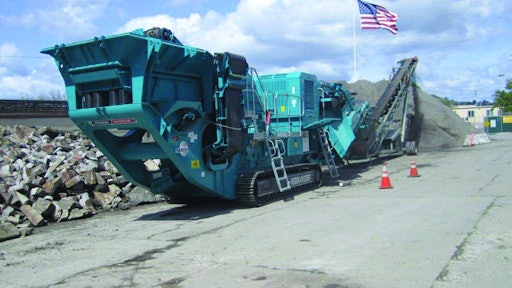 Ghilotti Brothers, Inc. was founded in San Rafael, CA, in 1914 by James Ghilotti, a 23-year-old Italian immigrant, who began his business by carting rocks from the hills of Marin and Sonoma Counties with a horse-drawn sled and practiced his craft as a stone mason throughout the area. Today, Ghilotti Brothers is one of the largest employers of construction personnel in Northern California.
The company's work includes all kinds of commercial and residential projects, such as paving San Francisco airport runways, heavy highway and road construction, parking lots, sidewalks, driveways and retaining walls. "We also do major grading, excavation and demolition work, as well as underground utilities, sewers and storm systems," notes Michael M. (Mike) Ghilotti, president of Ghilotti Brothers. "So we use a lot of concrete and asphalt, and we accumulate a lot of concrete and asphalt rubble."
First but not last
In 1994, Ghilotti Brothers began looking at how it could use materials most responsibly and not have to dispose of as much material. "One major thing we decided was to go into recycling, for three basic reasons: to keep quarries from being drawn down; to save space in landfills; and to have fewer trucks on the road, which cuts fuel consumption and carbon footprint, reduces road wear and lessens traffic and noise," Ghilotti explains.
After a thorough investigation, the company bought the first Powerscreen 4242SR tracked impact crusher delivered in North America. Powerscreen of California brought the machine in on demo. "It performed so well we bought it right away," says Ghilotti.
In 2010, the 4242SR was replaced with the first XH320SR tracked impact crusher delivered in North America. "We were very happy with the 4242SR and had no plans to get rid of it until Paul Campbell, owner of Powerscreen of California, told us about its successor, the new 320SR. As good as the 4242SR is, the 320SR is better, especially for our purposes," Ghilotti states. "It is well designed for recycling and demolition applications, as well as aggregates. It is compact and maneuverable. That's important, since we move it a lot and often use it in tight quarters."
The XH320SR is a horizontal shaft impact crusher plant with two full and two half blow bars, hydraulic overload protection, fully independent under-crusher vibrating pan feeder, PLC controls for crusher speed variation, HFO clutch and fuel-efficient direct drive system. Power is supplied by a 230-hp Caterpillar C9 Tier III ACERT power pack. An overband magnet is optional.
Ghilotti Brothers uses the XH320SR for two basic types of applications. The first is at four crushing yards owned or leased by the company at Lakewood, Crockett, South San Francisco, and San Rafael. Concrete/asphalt rubble is trucked in by Ghilotti Brothers from its excavating, demolition and other sites to be crushed and used in the company's various construction jobs or sold on the market.
Area contractors also bring in and leave rubble to be accumulated and crushed, and usually leave with truckloads of crushed materials. These normally include 3/4" base and drain (clean) materials, plus 1" and 1/2" materials. Sometimes a little asphalt is blended in to make a sub-base product.
Secondly, the tracked crusher is used at various Ghilotti Brothers jobsites, such as road paving and demolition. The company also does contract crushing at customers' locations.
Much of the concrete rubble Ghilotti Brothers recycles contains steel mesh and rebar. "The 320SR impactor handles it well and has a quick-and-easy hydraulic hood opening if we need to clear any jams," says Ghilotti. The modular conveyor also includes a raise-lower feature to aid in clearing rebar.
"Our new impactor crushes up to 320 tph, depending on the feed rate and materials," Ghilotti notes. "High production is critical, since much of our business comes from public works bids, where cost is king and the lowest bidder usually wins.
"The 320SR is also relatively quiet," he adds, "which is important when we want to start a new on-site crushing project and local officials are concerned about noise and potential complaints from local businesses and residents."
Know your internal rate
"When buying equipment — any equipment — you need to look at a lot more than just the initial price," Ghilotti states. "You have to look at how much you are charging yourself for use of the equipment. You determine an internal rate based on initial price, maintenance, anticipated downtime — notice I said anticipated; it's the unexpected downtime that wreaks havoc — equipment production capabilities, fuel consumption, parts, and salvage value.
"Keep the equipment as long as the internal rate is favorable. Get rid of it when the internal rate becomes unfavorable as the equipment ages and wears," he continues. "My dad, Mario, did a lot of this analysis himself over the years. And a good dealer can be a big help, too."
Ghilotti also stresses the importance of investing in quality from the start. "What we like about quality equipment is that it's better when you acquire it, better while you're using it, and better when you sell it or trade it in," he says. "Paul gave us a very good deal when we traded our 4242SR on the new XH320SR, because well-maintained used equipment still has value and is in demand. Our internal rate for the 4242SR was still favorable. We got rid of it only because a new and more technologically advanced product became available.
"Even in the down economy we've all been experiencing the past couple of years, Ghilotti Brothers has been investing in new, state-of-the-art equipment and has been training new people at all levels of our company. We believe it's important to show the market that you're a stable, progressive company with faith in the future. Companies that prepare for the return of good times will have a better, faster recovery and be stronger in the long run than companies that don't."
Ghilotti Brothers, Inc. is a family-owned business founded in 1914 by James Ghilotti as James Ghilotti Contractor. In 1939, it became James Ghilotti and Sons, and then Ghilotti Brothers, Inc. in 1950. In 2000, Michael M. and Dante Ghilotti purchased the company from their father, Mario Ghilotti, who remained involved in the business until his death in November, 2010.