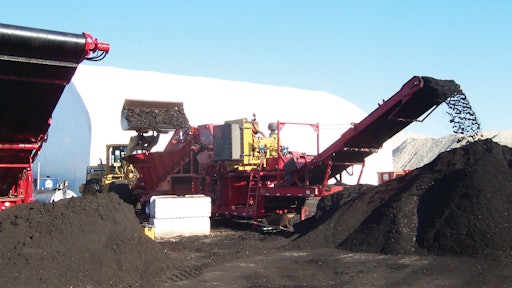 Last year was the first year Southwind RAS was in business. The company diverted from landfills and recycled more than 70,000 tons of asphalt roofing shingles last year. This year, it expects to recycle 100,000 tons of material.
Southwind RAS was started by Mike Vondra based, in part, on reports of successful shingle recycling in other parts of the country. Since 1988, Vondra has owned and operated a sand and gravel mine and a concrete/asphalt pavement recycling facility in Bartlett, IL. In addition to these operations, he also has interests in other construction material companies in the Chicago area.
"Essentially, he saw shingle recycling as a possible new venture that would blend seamlessly with his existing operations," explains M. Slade O'Keefe, TITLE? with Southwind RAS. "After a substantial amount of research and an evaluation of the market and potential for this product in Illinois, he took the plunge to bring recycled shingles to hot mix asphalt producers in Illinois."
Currently the company has a seminal location in Bartlett, with operations in Lyons, Peoria and South Beloit, IL. Southwind RAS is in the process of constructing facilities in Thornton and Romeoville, IL as well as working on zoning and permits for Lake in the Hills and in Lake County, IL.
With primary customers being hot mix asphalt producers throughout the state of Illinois, the company has 25 employees and will be adding personnel as additional facilities expand or become operational.
The recycling process
There are three major benefits to recycling shingles, says O'Keefe. "First, it takes material that can be recycled out of landfills thereby preserving precious space," he says. "Second, it's used to create a better, more durable pavement mix. And third, it provides a cost savings to the contractor and public works agencies which allows for more projects to be completed within budgetary constraints." 
Equipment used for processing the shingles includes conveyor equipment that is used for inspection and final cleaning and was custom built for Southwind RAS. The clean material is processed using a Rotochopper RG 1 Shingle Recycler. And final gradation is achieved using one of two trommel screens – a Vermeer- Wildcat 621 or a Powerscreen 830.
O'Keefe explains Southwind RAS' recycling process step-by-step:
Shingles enter the site and are visually screened by a Certified Asbestos Inspector.
The truck is directed to a tipping area where the load is inspected again. Loads are then impounded for asbestos testing. Illinois DOT requires two samples per every 250-tons of in-bound material. The shingles are impounded until test results are returned and the pile is cleared.
Next, the shingles are loaded into a feeder and fed onto a belt magnet to remove any steel. They run up a conveyor to the sorting conveyor where workers manually pull paper, plastic, felt and non-ferrous metals out of the feed.
The shingles proceed to a second sort line for final cleaning and then under a second magnet to ensure large metal pieces do not make it to the shingles grinder.
Once the shingles have been cleaned, they are stockpiled until they are ground by the Rotochopper RG1 Shingle Grinder.
Next, the ground shingles are stockpiled until they are ready for sale.
To meet Illinois DOT or Illinois Toll Highway Authority gradations, the material is passed through a trommel screen. Current specifications require 100% passing the 3/8 Sieve and 93% passing the No. 4 Sieve. Once the shingles have been screened, they are impounded for a second time and tested for asbestos at a rate of one test per 500 tons.
Upon sale, they are loaded onto a truck and delivered to an HMA producer.
The challenges of RAS
O'Keefe says the greatest single challenge is the fact that recycled shingles are a new product in Illinois so a great deal of education for both agencies and HMA producers has been necessary.
"We have worked very closely with the Illinois DOT (IDOT), Illinois Tollway and the Illinois EPA on specifications, permitting, QC/QA and final product use by HMA producers," he says. "We have spent many hours working with IDOT and the HMA producers supplying them with information, doing testing and sharing test results. In addition, we have prepared detailed cost analysis summaries illustrating the cost savings of using recycled shingles. Finally, we have shared with potential new users the experiences from other contractors that have already used the material in their HMA product."
Another challenge with producing RAS is asbestos. "Asbestos has been a stated issue for the state agencies in Illinois," says O'Keefe. "As a result, we have a Certified Asbestos Inspector at each location performing visual inspections and taking material samples. These samples are tested off site by a third party laboratory."
In addition to the asbestos training, all of the workers at each site have site-specific training. Southwind RAS also conducts a supplier training session with each supplier of tear-off shingles. The company is also required, as a condition of permits, to conduct semi-annual air sampling to ensure worker safety.
O'Keefe is optimistic about the growth potential for RAS in Illinois. "We see our operations becoming more streamlined as we work out the inherent difficulties of starting a new industry," he says. "Currently, we are only recycling tear-offs but, as the business develops in the future, we will start taking manufacturer's waste. The majority of the tear-off shingles we receive are provided by waste transfer stations but we have started a program to start targeting the actual roofing contractors.
"We see growth potential within the state of Illinois and may look to surrounding states for further expansion," he concludes. "We envision the use of this product becoming more widespread and proving out the merits of its use."
Companies in this article