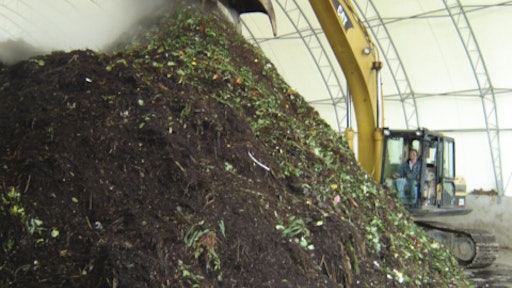 Bloomington, IL-based Kirk C&D Recycling, owned by Tim and Tom Kirk, specializes in residential and commercial demolition services and also offers excavation and site clearing services. Klenck Company is focused on large commercial and industrial demolition projects, engineered structural demolition and interior elimination in southern and central Indiana. Both companies have been at the forefront of construction and demolition (C&D) recycling, and have proven that recycling can benefit the bottom line.
Recycling efforts can help you trim expenses. The trick is to find useful purposes for the waste stream being generated. Metals, wood and concrete are among the easiest to recycle. Other materials may take a little more ingenuity.
You must also consider how recycling efforts can impact productivity, since recycling can slow production. "It is outweighed by the money that you would save by not going to the landfill," asserts Nicholas Funke, Klenck Company.
To maximize the value of your recycling efforts, you need to have a plan in place tailored to your company's operations. Successfully implementing that plan will require a change of mindset. "You cannot look at it as trash," says Tom Kirk, owner, Kirk C&D Recycling. "It is cash flow."
Specialized Tools Required
If there's a C&D recycling center close to your project, you can save money by reducing the material that would otherwise go to the landfill, and it doesn't require major changes in day to day operations. If not, recycling efforts will take a little more advance planning.
The proper equipment makes recycling more feasible. Specialty attachments can come in handy when sorting material. "We typically do quite a bit of sorting on site," says Funke. "We have a lot of specialty implements for our excavators." This includes the Krypto Klaw from Rockland Mfg. "It is basically an excavator bucket and grapple in one. Most of our excavators are outfitted with those." All of the prep work is done on site before material is shipped off to the C&D recycling center.
Another attachment Klenck Company finds handy for recycling on demolition projects is a pair of LaBounty UP30 Universal Processors. "They have a steel shear jaw, a concrete crushing jaw and a concrete cracking jaw for very thick stuff," says Funke. "We have been very happy with those attachments."
In addition, Klenck Company typically uses four roll-off containers to segregate material: one for steel, one for wood, one for cardboard and one for C&D waste. This simplifies the recycling process. A local pallet manufacturer who performs a lot of grinding takes the wood. "Building a new building, everything comes in cardboard," says Funke. "There is a local cardboard place that will take everything that we have divided."
To minimize the material going to the landfill, you need to identify useful purposes for as much of the current waste stream as possible. Klenck Company has even looked beyond traditionally recycled materials. "We have recycled glass out of hotels," notes Funke. "The National Demolition Association has a ceiling tile recycling program through Armstrong and they have done an excellent job. We had a couple of projects where we attempted to do that, but there were environmental concerns."
Pros and Cons of On-site Concrete Crushing
Crushing concrete on site is one of the most popular forms of recycling. For smaller projects, a crushing attachment or small portable crusher can be useful for turning concrete into usable aggregate. But larger volumes require a dedicated crusher, which is a substantial investment.
Carefully consider the economics before committing to on-site crushing. "The only way it makes sense is if you have the opportunity to sell it or you are getting paid to leave it there," says Kirk. "If the owner needs aggregate on the site, it saves the transportation of hauling it out and back." But this approach does require room. "By the time you fold out a screen plant and set up a jaw crusher, that equipment is not small. You don't realize how big they are until you stretch them out." Then you need room for the stockpiles. "It takes a lot of room to do it."
Large crushers also require support equipment. "We either use a dozer or another excavator," says Kirk. "Something has to feed it and something has to take it away or you will not get much done."
Justifying this expense requires that you have sufficient material to crush. "In my opinion, it is not worth doing unless you have 3,000 tons," says Kirk. "I have done it for less, but there has to be a reason."
Kirk C&D Recycling uses a Novum screen plant to keep up with a rented Terex jaw crusher. "I actually own two screen plants but the crusher I rent," says Kirk. "I always get the same machine."
He says it makes no sense for his company to own the crusher. "There are times when we have run them every day for two months and then turn around a month later and have done the same thing," he acknowledges. But the large capital expense and maintenance costs would make ownership prohibitive. "The electronics are so complicated that when you have a problem you need to know what you are doing."
Klenck Company is currently crushing for a stadium demolition project. "The project that we are crushing on right now will generate 25,000 tons of concrete," says Funke. That concrete will be used as fill in the stadium demolition.
Yet, the contractor takes a similar approach to on-site crushing, choosing to rent a crusher from another contractor. "It is a tremendous cost," says Funke. "You are talking about half a million dollars in capital investment.
"We rent their machine and put our operators on it," he continues. "We found that works a little better because they have to maintain the machine and we pay the rental rate. Anybody who crushes very long knows that maintenance is a very big issue."
According to Funke, there are usually two reasons for crushing on site — either the owner requests it because it will mitigate the cost of buying virgin stone, or it will be stockpiled to build something else on the property. "Usually, we get a price per ton. We like to crush for a couple of days," he comments. To make it profitable, he estimates there needs to be a 2,000-ton minimum.
On-site Sorting vs. C&D Centers
Both Klenck Company and Kirk C&D Recycling have spun off into C&D recycling operations. Klenck's partner company is Fligeltaub Recycling Inc. Kirk C&D Recycling's partner is Henson Disposal.
"We now actually bring everything back to the C&D recycling center and go through 100% of the job," says Kirk. "In the past, we would try to take out what we could, but that was really only the metal and the aggregate. The other things, there is really no market for unless you get it really clean, which you cannot do on the jobsite."
Space constraints are a serious concern on many sites. "Seventy-five percent of construction sites only have enough room for one dumpster," says Kirk. "You are trying to get as much stuff on the site as you can." If you want to segregate seven or more different materials, it becomes a challenge since you would need a separate container for each material. "Now you have piles all over the place. It looks terrible. It is in the way. You are handling it 10 times."
Another problem on the jobsite is keeping absolute control. "You just cannot un-train the employee who walks by the dumpster and throws his lunch bag in it," says Kirk. "Even on jobsites where they have people to make sure it is clean, it never works."
Then you have to balance jobsite productivity vs. the time it takes to properly sort the materials. "When you look at a big project that is performing prevailing wage, it makes no sense," Kirk states. "You cannot spend that much money organizing trash. It just makes more sense to throw it all in a box and haul it away to a center where they are more efficient.
"We are cheaper than a landfill," he adds. "It makes no sense not to come here."
Fligeltaub Recycling Inc. handles 100,000 tons of ferrous and non-ferrous scrap per year. Klenck utilizes Fligeltaub's scrap containers for on-site segregation.
You can actually get paid to bring certain scrap materials in. "The wood, we have a place to go with it," says Funke. "So you just pay for the transport, whereas you would have thousands of dollars in tipping fees for something that you could have recycled."
Not all products are so easy to market. Drywall is one such material. "Drywall has to be managed on site very strictly," says Funke. "You can take clean cut-off drywall to a manufacturer. But if someone carelessly throws a bottle of water into the container thinking it's trash, the whole load will get rejected There are very strict controls on that. Typically, your average construction site is very difficult to keep a container clean."
Processing of certain materials also requires specialized equipment. In many cases, it makes sense to form partnerships with contractors that provide such services.
Take shingle recycling, which requires a dedicated shingle grinder and enough shingles to keep it productive. "You cannot buy a half million dollar machine to sit there and collect dust," says Kirk. Instead, Henson Disposal approached Southwind RAS to accept its shingles. "They have the investment. It makes no sense for me to do it. It is a great working relationship. I have something they need and we work together. It is better for everybody that we are working like that."
Earn LEED Points
Not every region is fortunate enough to have easy access to a C&D recycling facility. "In southern Indiana, it is still very inexpensive to landfill things, so you need to have enough of a product to do something with or LEED [requirements] that would direct recycling," says Funke. "No material recycling centers exist down here. You cannot throw everything into one container and it gets sorted."
The LEED (Leadership in Energy and Environmental Design) program served as the leverage Kirk C&D Recycling needed to start its C&D recycling operation. "The LEED projects are what motivated us," says Kirk. "We always wanted to do C&D recycling. We talked about this for 12 years. When the LEED projects came out, I saw an opportunity."
LEED projects encourage recycling of C&D waste, and can motivate companies that would otherwise not consider recycling to search out C&D recycling services. "On a LEED project, if you bring your waste stream here, you can get credit for our recycling rate," says Kirk. "So on your LEED job, if I hit 82% this month, then you can show that you recycled 82% off your project."
Fligeltaub Recycling Inc. has participated in a couple of successful LEED projects. Recently, the company performed all of the LEED point recycling during construction of the Ford Center in Evansville, IN, after the demolition of the adjacent 12-story Executive Inn. "We hit 87% by weight of that building that was recycled," recalls Funke.
The company also did all of the trash recycling for the new project that went in. "They had budgeted $200,000 in waste going to the landfill," says Funke. "We reduced that to $88,000. Everything else was diverted. It was over a 50% diversion factor in waste alone."