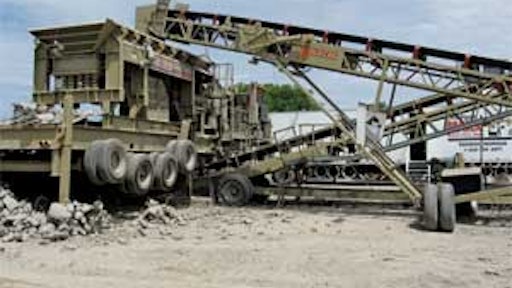 For well over 30 years, Champagne & Marx Excavating Inc. has been providing excavation services throughout mid-Michigan. With a wealth of experience in site development, highway construction, roadbuilding, and other related applications, the company recently branched out into the recycling business.
Now that their recycling business is as mature as their excavating business, Champagne & Marx relies heavily on productive and dependable equipment to ensure they maintain the most efficient operations possible. Founded by Tom Marx and his partner, Frank Champagne, the company was eventually acquired in full by the Marx family. And having since retired, Tom's son, David Marx, now leads the organization.
Marx recalled the catalyst that eventually led to the addition of recycling services at the excavation company.
"At the time, much of the concrete from our jobsites was either being taken to landfills, or being stockpiled back here at our facility," he says. As tipping fees and transportation costs increased, recycling the material began to make sense, he notes.
"We recognized that we could recycle that material, and repurpose it as road stone, driveway stone and other filler material," he says.
In the beginning, it was clearly trial and error with regard to the proper equipment for the task.
"We bought a jaw crusher and had this little screening plant, and we thought we were going to run this crusher and separate the material on the screen plant, and in 15 minutes we had completely buried it. That's how little we knew back then," says Marx. "So we went out and got a used Pioneer 6x16 triple-deck inclined screen and some conveyors to use with it and got the job done. We actually still run that screen on a daily basis."
A robust operation
Today, Champagne & Marx operates a very robust recycling division, processing concrete, asphalt, and occasionally some limestone. In addition to the material they generate from their own excavation projects, they also perform contract services, crushing material wherever the need may exist. Marx characterizes the division as 'recycling gypsies.'
"We run around looking for material to recycle wherever we can find it," he says.
With the volume of material they recycle annually, Champagne & Marx has plenty to keep for their own needs, and plenty more to sell back into the market place.
"The market for recycled product has been strong, and we've been able to employ quite a bit of it back into our own projects," Marx adds.
In keeping with the ever-increasing demands of their growing recycling business, Marx has at some point used most brands of crushing plants available, with varying degrees of success. But with multiple plants in operation, and still greater volumes of material to tackle, it was clear they needed a complete high-volume solution that provided quick set-up and easy mobility to meet their recycling needs. Marx turned to Kevin Bushinski at AIS Equipment, and they explored the options.
"The crusher we had been using to process asphalt had to have the hopper removed to transport it effectively, and it just wasn't very efficient for what we needed," explains Marx. "So we called Kevin and he brought in Kolberg-Pioneer to sit down with us to design a plant and conveyor system to revolve around a screen we are using."
Marx was aiming for more mobility, with easier tear-down and set-up to allow them to relocate the plant in only one or two days.
"Portability, portability and portability," he emphasizes. "We need to be able to get the plant from site to site without wasting much time in between."
The solution provided by Kolberg-Pioneer was a model 5260 horizontal-shaft impact crushing plant on a wheeled chassis, with a few key customized changes to meet some specific needs for Champagne & Marx's operations.
Big capacity, small footprint
Pioneer's standard horizontal impact crushing plants provide big capacity on a small footprint, an important issue in space-restricted recycling applications. With its Maximum Performance Rotor design, Pioneer crushing plants can maintain a constant rotor speed even through the toughest crushing cycles, resulting in a dependable high-volume on consistently sized product — also crucial to successful material recycling. With such a strong foundation of performance, Pioneer's further customizations resulted in an extremely purpose-designed closed-circuit plant that perfectly matched the needs at Champagne & Marx.
To ensure hassle-free transportation, the first accommodation was to design the wheel-mounted chassis to be compliant with tough Michigan road specifications. The crushing plant itself was then upgraded with a higher-power engine to handle the challenging source material. The mechanical clutch was replaced with fluid-coupling power transfer, significantly increasing the reliability of the engagement system.
For faster set-up, cribbing was eliminated from the fifth wheel and replaced with hydraulic lifting system to accompany the rest of the hydraulic stabilizers on the plant.
The next big challenge was to create a solution for easy assembly of their magnetic discharge conveyor.
"The magnetic conveyor they created for the plant has been unbelievable for us," explains Marx. "Other plants I have owned with big conveyors like that required a lifting crane to hoist the plant so legs can be set underneath. It required a great deal of time and labor to set up and at least four hours of a crane operator's time."
But the solution developed by Kolberg-Pioneer completely eliminated that expensive and time-consuming task. "With this plant, I simply pull a cord on the hydraulic motor, the conveyor raises into position 20 to 25 feet over the plant and I'm all set to go."
After two full seasons with the plant, Champagne & Marx has the process down to perfection, able to break down the plant, move it and be crushing on a different site the next day. And the fully automated solution allows the plant to be set up by only one person. "This is truly a self-contained, closed cycle plant," Marx adds. "The unit itself, the conveyor system, it's all hydraulic. One person can set the whole thing up. Other than a small generating plant to run some circulating conveyors and a screening plant, it's a complete solution on a single chassis."
With such a productive solution, Champagne & Marx has greatly expanded its capabilities and is able to generate more product in less time. And the quick turnaround gained from the new Pioneer plant has further reduced downtime between contracts, allowing the plant to complete more jobs in the same time period than other, less efficient solutions.
This effectiveness has had a significant impact on the annual production volume. Last year, one contract client alone had 250,000 tons of material for them to crush, demonstrating the level of high-volume recycling done by Champagne & Marx.
"The fact that we only need the one unit is major," says Marx. "Having a single closed-circuit plant instead of running a spread with a primary and secondary and a screen has made a big difference for us. The wear costs on your blow bars may be increased a little bit but that is more than offset by the fuel savings alone. And the better tonnage means it's more productive, which means less cost per ton. That's the bottom line for our recycling division."
The majority of Champagne & Marx's business is off-site contract work, but they do accept material at their yard, as well as stockpile much of the waste material they generate from their own projects throughout the year. During the winter, they bring the plant back in to crush the season's intake, avoiding having to bring the plant out of its productive off-site service.
With this mature and well-oiled recycling operation, increases in capacity and efficiency need to come from better and more productive equipment. As Marx continues to realize additional growth opportunities for the division, he is always evaluating the potential for future investments in efficiency.
Companies in this article